High up in the hills over Inchigeelagh, where the backdrop of the majestic cloud-covered Shehy Mountains lend an other-worldly quality to this rugged and beautiful land softly carpeted with heather and wildflowers, is where shepherdess Carly Murnane now calls home. After giving most of their possessions away and trading in such modern comforts as running water and electricity for the small candlelit leaky caravan that she shares with her husband atop the 22-acre hilly site, Carly tells Mary O'Brien that she couldn't be happier.
"I'm building a life that I don't feel the need to get away from," she shares honestly. Here in the company of her sheep and other animals, Carly spends her days in blissful solitude, the whisper of the breeze and bark of a dog the only interruption to the peace of the pasture grazed by her flock of mostly Shetland and Mayo/Connemara blackface sheep, ancient and hardy breeds well-suited to this rugged land.
The shepherdess rises each morning just before seven to the alarm clock of her sheep bleating for their breakfast. After seeing to their needs, at least an hour is spent walking the farm, down into the meadow and undergrowth checking on her flock and the land, making sure that all is in order. Every sheep is called individually by name and Carly's pockets are always filled with sugar beet treats. More-often-than-not she's followed by Mini, the little pet lamb she has bottle-fed since birth.
Originally from Devon, Carly was 10 when she relocated with her family to West Cork. Her parents were smallholders and market gardeners so she grew up with a fierce love and appreciation of the land. After spending most of her working life as a horse trainer and gardener, Carly became interested in raising livestock, sheep in particular, combining her passion for self-sufficiency with her love of animals.
Living on an acre in Drimoleague for eight years, it's only since acquiring the wild and overgrown land in Inchigeelagh in 2019 that this passion for raising animals has grown into a farming and crafting enterprise.
Since 2019, Carly has been gradually moving the livestock over to the hills away from rented lowland pasture. Before they sold their cottage in Drimoleague, moving into the caravan on the land just last month, Carly was driving over and back every day to see to the needs of her hill flock.
Her ram lambs produce meat for supply to the local community. "They feed us. They feed our community," she says. "It only takes one ram to service a flock of ewes, yet half the lambs born are male. Nature has ways of making sure only the strongest and most well-adapted survive, breed and pass on their genes. We have to make those decisions. Only the very best can be kept."
Her career in tanning hides and wool crafting developed in part because of her talent for crafting but mostly out of wanting to make full use of all the resources available from the animals she raises.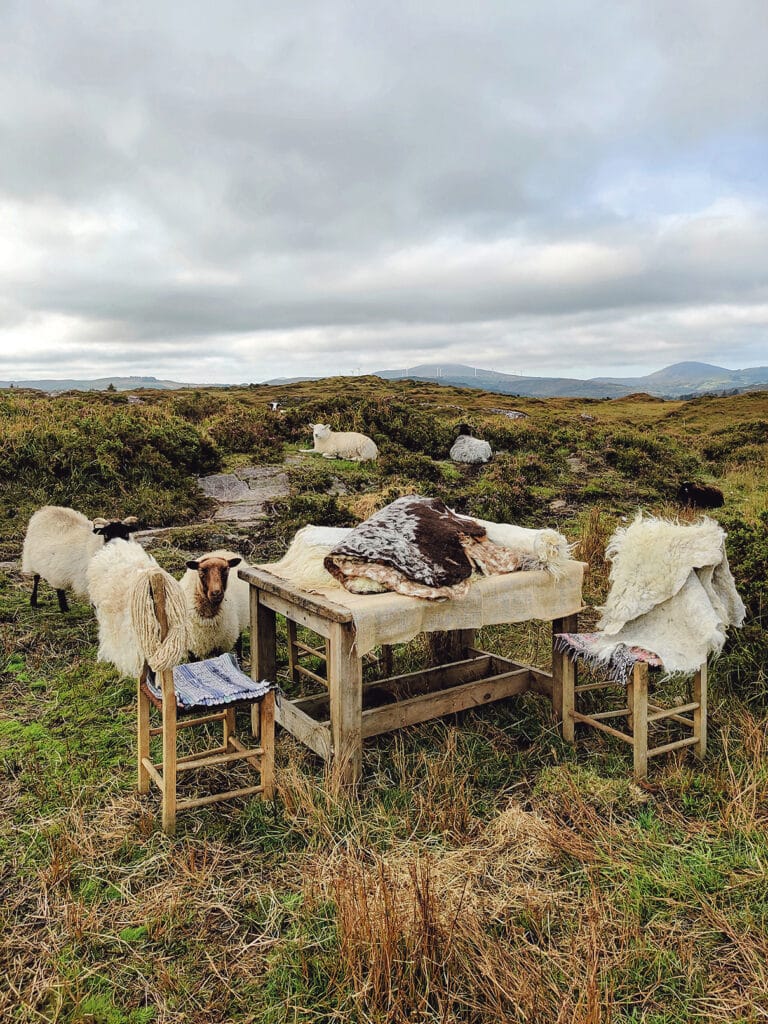 With her only option at the time to send the pelts off to Wales for tanning, Carly decided to research traditional methods and give it a go herself.
The beautiful pelts of her animals are preserved into soft and usable leather in the traditional way, using only the emulsified fat of egg yolk, soap and woodsmoke.
It's a tough yet rewarding job, taking many hours of softening, washing and stretching again and again before the pelts are finally smoked over a wood fire to tan.
When she first started, Carly enthusiastically went so far as to try the almost-forgotten method of tanning using the animal's own brain matter. "The butcher handed me back the whole head of the animal so it turned out to be a very messy and somewhat gory endeavour," she shares, "one that I wouldn't be keen to repeat."
She also weaves her own rugs after hand spinning the wool.
Carly's flock has now grown to just under 50 sheep including this year's lambs. She also has four goats and 15 ducks. The goats she keeps for their milk and to help clearing the gorse. The ducks, as well as supplying eggs, will patrol the fields of blueberry shrubs she aims on planting, to keep control of the slug numbers.
One day the hope is to build a home here on the hilltop. For now Carly is busy farming and fencing and building a house for her goats. Aside from planting a blueberry crop, other plans include establishing silvopastures on the land for shelter and to help improve the quality of the soil.
"We take care of the land and the land takes care of us," says Carly.
Carly sells her natural sheepskin products online through Etsy – Wild Irish Shepherdess. You can also follow her journey on her Instagram platform, @wildirishshepherdess.