Urru Culinary Store Bandon celebrates 20 years this year. The woman behind Bandon's beloved food emporium, Ruth Healy, chats to Mary O'Brien about the highlights and challenges in reaching this milestone, her foodie roots and how the combination of a good idea, hard graft, luck and optimism have paid off to create a successful holistic culinary offering that has stood the test of time.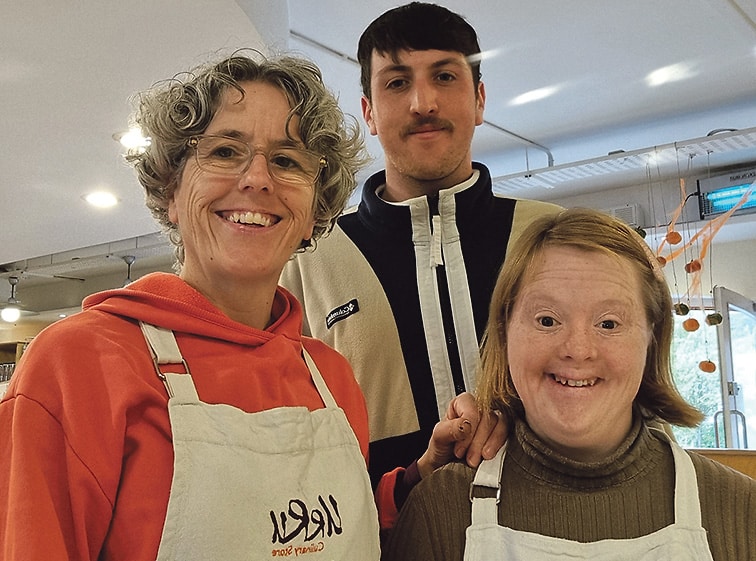 After two years of careful planning, Ruth Healy started her business in 2003, naming it Urru, a blend of the words 'urban' and 'rural' with the intention of capturing the essence of a market town like Bandon where producers and consumers converge. It also alludes to the universally important nature of local food production and food consumption and the interdependence between the two. Since then Urru has embraced that vision evolving into a social shopping and cafe experience that supports and encourages sustainable behaviours. Urru is much more than a shopping experience however, having become a much-loved stalwart, through good times and hard, in its local community. "I always wanted people to leave feeling they got more out of a visit than just their bag of shopping," shares Ruth.
Testament to this is that Urru's very first customer in 2003 still shops there every week. Ruth still remembers what that customer bought on her very first day. "An electronic peppermill with a light. It still works." She laughs: "Her husband could never figure out why you'd need a light on a peppermill and would comment on it every time he used the mill."
Even when they're gone, customers remain an important part of the Urru story. "No one teaches you in college that customers die. They continue to be a part of our memory bank," says Ruth. "I had a customer who was an utter lady. I loved her company and, in latter years, I had the weekly honour of getting down on my knees to re-tie her velcro shoes after she came out of the chiropodist. It was so both feet would feel the same!"
This focus on people stands behind as well as in front of the counter. Urru has always operated with a small and highly productive team. Ruth works side-by-side with her niece Nicola, whose sunny disposition is so warmly welcoming to everyone who steps over the threshold. "Nicola is the star and real boss," shares Ruth. Nicola's brother Iarlaith is also an important part of the team. "Both chilled and skilled," according to Ruth. "We have had some really beautiful people work with us."
The shopkeeper feels very fortunate with the people who have come her way – landlords; supportive writers and media; customers and staff who's words of wisdom she thinks about on a daily basis; family and friends who were busy painting walls this time twenty years ago; and other industry colleagues around the country who often adopt an 'open sourcing' attitude to being supportive.
Behind it all, there's that same passion that Ruth started with all those years ago. She staunchly declares that she still enjoys making sandwiches even on approaching the 200,000 mark! While admitting to possibly having rose-tinted glasses about the lifestyle that would accompany a shopkeeper's role, Ruth says her guilty secret is that "I love playing shop; even when there might be no one else there!".
These "playing-shop" moments bring her back to working in her granddad's shop in the Mardyke, as a young teenager; where the seeds of a shopkeeper were first sown. "My sisters and I ate it into the ground when he wasn't around," she laughs. A few years later she went on to become manager of her school shop.
Ruth's passion for food also goes back to her childhood and family dinners around the table, which took place every evening at six o'clock. "In the mornings before school my mum made us scones and squeezed oranges for everyone. She has no memory of that."
Ruth can remember, as a child, feeling deprived at times for not being allowed 'packaged-food' "I remember my dad dropping warm queen cakes into school to us and then swapping them with other people for crisps."
But good food won out and she also recalls waited in anticipation for the leftovers the day after her mother would have 'the girls' over. "The most abiding memory is the apple tartlets – thin buttery pastry cases with stewed apple, whipped cream and chocolate flake sprinkled on top. Three per person."
Learning to cook was a necessary adventure in the Healy household. "Coming from a big family, the 'biggies' were involved in food preparation for the 'smallies'," shares Ruth.
It was however, when she moved out of the family home in Waterfall that the importance of food really made an impression on the young Ruth, when the world of shopping, dining out and eating in other people's houses became part of the fabric of her life.
After studying Marketing and Japanese at DCU and UCC, she worked at Proctor & Gamble in the UK in a very customer-focused role for a number of years, before eventually following her heart and enrolling in a professional cookery course at Ballymaloe Cookery School back in Cork. It was here that she learnt about artisan foods and where her shopkeeper vision really started to take shape.
Ruth opened Urru in 2003 on the cusp of the Celtic Tiger. "I thought that was the normal trading environment," she says. In 2006 she opened a second shop in Mallow with her brother, pre-empting the recession and closing it in 2008. After the recession came floods, flood relief works, drainage works and more recently Covid, the cost of living crisis and climate change effects. Ruth says she realised about halfway through that list that this was normality. "There will always be something. Recognising that doesn't make it easy but it certainly takes a lot of the stress out of it," she says. That glass half full attitude meant that when Covid started in 2020, Ruth was more grateful that the roadworks outside her door had ceased the previous week, than concerned about lockdown!
Spanning 20 years there is of course lots of laughter too. "In the context of the recent floods around Cork, I remember the morning after the flood in Bandon in 2009, while chaos reigned, a customer stepped over someone who was mopping up the floor and asked if we could give her some smoked salmon. It was urgent!" shares Ruth laughing.
"I truly believe that one person's euro is the same value as the next person's euro but it is a bonus when people make you laugh or come in with tales of adventures and achievements. I'll save those stories for the book!" she says.
Today, Urru's #thegoodfoodnewsis board has become as much a part of the Urru experience as the shopping. "It started as daily good news during the recession to keep ourselves and our customers cheered up; eventually it morphed into random daily good food based news," explains Ruth.
Throughout it all, the essence of Urru is still relevant: A shopping experience that tends to be more than the sum of its parts – the space; the stock; the café. "The basic concept of making good local food accessible and desirable and encouraging people to choose and use it in their kitchens still stands," says Ruth passionately "while presenting it in a social café space where people essentially sample the products that are on the shelves, while surrounded by a holistic culinary offering. This acts as motivation to shop and is a commercial necessity in a town setting where footfall is calmer than in more urban settings."
The shop reflects the trends in the wider market too: Sustainable behaviours are now critical; with more ready-to-use foods in shopping baskets and social media and online shopping now basic operations. Sadly fewer people today are cooking their own food but for those who do cook and appreciate the value of good food, it's establishments like Urru that provide the ingredients.
Urru's recipe to success? "Being customer-driven while also setting your business parameters to give yourself a sustainable business," shares Ruth. "Trying to be all things to all people is a fool's errand. And graft."
Sadly, Ruth sees the loss of basic kitchen skills, home cooking culture (and smells) and control over what we are consuming all shaping family life and wellbeing in the future. She also foresees a recalibration of the terms of engagement happening in local retail and hospitality. "The next generation of proprietors will be a lot braver in setting their opening hours and defining what they are prepared to do or not do. The owner-managed food industry is labour-intensive so automation and technical solutions are going to prevail, even in the most local of places, for example self-serve tills or even no tills, or even people coming in after work to prepare their own food on site." While we may end up losing the more personalised shopping experience; on a positive note, Ruth believes that sustainable behaviours such as packaging, waste and water reduction are slowly normalising.
Whatever happens, no doubt come another 20 years, Ruth will still be conjuring up grand plans on a daily basis. Energy drives opportunity rather than the other way around in her book and it's this same energy which drives her to grow better, not bigger: She completed a postgrad in Irish Food Culture at UCC a few years ago.
"I am mildly concerned that I still think about what I might do when I grow up," she says smiling. "On the other hand, after slogging away for twenty years, I wouldn't view any future business failure as a disaster – more a next step. Hypothetically speaking!"