If you missed Part I of Eugene Daly's fascinating article on Mother Ireland (printed in the May issue).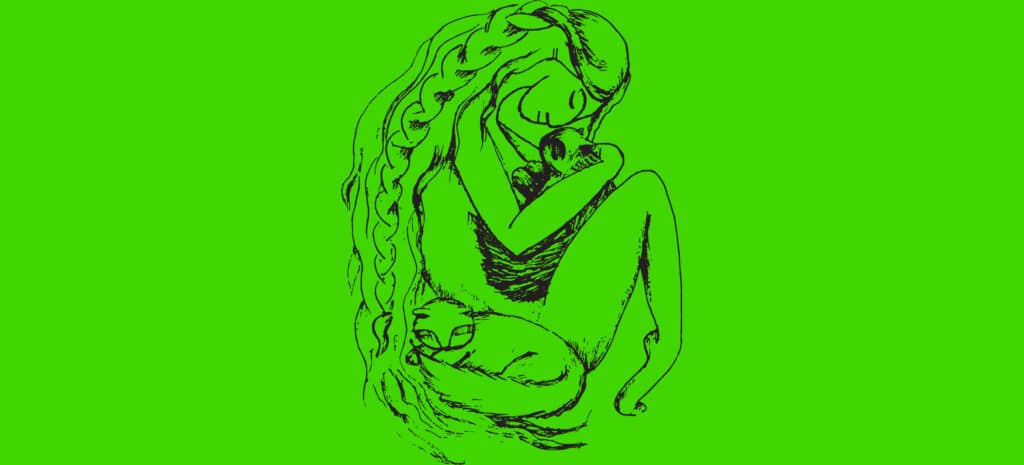 'Aisling' (meaning 'dream, vision') is a type of Irish poem written in the 18th and early nineteenth centuries, based upon a forlorn hope that Ireland, having been destroyed in the wars of the 17th and 18th centuries, could be restored to its old power by aid from Spain or France. Their hopes were pinned especially on the return of the Stuart kings. In an 'aisling', the poet tells of a vision of a 'spéirbhean' (literally sky-woman – a beautiful maiden) who personifies Ireland and bewails her sorry state. The poet asks her name and she announces that she is Ireland, bereft of her spouse. The poem usually ends with the prophecy that a rightful Stuart monarch will take the throne.
The greatest writers of the 'aisling' were two Kerry poets, Aogán Ó Rathaille and Eoghan Rua Ó Suilleabhain. Ó Rathaille (c1675-1729) was born in the 'Sliabh Luachra' district of Kerry. His poems, 'Mac an Cheannaí' (the merchant's son) and 'Gile na Gile' (brightness of brightness) are his best known 'aisling' poems). This is part of the first verse of 'Gile na Gile' with English translation:
'Gile na gile do chonnarc ar slí i n-uaigneas,
Criostal an chriostail a goirm-ruisc rinn-uaine,
Binneas an bhinnis a friotal nár chríon-ghruama,
Deirge is finne do fionnadh n-s gríos-ghruanaibh.'
(The brightness of the bright met me on my path so lonely
The crystal of all crystals were her flashing dark-blue eyes
Melodious more than music was her spoken language
And glorious were her cheeks of a brilliant crimson hue.)
The 'spéirbhean' of the 'aisling' poets is beautiful in every way, in every feature. 'Her hair is golden, gentle-tressed and flows in wreathed layers to the ground. Her eye-brow is like a single stroke of the pen. In her cheeks the flashing of red berries contends with the whiteness of a gentle lily. Her eyes are death-dealing stars; they have laid a hundred heroes in weakness. Her conversation is cultured, keen and gentle. Her teeth are white. Her throat and brow are as white as the foam on a wild lake. Her breasts are sharp, rounded and inviolate.' (Daniel Corkery in The Hidden Ireland).
The other great 'aisling' poet was Eoghan Rua Ó Súilleabháin – 'Eoghan an Bhéil Bhinn' (Eoghan of the sweet mouth) who was also from 'Sliabh Luachra'. He was the archetypal roistering poet, amorous, hard-drinking, and generous-hearted. He was a 'spailpín' (wandering labourer), a schoolmaster, a 'réice' (rake), writer of the sweetest lyrics and a classical scholar. His life passed like a meteor, irrepressible, daring, loving, and wild. His best known 'aisling' is 'Ceo Draíochta' (Magic Mist)
'Ceo draaíochta i gcoim oíche do sheol mé
Trí thíorthaibh mar óinmhid ar strae,
Gan príomhcharaid díograis im chóngar
's mé i gcríochaibh tar m'eolas i gcéin.'
(Through the deep night a magic mist led me
Like a simpleton roaming the land,
No friends of my bosom beside me
An outcast in places unknown.)
From the earliest time down to the present day, Irish storytellers describe a spirit folk who live alongside human beings, but who are normally concealed from us. There are the 'aos sídhe' (pronounced 'shee'), the people of the hills or mounds, known also as 'slua sídhe' (fairy folk) or 'daoine maithe' (the good people) and in English as fairies. These folk have been seen from ancient times as dwelling in forts ('liosanna'), in caves, on hills, on faraway islands or beneath the waters of the sea or lakes. These mythical beings were originally known as the 'Tuatha Dé Danann', which means literally 'people of the goddess Danu'. When defeated by the Milesians they were banished underground. They are the gods of ancient pagan Ireland, now much reduced in power, having been demoted to what we call fairies.
The fairies, the army of the hidden goddesses, though with much less influence, are persistently working for the neglected values of the feminine, submerged firstly by the Iron Age warrior patriarchy of the Milesian Celts (typified by male heroes such as Cuchulainn and Fionn Mac Cumhail). This was replaced by male-dominated Christianity and today by modern materialism. They symbolise an endangered (some would say broken) vital relationship – the cohesion of Culture in Nature and the sense of the Sacred Whole, which acknowledges the sacredness of the earth and all of its creatures, human and animal. The goddesses and deities of the 'Tuatha Dé Danann' found allies in the 'filí' (poets who were collectively known as the 'aes dana', people of the arts, servants of the chief goddess Danu)
The barely audible tales of the goddesses have taken on a new relevance in today's world. They have something to say about the timeless sense of belonging on earth. Having dismissed Danu and the other female deities, we now bewail the lack of balance in nature, which, for centuries, she represented. She stands for the sacramental marriage of the elements and sweeps people into nature's holy wheelings, which nurtures life and gives meaning to sun and 'sídhe', river, field and ocean, flame and breeze, art and science, means and ends. New technology has defeated the gentler ways. Mass communication and instant entertainment have obliterated customs and beliefs long held. More and more we have divorced ourselves from the natural world. Everything has become a commodity, saleable, buyable.
Unique among Celtic countries are Ireland's many personifications and characterisations, practically all female. Two early modern names for Ireland are 'Cáit Ní Dhuibhir' and 'Róisín Dubh' (Dark Rosaleen). 'Róisín Dubh' dates from a 17th century poem of that title by Eoghan Rua Mac an Bháird (Owen Roe McWard). James Clarence Mangan's translation, 'Dark Rosaleen' (1847) is more widely known than the original. The poem depicts a lovely maiden in distress who mourns the demise of the Gaelic chieftains and her hope of salvation by the Jacobites (The Stuarts). These are the opening lines:
'O, my Dark Rosaleen,
Do not sigh, do not weep!
The priests are on the ocean green
They march along the deep.'
The 'Cailleach Béara' appears, reincarnated in 'An tSeanbhean Bhocht', as an emblem of the United Irishmen and their Rising in 1798, and frequently used since then. The song has been described as the 'Marseillaise of Ireland', 'The Shan Van Vocht' (The Seanbhean Bhocht). It is an amalgam of several versions of a ballad, associated with the United Irishmen's Rising of 1798 (particularly Wolfe Tone's attempt to land French soldiers at Bantry Bay in December, 1796). The 'Seanbhean Bhocht' has stood ever since for Ireland at her most sorrowful. Ireland is also known as 'An Droimeann Donn Dílis'. A weakened Ireland as reflected in 'An tSeanbhean Bhocht' could still be nurturing, (the faithful brown cow), another poetic name for Ireland.
Both archaeology and pseudo-history (myth) agree that cows have been of paramount social importance in Ireland for a very long time since the fourth millennium B.C. The necessity for milk for nourishment and sustenance caused a quasi-mystical power to be often associated with cattle. The goddess 'Fliodhais', patron of cattle had a very large herd. The most prized beast among her herd was a wonderful white cow called the 'Maol' (hornless one), and one milking of this 'Maol Fliodhaise' would be full nourishment for 300 men and their families. The 'Glas Ghaoibheann', literally 'the grey of Goibhniu', was a famous cow in Irish folklore. Owned by 'Goibniu' ('gabha' in modern Irish), the Celtic god of smithcraft, one story tells of how she filled with milk every pail put under her. Her inexhaustible supply of milk symbolises prosperity. The type of cow most sought after by the farmers of ancient Ireland was a 'droimfhinn' ('droimeann' – white-backed), a dark coloured animal with a streak of white on its back.
Other female figures are powerful and commanding, like 'Granuaile' ('Gráinne Mhaol Uí Mháille', Grace O'Malley) the 16th century Mayo coastal chieftain and pirate. 'Granuaile' has become a personification of Ireland. Although she is an historical figure, a swashbuckling, daring woman, who went to visit Queen Elizabeth I, she is as much a creature of myth and folklore as of historical fact. The 19th century Munster poet, 'Seán Clárach Mac Domhnaill', was the first to use her name as a metaphor for Ireland. Her name was used as a type for Ireland in her long struggle for freedom, and she has now become a feminist icon.
I have already indicated how our modern technological and consumer society is threatening our respect for and our connection to the world of nature. The destruction of our environment, in the name of so-called progress, has coincided with a collective sense of alienation from our surroundings. Every day in our rationalised insanity, we further the destruction and desecration of the earth. We have polluted our seas and rivers, poisoned the land, driven animals and birds to extinction, or near extinction, destroyed our hedgerows.
Perhaps the single most attractive element of Celtic wisdom – the wisdom of a people whose chief deities were nurturing females – was its link with nature. The sense of nature as divine or holy is hardly unique to the Celts. Native American wisdom is clear in its respect for Mother Nature and its insistence that a balanced life means working in harmony with the environment. Today there is less respect for our mother earth. Too often it is looked on as a resource, something to plunder and rape for wealth. Rarely is a sense of nature as divine, as sacred, as valuable in itself, seriously considered. In ancient Ireland a king did not assume the right to manage the land, or exploit or utilise its resources. Rather he married the land, in the person of a sovereign goddess.
For centuries, the old ways and the old world endured. In a conflict as profound in its effect, as when the Milesians drove the 'Tuatha Dé Danann' to their underground places, so too the new technology has defeated the gentler ways. Old customs and beliefs long held have been obliterated and I fear that we are all the poorer for that.