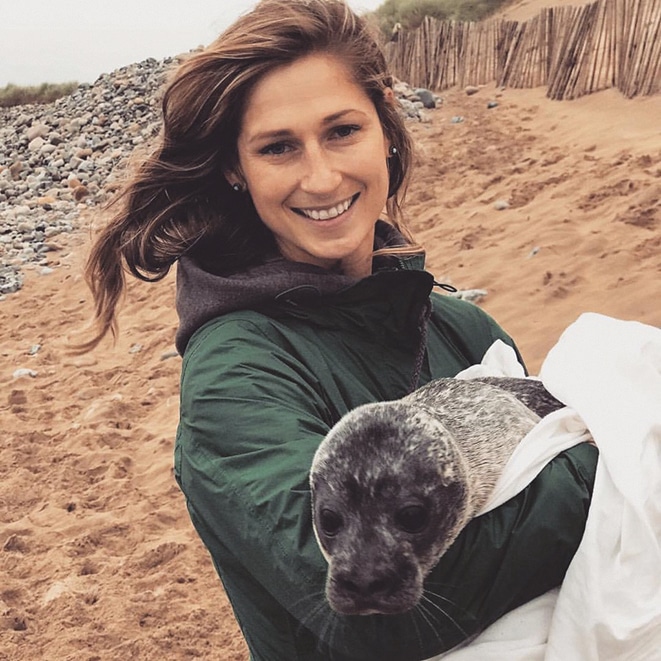 While the pandemic has forced so many of us to slow down, organisations such as Seal Recue Ireland have been exceptionally busy. West Cork is lucky enough to host some of Ireland's seal population and members of the public, forced outdoors in greater numbers due to lockdown, will have noticed an increase in seal activity along our coastline recently. The reason for this is that pupping season has just ended for the Grey seal and it has now entered its moulting period.
Melanie Crose, Executive Director of Seal Rescue Ireland chats to Mary O'Brien about the work carried out by Seal Rescue Ireland, the hugely important role that seals play in our ecosystem and what members of the West Cork public should do if they do happen to come across a seal in trouble.
---
Seal Rescue Ireland (SRI), initiated in 2010, is a registered charity focused on the rescue, rehab and release of sick, injured and orphaned seals from all over Ireland. As the only such organisation in the Republic, SRI is always looking to recruit, induct and train new volunteers to its network. "Anyone can join our network," says Melanie "and as we're now training over Zoom, it is actually a far easier process and we can also hold training sessions more regularly."
The training is focused on teaching people how to observe seals in their wild environment and identify any that need to be rescued. "We often get calls about seals that are actually healthy and just hanging out in their natural habitat," explains Melanie, who emphasises that the last thing SRI wants is for people to pick seals up off the beach that don't need to be rescued because oftentimes this can actually do more harm than good.
"Another reason that it's really important for members of the public to maintain a safe distance from seals is because they are in fact closely related to dogs and bears so of course they do have sharp teeth and they will bite!"
Unlike whales and dolphins, seals are semi-aquatic, which Melanie explains means they spend about half their time on land. "This is because they need to rest and rear their pups."
Moulting season for the Grey seal ends in March or April. Common seal pupping season starts in May or June.
Most mammals and birds undergo moult, during which hair or feathers, respectively, are renewed. The annual moult in Grey seals involves the shedding of year-old fur and the growth of a new pelage.
"As a result, this time of year is when we'll often hear about a seal over-population problem but that's only because there are these small pockets of credible habitat where it is safe for the seals to moult, so they'll all cluster up there," explains Melanie.
The reality is that the vast majority of the Irish coastline is inhospitable to seals.
West Cork is fortunate to be home to both the Grey and Common seal, the Grey species being the larger of the two. "Common seals are more like cats," explains Melanie. "They're more shy, reserved, less social and not so loud. Grey seals resemble dogs more. They're bigger, more vocal, have large personalities and are really fun to watch. They also tend to be more aggressive than the Common seal.
Despite the name, there are only between three and four thousand Common seals in Irish waters. With declining numbers, this is a species of special concern, which means that every Common seal we can protect or rescue is really important to the Common seal population. "South of the Beara peninsula has a small Common seal population, which is really special, as most of the Common seal population found around the North West," says Melanie.
There are between eight and ten thousand Grey seals in Ireland. The species is recovering from near extinction, so therefore it is protected under EU and Irish law. The numbers are now starting to slowly climb but Grey seals only have one pup per year, of which approx. only 50 per cent survive their first year. Unfortunately seals still face huge environmental threats from things like plastic pollution and unsustainable fishing, which threatens their food source.
"It's important to keep in mind that there are fewer Grey seals in the world than African elephants, so the ones we are lucky enough to have here in Ireland are iconic and really valuable," says Melanie passionately.
Seals are a native keystone species, which means they help hold the marine ecosystem together. "Seals are critical to keeping a balanced ecosystem," she emphasises. "It's like the wolves at Yellowstone. As an apex predator, they were removed because people thought it would give other animals a chance of survival. What actually happened is that certain species got overpopulated, which decimated certain areas and ended up changing the landscape.
"Seals in Irish waters are our 'wolves'," she continues. "They're keeping a balance in the population and also recycling nutrients. All marine mammals poo a lot, which spreads nutrients along the surface water, which is where plankton needs these nutrients to help them grow. Without plankton we have nothing and without marine mammals, it really would all come crashing down."
There is a seal population on the east coast but they are losing a lot of habitat due to such factors as coastal erosion, sea level rise, coastal development and increased human activity on our beaches.
The Seal Rescue Ireland centre is based at the central location of Courtown in Co Wexford on the east coast. "I've been here for three years," says Melanie " and I've only seen one or two wild seals ever; and I walk on the beach every day."
Open water swimmers may have noticed that seals, in particular the Grey Seal, will approach and follow them in the water.
"Seals are marine mammals, built for speed and agility in the water," explains Melanie. In the water they are in their comfort zone; it's much easier for them to escape if they feel threatened, so they do tend to be more curious, which is completely normal.
This curiosity rarely turns to aggression unless the seal feels under threat. "There have only been very rare cases, if any, that I've heard of, where someone has been bitten by a seal while they're in the water. Saying that, we do urge people not to approach seals, as if they do feel threatened, they could get defensive or even aggressive."
On land, seals are slow and vulnerable, so usually very cautious about getting out of the water when there is human activity in the area. "Much of the time when a seal has to be rescued, it's because a person has disturbed a seal pup and, as a result, the pup is abandoned by its mother. The increase in storms is another factor; many sea pups are getting a really brutal start to life."
SRI will usually see a huge rise in calls following a storm. 2020 was by far the busiest year for the organisation with 170 seal intakes.
While on one hand, lockdowns, and as a result increased human activity, has been good for seals because the rescue organisation are getting more calls about ones in trouble that otherwise may have been missed; the downside is that there are some people who don't realise that this is the seals' natural habitat so they shouldn't be disturbed until absolutely necessary. "The majority of the public just want to help," says Melanie, "however if the public gets too close, it means the seals can't carry out their natural behaviours, for example, resting, looking for a meal or keeping an eye out for predators. If a seal is even looking at you, it counts as disturbance and it's that repeated exposure that can really have a long-term impact on these creatures."
Melanie's advice for members of the public who see a seal they think might need help is to keep a safe distance and call the Rescue Hotline for help. "Please don't approach the seal and maintain a distance of at least 100m (keeping dogs on a lead) and call our 24/7 Rescue Hotline at 087 1955 393," she says. Seal Rescue Ireland will ask the caller for a description, location and a photo to determine if the seal needs to be rescued, and then send a trained volunteer out.
Volunteer
If you are interested in joining SRI's network of nationwide rescue volunteers, the organisation offers virtual trainings throughout the year. Registration can be done through the website (sealrescueireland.org).
Even if you don't live by a coastline, seal transporters are needed everywhere,' says Melanie. SRI has 700 trained volunteers around the country and always looking to recruit more. Timing is of the essence, especially with a young seal pup. The quicker we can get them in, the more likely it is that they will survive.
Donate
SRI relies on the dedication of volunteers and the generosity of public donations to continue its work. Donations and third party fundraisers are welcomed, and there are also adoption, membership, and sponsorship programmes available as other ways of getting involved. More information can be found on the website (sealrescueireland.org)
Seal Rescue Ireland is also very involved in habitat conservation and restoration and is currently carrying out a tree-planting project, designed to keep sediment out of our waterways and make our ecosystem cleaner.
---
West Cork Seal Rescue – 'Phoebe'
Phoebe is a grey seal pup that was reported to SRI by a member of the public on December 12, 2020 in Trafaska, Baltimore. She was very small in size and had a large number of deep wounds to her shoulders and neck, which could have been the result of a dog attack, or possibly from getting caught up by rough seas and becoming injured in rocks. Upon receiving the photos of her, SRI sent one of its trained volunteers to lift her from the beach to start the journey to the SRI centre in Courtown for care.
Happily, Phoebe has recovered from her wounds and is steadily putting on weight in one of the centre's rehabilitation pools. If all goes well, it is expected that she will be back to full health and ready for release back into the wild in about a month.