When Lettercollum Kitchen Project retired at the end of last year, Clonakilty mourned the loss of its healthy gourmet go-to. The space sat empty for a spell and tummies rumbled and grumbled but then the arrival of spring brought hope of a new artisan bakery and deli moving in. After months of anticipation, the scent of freshly made sourdough loaves drew in the crowds, as Pike Deli finally opened its doors. Eight months on and its hearty sandwiches on homemade focaccia bread, healthy salads, and selection of devilishly moreish pastries have become part of the fabric of Clonakilty life. It's been a longterm dream, now realised, for couple Ryan Hoy and Ann Marie Menzies, who are looking forward to their first Christmas season together in their busy deli and bakery that embraces sustainable practices.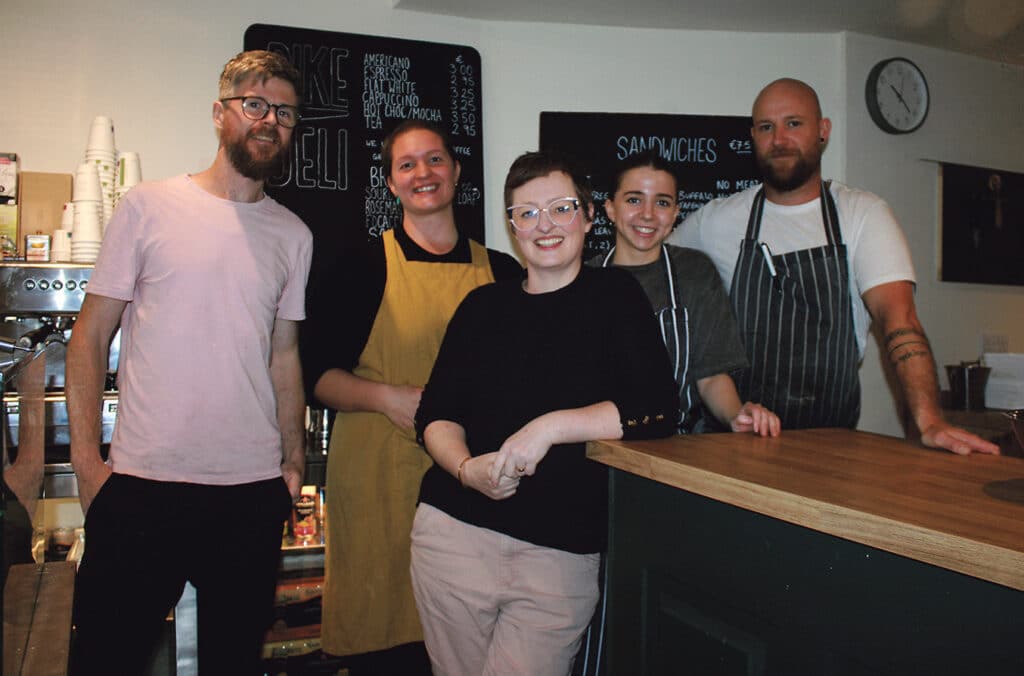 Ryan Hoy honed his skills in the kitchen working his way from Cafe Paradiso in Cork, through restaurants in Berlin and London, and back to Ireland to a position as head chef at the Bakestone Cafe in Carrigtwohill. After stints in a number of bakeries and a Riot Rye course in Cloughjordan, an obsession with sourdough gradually bloomed, and with it, the determination to open an eatery with partner Ann Marie, serving up tasty sandwiches on his own homemade breads.
Ann Marie, a student of Art at Limerick, ended up down a foodie path, spending over ten years working with Toonsbridge Dairy and The Real Olive Company and becoming an expert in the art of cheese and charcuterie. She is the creative behind the classy aesthetic at Pike Deli and heads up front of house, as well as looking after personnel and administration.
Just before the pandemic, the couple, who now have a five-year-old daughter, bought a house on a two-and-a-half acre site in Drinagh, where they hope to eventually grow enough produce to supply their business. They are passionate about supporting small local producers, such as Camus Farm, Kaizen Permaculture, Toonsbridge and Olives West Cork, and embracing sustainable practices such as the closed-loop economic model in which no waste, or as little as possible, is generated. "We have a compost space at home for any small amount of waste we do generate," says Ryan. It's an exciting journey that we're very much at the beginning of."
Both Ryan and Ann Marie were involved in the renovation of the space that now houses Pike Deli, from the beautiful woodwork and hand-poured concrete countertop to the classy green and gold colour scheme. They opened up the kitchen to make room for the sourdough, which takes 48 hours to ferment.
At the heart of operations at Pike Deli is the flour, which is used to create the distinctive tangy and crunchy sourdough, yeasted focaccia flat bread and flaky light pastries. Ryan uses two types: Wildfarmed flour, made from wheat, grown using the polyculture method of farming, the practice of planting several kinds of crop species on the same piece of land and at the same time. "It increases biodiversity for regenerative outcomes and gives the flour a very distinctive flavour," explains Ryan Wildfarmed encourages farmers to grow without using pesticides, herbicides or fungicides. The other brand Ryan uses is Shipton Mill, a UK company that is also working to promote biodiversity. "We're trying out a few Irish brands as well so will see how that goes," he says.
Served on the delicious focaccia bread, a firm favourite now on the menu is the Korean slow-cooked brisket sandwich with housemade kimchi, toasted sesame seeds, cucumber and carrots. "It's super fermenty and salty, mouth-watering, very popular" shares Ryan.
Close behind it is the freerange chicken with tarragon mayo roast fennel and mixed leaves sandwich.
If you prefer no meat, try the buffalo mozzarella tapenade, roast red peppers, roast onions and mixed leaves sandwich.
Savoury pastries change regularly and currently include a Crown Prince squash paired with Toonsbridge feta and hot honey, dukkah and pickled chilli offering or a Cashel blue cheese and leek option. There is also a tasty free range pork sausage roll made with Caherbeg free range pork.
There are always two salads on the go and a selection of tasty breads to take home to try out your own sandwich creations on.
Those with a sweet tooth have been reveling in the selection of treats, from the sticky maple pecan bun and pain aux raisins to the luxurious Portuguese custard tarts or the croissant cups with mouthwatering fillings like ginger, custard, poached pear and oat crumble; cardamom cream and date puree with sesame and cashew; or poached quince custard and hazelnut.
The offering at Pike Deli changes with the season, so coming into Christmas we have boozy quince mince pies and chestnut and brussel sprout concoctions to look forward to. The classic turkey and stuffing sandwich might even feature, but of course with a Pike Deli twist!
Soup has just been added to the menu with a vegan and carnivore offering in the form of a bone broth and miso broth, both packed full of tasty and nutritious goodness. For anyone looking for soakage after a Saturday night, Pike Deli will be open from 10am on Sunday, serving up hangover cures like Ryan's tasty egg and sausage ciabatta. Pike Deli serves Stone Valley coffee and Galvin's farm milk.
"The support from the local community since we have opened has been overwhelming," shares Ann Marie. "We also have a fantastic team so we're very lucky."
Ryan's righthand woman in the kitchen, Edie, who sat her Leaving Certificate this year, is now leaving them to continue her training in Japan. "I'm very sad to see her go but also very excited for her. She's an amazing chef," says Ryan. The team has just welcomed Gideon into the kitchen, and Simon, who also works at Camus Farm, is there part-time so Ryan, who's in the kitchen every morning by 4am, is not short of help.
Managing the work-life balance with a five-year-old daughter has possibly been the greatest challenge. "It's been intense," share the couple "but we're into a steady rhythm now. It's good. We're a good team!
"This has been our dream for over ten years, so now that we made it here, we want to do it as well as we can."