If you're travelling along the Wild Atlantic Way, in the vicinity of the Galley Head lighthouse and Long Strand at Castlefreke, you may have noticed the appearance of a small herd of pigs in recent years. Shane Kenneally and his family started breeding pigs on the small holding they have at Dundeady three years ago. They now have 20 pigs in total, which consist of two breeds: Kune Kune (pronounced Cooney Cooney) which originated in New Zealand – Kune Kune in Maori means 'fat and round' – and Oxford Sandy and Blacks, larger than the Kune Kunes and a breed that was almost extinct but has seen a rejuvenation in recent times, as Shane explains to Tommy Moyles.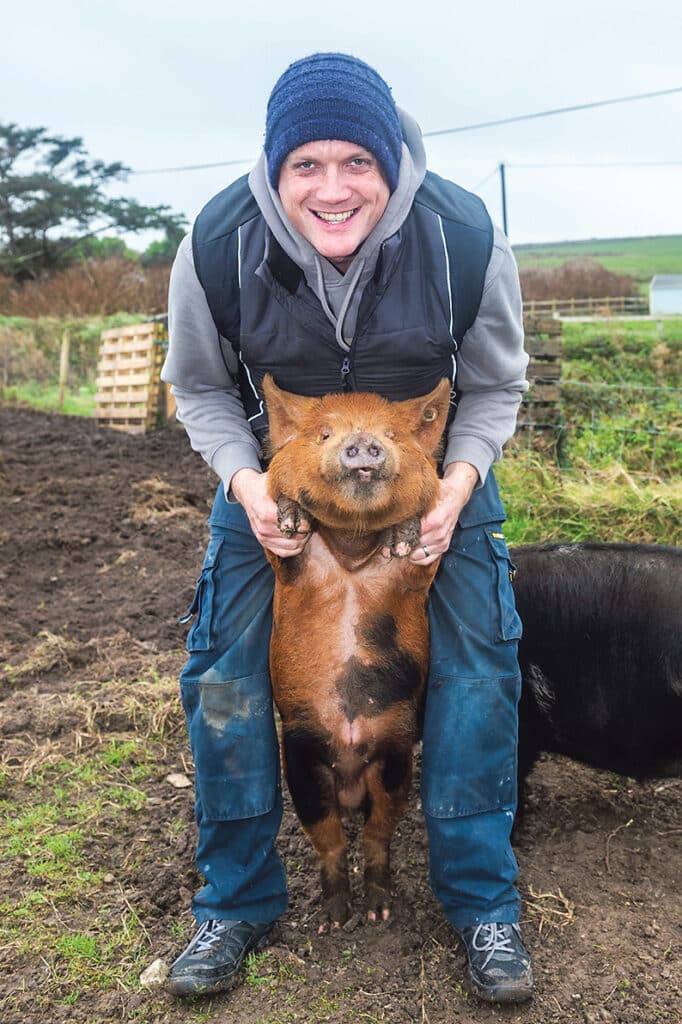 "We were renting nearby in Dirk and we bought this house and an acre around it four years ago. I had kept some hens before and I was always interested in getting some pigs, so I went about developing the area to get it ready for them. I got two pigs and we started breeding from there," explains Shane.
"Having pigs is very regulated; before we got them, we had to have housing and water inspected by the department and get a herd number. There's a bit of paper work around movements too and they all have to be notified. Recently we filled out the pig census which is done every year."
The friendly Kune Kune breed is more of a pet pig. "They're a popular breed in the UK but they take longer for pork, up to 15 months, whereas Oxford Sandy and Black could take eight months. They're scarce here but also produce a different type of pork to most pigs," says Shane.
The Kenneally's originally had two gilts and a boar on hire but ended up buying a two-year-old sow as well and keeping a boar from that litter, which they registered and bred with the original gilts.
They purchased the Sandy and Blacks in order to have a continuous supply of pork. "You can see how much bigger they are," says Shane. "We have piglets at 12 weeks and the Oxford Sandy and Blacks are almost three times bigger."
All the Kenneally's pigs are kept outdoors to give them a good high welfare life.
"We have access to another acre-and-a-half and another half-acre close by too, so we'll be able to rotate the pigs around the different spots," shares Shane. "I'm always looking out for places. I know of some people who use pigs for clearing agro-forestry plots too so I'd be open to that. We can let the pigs in to clear it and it's good for both pigs and the forest."
Shane will be reseeding plots the pigs have been in with a special pig rooting seed mix. These are available in the UK but since Brexit are difficult to import, so a mix will be specially made up by Fruit Hill Farm (fruithillfarm.com) that will contain a mix of turnips and long rooting grasses.
By Shane's own admission, having pigs has been a learning experience. Pigs are inquisitive by nature and, as he has discovered, they are quick to spot a weakness in fencing if one appears.
"Initially we had timber ranch fencing and sheep wire, which was grand at the start, but they eventually started to find their way through it and break out. We changed to an electric fence and that's good for the most part but you still have to make sure they don't get out. It's all a learning experience and being members of the Irish Pig Society and the British Kune Kune pig society has helped."
What initially started out as a small interest has evolved into selling meat direct to consumers and restaurants.
"This year we started selling pork on a smaller scale to see what it's like and there's good demand. Our butchers do all the cuts, curing and packaging, so all we have to do is store it. The box weighs 6kg and sells for €75 and contains a variety of cuts including plain and black pepper sausages, roast pork joint, rashers, ham and loin and collar chops.
Originally, we only sold from home but there are a few local restaurants use it too. The Mountain House, Camus Farm and Dunmore House are in for next year.
In 2024, we'll be ramping things up a bit and we'll have a farm shop open one night a week next year. Long term, I'd like to see it available to buy in shops. That would be a goal anyway."
For further information check out the Instagram page Dundeady.purebred.kunekunes.