With a resurgence of interest in knitting over lockdowns and the 'Tom Daly' effect' encouraging more and more men to take up the craft, it's no surprise that sales of needles, wool and patterns are still a strong shopping trend going into 2022. Aside from the satisfaction that comes from creating something both practical and beautiful from scratch, knitting is also recognised as a fantastic way of practicing mindfulness. Its impressive health benefits range from reducing depression and anxiety and lowering blood pressure to offering distraction from chronic pain and even slowing the onset of dementia.
Bandon native Dermot Hegarty, 51, shares how knitting and crochet offer support for his mental health and why he is appealing for donations of wool.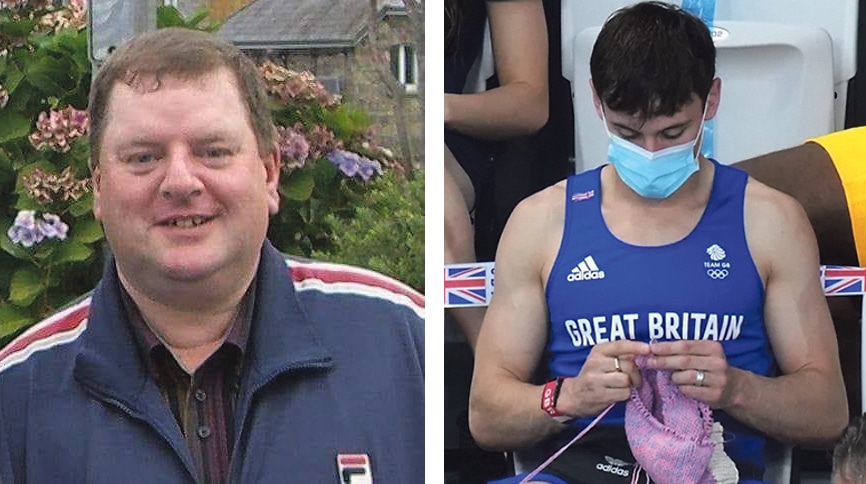 A big football supporter, Dermot's struggle with his mental health began in 2009 when his football club, Cork City FC, got into financial trouble. Chairperson of the Cork City Supporters at the time, Dermot threw himself into trying to save his beloved football club, unfortunately to the detriment of his own health. After suffering a nervous breakdown, he was diagnosed with severe depression and eventually bipolar disorder.
Leaving full-time employment due to his illness, Dermot became very involved in his local community, in particular with the Bandon Men's Shed project in 2014. That year, he also volunteered as office secretary with the Family Support and Community Wellbeing Bandon where he was later employed part-time.
It was at this centre that Dermot first put his mind to knitting.
Between 2017 and 2019, he was also very involved with the Inside Out Mental Health support group in Bandon.
A bereavement as a result of Covid in 2021 and his ensuing depression caused Dermot to cast off knitting and crochet for a while but influenced by his hero Olympic gold medallist Tom Daley who made a splash at the Tokyo Games when he was seen knitting, Dermot realised how much he missed the craft. "I have never been happier than I am now, in doing something that I love," explains Dermot, who says he would love to see more men taking up knitting for the benefit of their mental health. "Men's health should be a priority in every community," he says, "in Bandon we need a premises for the Bandon Men's Shed so that it can open up again."
YouTube has offered a fantastic learning forum and is a great source of patterns to the Bandon knitter. After starting to crochet armchair throws last September, Dermot came up with the idea of donating his finished items to local groups, the Bandon Community Hospital, Jack and Fiends Centre for Autism and the St. Vincent de Paul Bandon.
As Dermot is on disability allowance, he can't afford to purchase the wool for these projects and is appealing to the local community for wool donations.
Anyone with unwanted wool of any colour or size who is willing to donate to Dermot's voluntary crochet and knitting projects can contact him on 083 0905044.
He is also looking for the loan of a large Addi Express knitting machine for a few months.