With 260,000 visitors a year pre-pandemic, Crawford Art Gallery is one of Cork's most popular attractions, second only to Fota Wildlife Park. With the transfer of the Crawford Art Gallery from the auspices of Cork Education and Training Board to the Office of Public Works recently concluded and the total re-development of the building with a State investment of some €29 million behind it due to commence soon, Crawford Art Gallery Director Mary McCarthy tells Mary O'Brien she has confidence that the footfall in this national cultural institution could easily almost double in a few years time.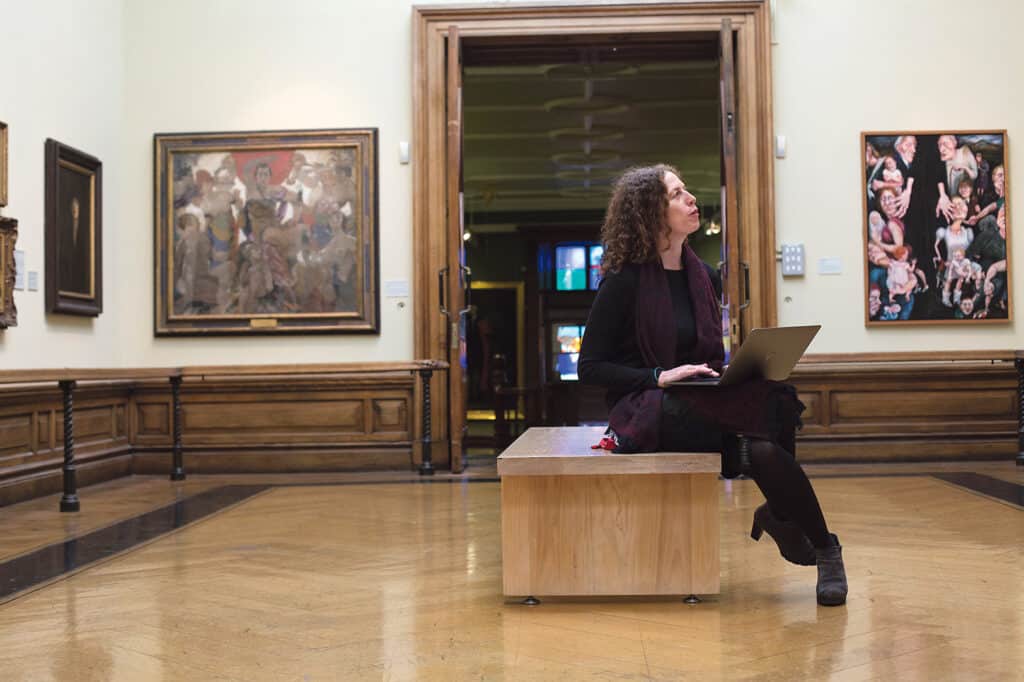 "I would see it becoming a place that's really busy, I don't think 450,000 visitors a year is unrealistic," she says. "The renewed Crawford, post development, in say four years time, will be a very significant cultural institution in Ireland and Cork…a big asset to Cork city, county and the wider metropolitan region, somewhere that will attract people to visit but also enhance the lives of people who live and work here."
Mary's vision for the Crawford is as a dynamic institution in the heart of Cork City that's available to the public and reflects contemporary Ireland but that also takes on the debate on what it means to be Irish now. "We always say we tell stories across centuries but we must also tell stories that are relevant and that challenge some of the existing narratives that are out there."
Another massive boost to the gallery last year was the government acquisition fund of €400,000 to support Irish artists and enhance the national collection. "There were many Cork and West Cork artists who benefitted," shares Mary "particularly in a year where artists couldn't get to the market and show their work, it really provided both a financial and morale boost. For us, it creates this wealth of a collection into the future that we can curate or research from."
In total, 225 artworks by 39 contemporary artists have been added to Crawford Art Gallery's collection in recent months.
'New Threads' the exhibition currently showing until September 5 at Crawford, showcases more than 20 of these newly acquired artworks, ranging from the inimitable humour of Stephen Brandes' 'Chat Show' (2020) to the geometric colour of Tom Climent's 'Eden' (2019) to the intricate sculptural forms of Evgeniya Martirosyan and Nuala O'Donovan. There is more sobering work on view too, including Rita Duffy's political 'Guantanamo amas amat' (2009) and 'Meditating Tongqui' (2020) by Stephen Doyle. The exhibition also features several paintings and prints by artists working in supported studios, including Yvonne Condon and Brianna Hurley.
"New Threads is upstairs in the Gibson Galleries so you're seeing these very contemporary artworks in 1800s architecture and there is something really beautiful about that," says Mary. "We would say it creates new conversations between our collection and these new works. They're very vibrant and it shows that contemporary art is very high calibre in Ireland and a really high quality of work being made. There is no shortage of work out there to be bought and collected."
Mary explains how in selecting the artworks Crawford looked at the gaps in the existing collection, as well as considering the regional imbalance. As well as acquiring work that they had been coveting for some time, the gallery also bought work from artists who were completely new to them. "We really reviewed a lot of files and asked the advice of curators from around Ireland," she explains. 'We also asked the question 'Do these works make sense in a public collection?'"
Does she have a personal favourite in the collection? Mary deflects the question with a smile. "Everybody has their own favourite, that's what I love about the collection," she says. "I wasn't long in my job when I met an elderly woman in the gallery cafe who asked me the whereabouts of a particular artwork, as she missed seeing it in the gallery," shares Mary. "People make relationships with different works at different times in their lives. What's great about the Crawford is that it's free, so people can come in for ten minutes or an hour and form relationships with different artworks, they become like close friends who are missed. Currently we can only have 15 per cent of those works on show because of storage and space limitations."
Interestingly post-Covid, the demographic trend at the gallery has shifted towards a younger cohort. "It happened quite organically and we have had a very high presentation of people in the 18-25 age bracket visiting the gallery," explains Mary. "I think that while it's driven by social media it's also because young people are smart and want to look at something that's not commodified," she shares. "Post pandemic, young people are finding a space in culture, where they can think and find themselves, where they can reflect."
When it comes to the public's favourites, some of the most popular artworks in the gallery according to Mary are "Sean Keatings 'Men of the South', Lavery's 'The Red Rose', John Butt's 'View of Cork', the portrait of Fiona Shaw by Victoria Russell. More recent works would include the Canova Casts and contemporary works like those of Rita Duffy. Then works by Cork artists like Eileen Healy and works by Tom Climent in our recent acquisitions."
Her advice to up and coming artists is to "Keep bringing your work to our attention. We don't solicit proposals but we do ask people to keep us informed, let us know when you're having an exhibition, come to Crawford, keep looking at art that's here, see how your own art might be relevant and suggest it to us by all means…. Artists know when they've created something that should be in a public collection, something that would fit, create a conversation."
According to Mary, the arts generally in Cork and West Cork provide a great opportunity for people to have individual or collective moments of reflection. "We've lived our lives for the past two years in isolation and realised the importance of turning up for things, backing people, networks, connecting with people," she says.
"People are more reflective and I think arts and culture did come to the fore during the pandemic. I think values have changed and in Ireland we've realised the importance of culture, local and national. Certainly Cork and West Cork is steeped in it. I grew up in West Cork where artists really informed your thinking. All this creativity and culture has made West Cork the really great place it is today."