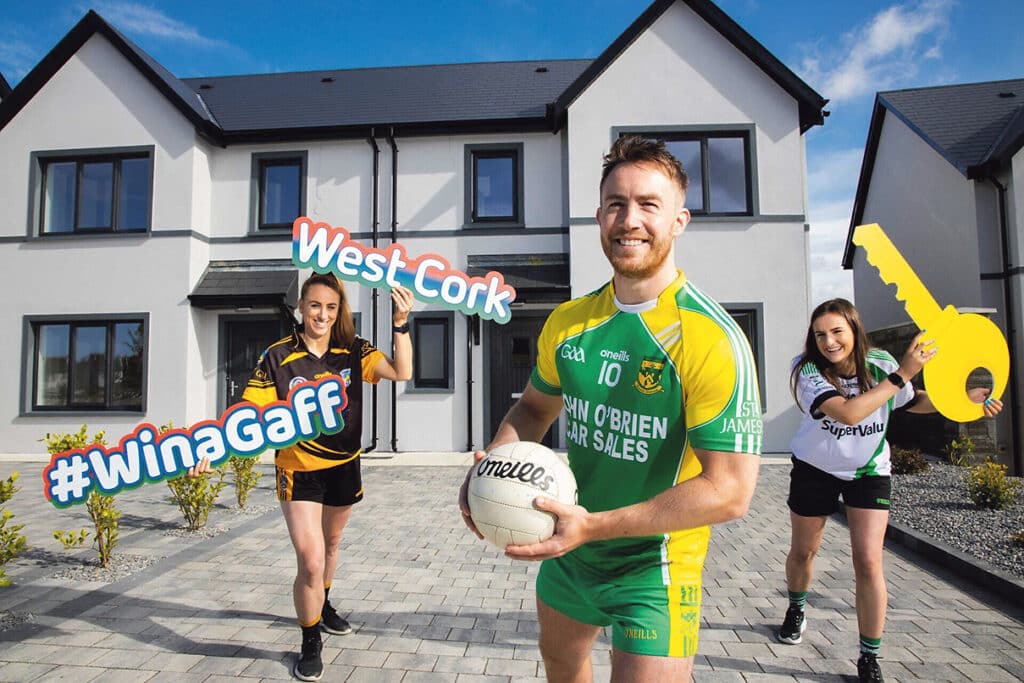 Three of Cork's top GAA clubs have joined forces to offer one lucky winner the ultimate prize – a brand new home in Clonakilty. The #WinAGaff competition is part of a fundraising initiative on behalf of St James' GAA in Ardfield, in conjunction with Douglas GAA and Fermoy GAA, with funds being distributed to develop facilities at each for all age levels.
The 'gaff' in question is a brand new, architecturally designed three-bedroom, semi-detached home at The Miles, an exclusive development in Clonakilty. With many a cold and damp house selling for a crazy price in West Cork right now, this A rated house, beautifully finished and with an air-to-water heat pump and underfloor heating, has a value of over €300,000.
Never mind how spacious, warm and efficient the house will be, it is the location that really makes it something special. The Miles development is situated on the south-western side of Clonakilty, just minutes drive from the coastline at Inchydoney, Dunmore, Ardfield and more. Clonakilty town centre is just a 10-minute foot-pathed walk in the other direction – town and country living at its best.
Is it any wonder then that West Cork has become such a popular destination for home hunters, with few properties remaining on the market for long? Unfortunately, this has made it very difficult for local people to get on the property ladder and to add to their troubles, rentals are scare and expensive.
"We've had a lot of interest from people who are just priced out of the market at the moment," says Niall O'Sullivan, Chairperson of St James' GAA. "As I say to them, take a punt on this draw for the price of a meal out for a couple and they may get lucky and live the rest of their lives in comfort with no mortgage. We've seen a lot of tickets bought for wedding and birthday presents for young people for that reason."
Second prize in #WinAGaff is a 1.8 Toyota C-HR Hybrid Luna worth €32,860, and there is €5,000 in cash for the third prize. A maximum of 10,000 tickets will be sold and with numerous other amazing prizes up for grabs, your chances of being lucky are really very good.
"Once the tickets are gone that's it!" promises Niall. "We are rewarding early buyers by holding smaller draws every fortnight, with prizes from €2000 cash to a TV to an electric scooter, so the sooner you are in the more you can win."
Taking part in the #WinAGaff competition will also have a positive impact on the local community at Ardfield/Rathbarry, the home of St. James' GAA, which is experiencing a period of great growth and positive energy following on from its first ever West Cork Junior football final victory in 2019 and numerous successes in the Scór competition, where the Club reached the All-Ireland final.
Niall is confident that each of the three clubs will come away with €150,000 to invest in their club. St James' main objective is to build a walkway around the park that everyone can enjoy."In the last year, a lot of our patrons have felt intimidated by traffic on local roads so we want to provide a safe and enjoyable walk within the club to help everybody stay active. It will also be a great for young members too, who will be able to run on it in winter months when the pitch might be too wet."
The Club also plans to build a wall ball alley to develop the skills of juvenile players.
Liam Evans, Secretary of St. James' GAA breaks down further what difference the funds will make: "This exciting venture will help in providing vital funding to allow St. James' build our dream hurling practice facility, install a drainage system in our pitch, provide a walk way, replace our grass mower, and clear debt which has been a mill stone around our necks for a number of years. It will also give us great pleasure to be part of something which will change the life of the lucky winner, a holiday home or perhaps provide a home for a family in need of housing."
Niall would like to finish by thanking the Club's members, patrons, trainers and officers for all their help and understanding in the past year, when many plans had to be changed or cut short. "As a Club we still had bills to pay even though we were closed but we got huge support from people locally and across West Cork, particularly for our local lotto. It's great now to see the young players back out running around and going home tired and for that I have to thank the trainers and officers for their understanding and commitment to keeping us all safe and well."
To enter the draw you can buy your ticket online at www.winagaff.ie or call Niall on 086 3831187. Club members will also be out and about selling tickets in towns and villages across West Cork so keep an eye out for them.