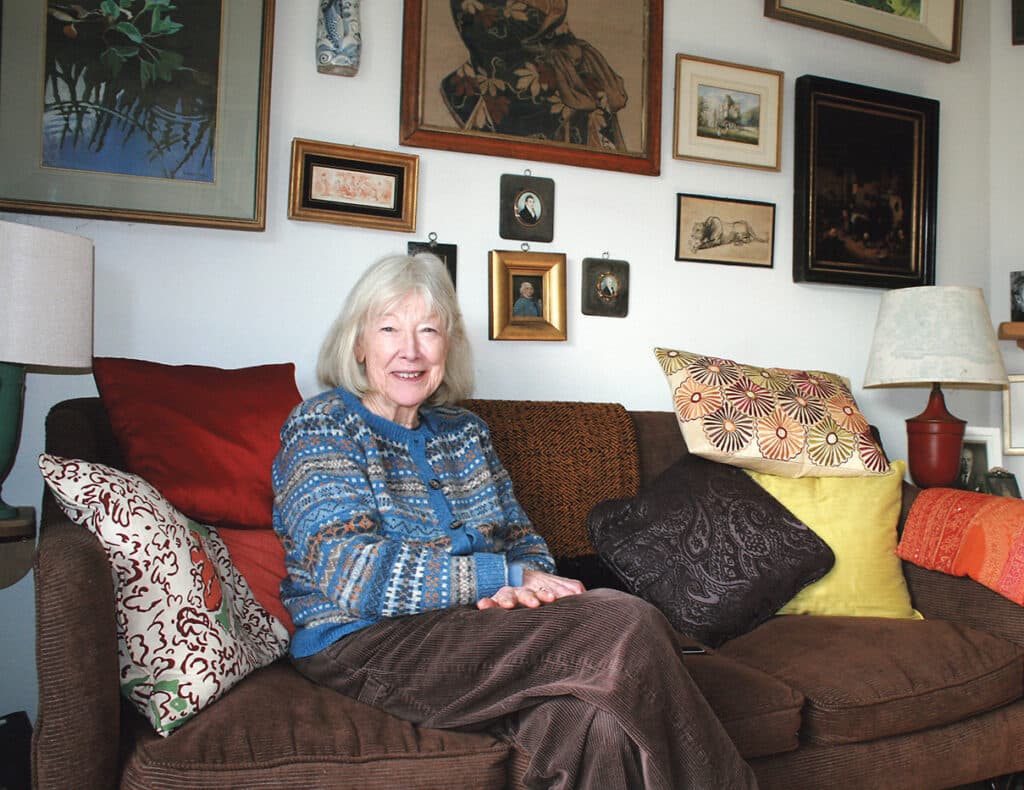 Retired professional cook and food writer Beth Hallinan's small cosy home in Ballydehob is filled with beautiful memories: pieces of art, furniture, well-thumbed books, that she has collected, been gifted, loved over the years – capturing moments lost in time and reminding her daily of family or friends. "Everything in this house is of sentimental value, which probably isn't really a good enough reason to keep it all," she says laughing, as she points out that even the uncomfortable sofa she is perched upon was rescued from a pile of rubbish in the early days of her first marriage.
Celebrating her 83rd birthday this year, Beth has led a fascinating life rich in colour and flavour: from running away from school at the age of seven to bluffing her way into a professional cook position with a bank in England. Much later she even entertained Queen Sonja of Norway at her guesthouse in Cork.
The accomplishment she is most proud of however is neither her business endeavours nor social connections but her family; four wonderful grown up children, and grandchildren and great-grandchildren." She chats online with them every morning.
Although adamant that her story won't be of interest to anyone, Beth can't help but smile as she remembers…
Born in Midleton in 1939, Beth's own parents were abroad a lot when she growing up. Her father worked in the Colonial Judiciary and when Beth was seven she and her older brother left the West Indies and were sent to boarding school in Ireland while her parents travelled to Africa. Hospitalised with chicken pox, the spirited little girl managed to run away to Midleton where her beloved Aunt Marie lived. "I tagged along with another family on the train, even sharing their sandwiches; you couldn't get away with it nowadays" she says laughing. Beth spent a year with her aunt in Midleton before her mother returned and took her off to school in England.
It was while at boarding school in England that Beth discovered the flavours of Elizabeth David in 'A Book of Mediterranean Food'. She still treasures that book today. Inscribed inside it in Beth's young handwriting are the words 'This is my book and I love it!'.
"I used to cook for my mother who hated cooking," says Beth, who recalls cycling down to the shop in Midleton and asking for a lemon. "The answer was 'Ooh there's not much call for things like that' recalls Beth laughing. "You couldn't even buy a tomato back then." Luckily Beth's mother was a great gardener and the aspiring young chef was able to source her Mediterranean ingredients like tomatoes and lemons and basil from the greenhouse.
"Mum always grew delicious vegetables like asparagus and sea kale," recalls Beth nostalgically.
Beth went on to study at the Guildhall School of Music and Drama, married, and had four children before she was 25.
When her family situation necessitated that she gain employment and, with little experience in anything other than cooking for own family, Beth talked her way into a job cooking for a bank. Asked in the interview if she was a Cordon Bleu chef, without thinking twice, Beth replied in the affirmative. "Although when he asked me if that means I put cream and butter in everything' for some reason I knew the answer should be no," she says laughing. Quizzed on cholesterol in the interview, Beth pretended she knew all about it. "I had never heard of cholesterol before but it turned out the bank manager had a heart condition," she explains. Beth got the job – and cooking with the help of Constance Spry she kept it – and in fact went on to write a number of books on low cholesterol cooking for heart health.
"Bluff is the worst way of getting on in life, it's so terrifying and such hard work," says Beth. "It's much better to be trained and know what you're talking about."
In her thirties Beth took a chance and opened a restaurant on the riverside in Hamble, a village on the outskirts of Southampton. "It was 1978 during Harold Wilson's Winter of Discontent," she remembers. "I borrowed money at six per cent and a year later was paying it back at 18 per cent interest. That was really tough… and again I didn't really know what I was doing," she says.
Then her business partner died suddenly and it turned out her chef was robbing her. The restaurant did so badly in its first year that Beth says if she had known how terrible things were, she would have most certainly closed the business.
"I really didn't have a clue, even the VAT people came and did my tax return for me!"
Luckily people still eat out in a recession and the food was good at Beth's restaurant.
By the time she had discovered the extent of her losses, the restaurant had turned a corner and become something of an overnight success.
"It was hugely hard work but great fun," she recalls nostalgically.
"In the meantime however," she says, "my four wild young children were left to their own devices while I ran the business."
Beth eventually sold the restaurant to look after her ill father who had returned to London. He passed away in 1985.
She ran a restaurant in Covent Garden for a year and was offered the opportunity to open a restaurant in New York but refused. "I felt I'd be out of my depth and have never regretted that decision," she says.
In 1997, Beth returned to Ireland to look after her ailing elderly mother. After she passed away, Beth bought and restored Rathcoursey House, a beautiful Georgian house on 55 acres in Ballinacurra, Co Cork, which she ran as a guesthouse for a decade, selling it in 2004, when the scale of the work involved became unmanageable. "Queen Sonja of Norway loved the gardens of the south of Ireland and used Rathcoursey as her base to tour them," recalls Beth, who had also cooked during her time as a chef in England for the former King Constantine and Queen Anne Marie of Greece.
"My mum used to bundle my brother and I into the car when we were little and take us on holiday down to West Cork," Beth recalls. "I always thought of West Cork as holiday world so that's where I decided to retire to."
And so Beth moved west…to a beautiful hillside hideaway on four acres in Ballydehob, where she once again applied her restorative touch to an old farmhouse and surrounding land.
Now in her eighties, Beth is settled into a smaller, more manageable home in the village that suits her needs. She has never lost that independent spirit that brought her back to Midleton all those years ago at the age of seven. Rarely idle, if she's not pottering around at home – cooking, gardening or with her head stuck in a tome – you might even find her planting along the roadside. "Nobody notices until it's a tree and then they think it's always been there!" she says with a mischievous twinkle in her eye.