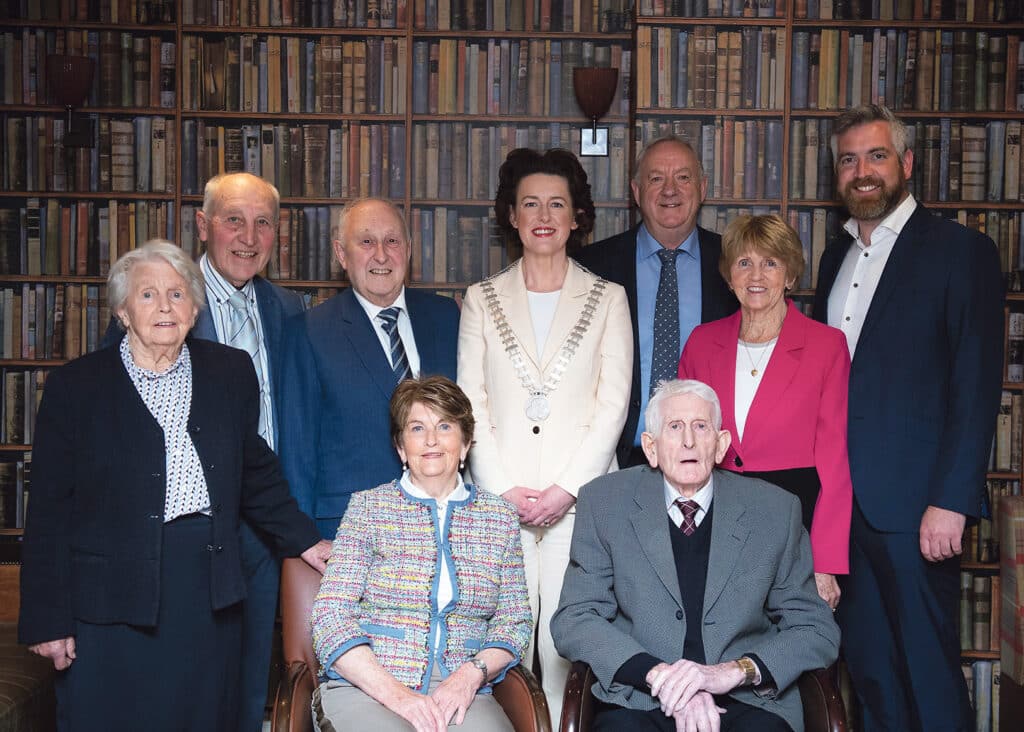 An extensive programme of events has been announced for 2022 to mark the Centenary Commemoration of Dick Barrett, a prominent Irish Republican Army volunteer who fought in the War of Independence and on the Anti-Treaty side in the Irish Civil War. Barrett was executed by the Free State government, without charge or trial, for a crime he did not commit on December 8, 1922.  Mayor Gillian Coughlan and Frank Murphy, former secretary of the Cork County Board, launched the centenary year on Friday, April 22, with over 200 people in attendance. 
The aim of the State centenary commemoration programme is to ensure this complex period in our history is remembered appropriately, proportionately, respectfully and with sensitivity. A specific key objective of the State Programme, and for the Dick Barrett Commemoration committee, is to promote a deeper understanding of the significant events that took place during this period, while recognising that the shared historical experience of those years gave rise to very different narratives and memories.
Richard 'Dick' Barrett was born in 1889 in Hollyhill, near Ballineen West Cork. He was educated at Knocks and Knocksheagh National Schools before he entered De La Salle College in Waterford to train to be a teacher. He took up a position teaching in Upton and shortly afterwards Gurranes. Barrett dedicated much of his short life to the GAA, setting up Knockavilla GAA club. From 1917, inspired by the Easter Rising, he took a prominent part in the organisation and operations of the Irish Volunteers and IRB in West Cork. Quickly rising up the ranks of the organisation through his skills in planning, Barrett was appointed Quarter Master General. He was later arrested on March 22, 1921 and imprisoned in Spike Island, from which he later orchestrated and led out an escape under the cover of darkness. Following the War of Independence, Barrett supported the Anti Treaty IRA cause, as he was opposed to the Anglo Irish treaty and called for total elimination of English influence in Ireland. In April 1922, under the command of Rory O'Conner, Barrett, along with 200 other men, took the Four Courts in Dublin in defiance of the new Irish government, for which he was arrested and imprisoned in Mountjoy.
On December 6, 1922, the Irish Free State came into being, after being given the Royal assent by King George V of England. The government of the new Free State assembled at Leinster House to take the loyal oath of allegiance to King George. On the following day, December 7, two pro-Treaty deputies, Sean Hales and Pádraic Ó Máille, were shot near the Ormonde Hotel in Dublin. Sadly, Sean Hales, who had been a close friend and comrade of Barretts during the War of Independence, died from his wounds. The Executive Council of the Free State Government met that evening. Their decision was one for which no cover of legality, could at that or any other time, be explained or defended. As Ernest Blythe arrived late for the meeting, the names of four Republican prisoners were being read out: Liam Mellows, Richard Barrett, Rory O'Connor and Joe McKelvey. Those four men had been members of the Four Courts Executive during the occupation and attack earlier in the summer and they were to be 'executed' as a reprisal for the killing of Sean Hales.
That morning, Richard Barrett wrote to his family: "I have just been called from my old bed in cell 36, top landing. A little paper was read to me, which stated that I am to be executed this morning at 8a.m. as a reprisal for the murder of Sean Hales".
From a legal perspective, these four men were 'executed' without charge or trial and for an offence clearly committed by others. Since they had been in Mountjoy Jail for five months, it would have been impossible to convict them of complicity in the shooting of Sean Hales. It was heavily debated in the Dail in the days that followed. Deputy Johnson, leader of the Opposition, stated that murder most foul had been committed – "murder bloody and unnatural". The government was charged to protect these prisoners – that was their duty as guardians of the law.
While most of the newspapers of the time were pro-Treaty, they could not hide their shock at the horrendous killing of four innocent Irishmen at the hands of the newly formed government.
The first task of the Commemoration Committee was to write a letter to Taoiseach, Micheál Martin, seeking a state apology for the illegal killing of Dick Barrett and by extension his comrades, at the hands of the State, on December 8, 1922.
In addition, an extensive series of over 14 events is planned for throughout the year, such as an upgrade of the existing monument at Hollyhill, as well as updating the existing biography with new research and photos. Anyone with photos from this time can get in touch. Furthermore, a schools project is planned with schools in the area to commemorate 'Dick the teacher' but also to recognise the importance of educating this complex period of our history to younger generations. Further to this, a series of lectures and a symposium of academics is in the planning, as well as guided tours of both Spike Island and Mountjoy jail. In collaboration with the Cork County Board, a school league is being organised to play for the now retired Dick Barrett Shield. A radio play by Mike Russell is currently in the works and will hit airwaves later in the year. The committee is also engaging with relatives and family of Joe McKelvey, Rory O'Conner, and Liam Mellows to collaborate on their Centenary initiatives. The Centenary Programme of Events will conclude with Centenary Commemoration at the graveside in Ahiohill on Sunday, December 4. The oration will be delivered by Former Taoiseach and internationally-recognised conflict resolution expert Mr. Bertie Ahern. Clonakilty Flower club will design a custom display for the programme.
The full programme of events can be found on social media and will be announced in print media closer to the time or for more information email
dickbarrettcentenary@gmail.com.