by Elizabeth Walsh
Walking in my shoes – accessibility explained. Each and every day our lives impact on each person's life whose path we cross, metaphorically and physically, positively or negatively!
Redmond O'Hanlon is a guy who has lived the dream; graduating from UCD, travelling extensively, attaining fluency in several languages, he has lived and worked, on several continents. He has never spared himself, throwing himself into life everyday and not just living it, but ensuring that those around him are living it too. Everywhere he has lived, he has found those in need, prisoners who have had no visitors, people who have needed help. His warm and generous spirit has always reached out to wrap around everyone like a big, soft blanket.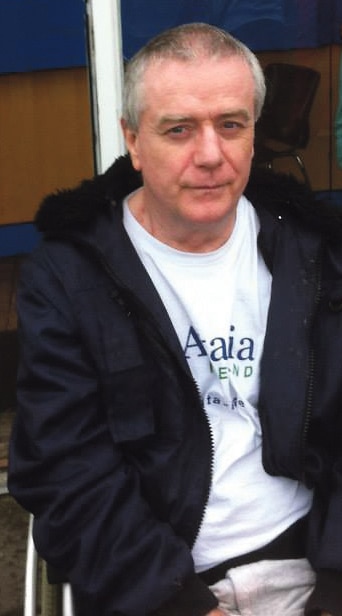 Redmond's circle of friends could wrap around the globe twice over. His black humour and quick, often acidic, wit, his loyalty and kindness, his caring good nature, his steadfastness, his fearlessness in standing for what is right, rather than what is popular, his personality is pretty much beyond description; however he is loved beyond words, for the person that he is. He is the person you want at your party, definitely, the one to enjoy a civilised glass of wine with, as you discuss the world and life, laugh and joke, long into the night.
Having lived in far-flung localities, Redmond finally settled in Bangkok for 30 years, where he had secured a prestigious position, as a language teacher in the Royal Thai Air Force, at Don Muang Air Force Base. He taught all ranks, from four-star generals, down to privates. While he could have lived on the base, he preferred to live in an apartment in Bangkok and travel by motorbike taxi one hour, each way, to and from the base. In Bangkok, he had many friends of all nationalities. He found time to write to, and to visit, prisoners in Bang Kwang and Lardyao prisons; at one point, writing to and visiting over 26 foreign prisoners. He provided them with items, not available to them, and beyond their reach, as they usually were without funds.
Redmond was an active and supportive member of communities in Bangkok, and contributed to the welfare of older people.
He enjoyed an amazing life style there; visiting family members in far flung places, travelling in Asia and beyond, going on trips in Thailand to places off the tourist track, going on a Buddhist retreat annually, having dinner every Sunday with friends, their families and children, hosting family and friends who visited, meeting friends at the markets to shop, going swimming, going to films, cultural events and of course, in his position at the language centre, he was included in many official gatherings at the Royal Thai Air Force. An avid reader, he devoured books and newspapers.
During this time, Redmond, began to develop some odd symptoms, eventually being diagnosed with Friedrich's Ataxia. This is a pretty progressive, disabling, disease, however it did not alter Redmond's way of life, rather just how he achieved it. Thai people are inherently kind, empathetic, and helpful. Redmond continued to go by motorbike taxi to the base, even as his condition progressed and he required a wheelchair at the base. There was one motorbike taxi rider, who would still carry Redmond on his motorbike, safely, without fear. Redmond travelled, fearless. This motorbike taxi rider, on realising the challenges that Redmond was eventually encountering shaving, stepped in to assist each morning, prior to departing for Don Muang.
The Royal Thai Air Force did everything in their power to accommodate Redmond, as he is such an excellent language teacher, and they did not want to lose him. On a Saturday when Redmond went to get shopping, people whom Redmond had helped when they were in need now helped him. It was actually easier to live there and work – where accessibility is an unknown concept more or less, due entirely to the attitude, respect, friendship and goodwill of Thai people – than in Ireland.
When Redmond could no longer write legibly, he dictated letters to friends for the prisoners whom he looked after. As obstacles arose, he found solutions, facilitated by friendship and goodwill. Redmond had many falls, as his balance and co-ordination deteriorated; he picked himself up, dusted himself off and kept going. He revealed these incidents as hilarious anecdotes, when actually the tears would come down your face, laughing not of course at his misfortune in falling, but at the manner in which he described it. There was one instance where he had taken a bus and the buses in Bangkok barely stop while you jump off. Well Redmond's athletic prowess at jumping had long since disappeared so, as he landed on the footpath, he fell, into some dog's dinner plate, degrading enough, except the dog then promptly bit him! He refused to give in or to choose a 'safer' option. He led a wild, enviable, somewhat charmed, incredibly happy, productive life; surrounded and supported by friends and colleagues, in Bangkok, until his retirement. The Royal Thai Air Force tried to entice him to stay for even one last year; they had never had a complaint from even one student and all of his students passed all exams with excellent grades. His boss in the Airforce, a two star general, Air Vice Marshal, told him that he taught with his brain and not with his legs!
The majority of people would be intimidated by a motorbike taxi ride in Bangkok, finding it inducive to a heart attack rather than exhilarating; definitely one for two hours every day in rush hour traffic to Don Muang Air Force Base, which until 2006, and the opening of Suvarnabhumi airport, was also the location of the main airport.
Redmond, a lifelong friend, introduced me to Thailand, to locations off the tourist track, beautiful islands, amazing forest, night trains, elephant trails, the amazing northeast of the country where the impact of tourism is minimal. Of course, I too, through writing letters for Redmond, began to write also to a prisoner and visit her in Lardyao.
Redmond has so much ability; it flows from him and engulfs you, like fresh water from a mountain stream on a warm day. Redmond's inspiring literary spirit amazes me to this day. He now resides independently, in retirement, with assistance from personal assistants (whom he teaches English to, as they are mostly non-native English speakers). Prior to the pandemic, he enjoyed (with family and friends) theatre, films, plays, cinema, football games, eating out, meeting friends, visiting home each weekend in addition to hosting friends and family. Since the onset of the pandemic, family and friends have joined forces to protect him. Redmond is not just provided with meals, they are gourmet meals, my mouth waters. His shopping is brought to him. He has a 'bubble', with people fighting to be part of it.
I look forward to when we can all sit together, perhaps with a glass of wine, share our stories and laugh together.
Try his shoes on for size…they won't fit!