by Elizabeth Walsh
Walking in my shoes – accessibility explained. Each and every day our lives impact on each person's life whose path we cross, metaphorically and physically, positively or negatively!
It is a beautiful bright sunny morning, in the autumn of 2015, at Ballinasloe horse fair. The fair green is a virtual sea of horses and ponies, every size and colour, every age, thick manes, long manes, hairy horses, plaited horses, cobs, mares, stallions, colts, foals, show jumpers, leisure horses – a sight to dazzle any spectator.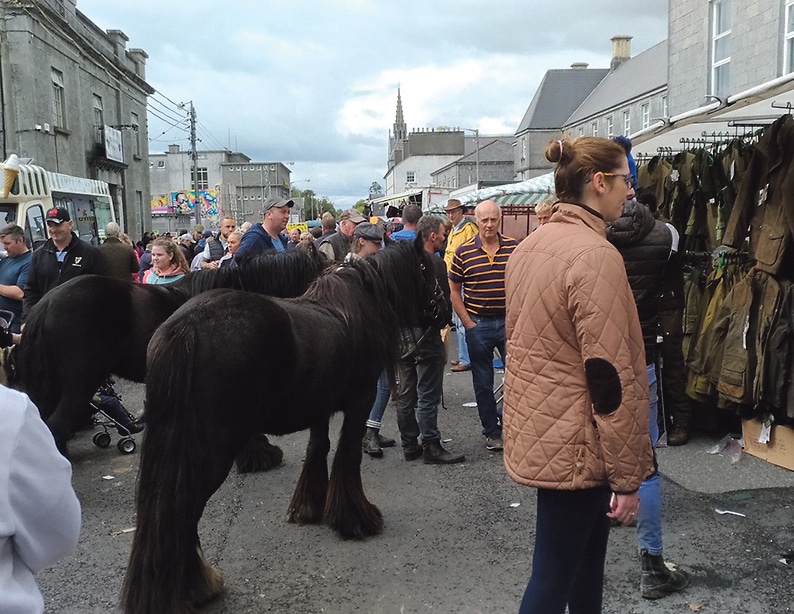 Along she comes, slower than others, but steady, moving carefully among the horses on the green, careful of her step. Her walking sticks are noiseless on the grass. She watches for the riders, who are oblivious of her; might just keep coming, not cognisant of her lack of speed or lack of ability to change direction quickly. As she meanders around the green, she pauses often to admire the many beautiful horses and foals, exchanging conversation and banter with the owners or handlers. Equine skills in Ireland are such that one handler might hold anything, from one horse or pony, to a veritable string of animals, all munching whatever is nearest to them, or surveying the landscape, grooming each other, or simply resting. This skill of handling many horses, who are socialised to each other and to the environment in which they find themselves, is indeed recognised as a feature of Irish handlers and their equines; and valued within the horse industry.
The fair green is a spectacle, buzzing with activity, with anticipation; eager faces scouting for a horse or a pony, owners anxious to sell one. However, everyone exudes an air of calm, as though it were all a picnic, no rush, and conversations go around in circles, saying everything but telling nothing.
The aroma of horse is intoxicating, their beautiful muzzles and calm eyes, watching intently, the bustle and movement, the exchanges around them. Mares nuzzle their foals. Stallions stomp.
She moves on up the field to the arena where the loose jumping is about to start. Several local horses will be taking part. There are no seats; however, an organiser, on noticing her, finds a barrel for her to rest on. The loose jumping is thrilling. It goes well for some, not so good for others. Sometimes, it is just all about luck on the day.
She turns back down the field; at the end she heads left, to where her friends are gathered with horses on show for sale. It is very warm. She takes a seat on the chain fence, which, in itself, is a feat of co-ordination and balance. The sandwiches and water come out of the rucksack and, as the horses tuck into fresh hay, she picnics with her friends, chatting happily in the sun. She has taken an inventory and photos of the horses, which should be seen on the fair field; and when the picnic is finished, she takes her turn to hold the horses, while her friends make their way up to form their own opinions of what is on offer.
She holds her two horses, talking to them and gently petting them, chatting with passers-by who make hopeful enquiries. Eventually, her friends return, with reports of their views of what is on offer. They debate this for a while. She decides to go for a walk up the main street. This is like a trek into a market crossed with the fair green: Add in congestion with colourful chatting people and laughing children. Stalls line the street selling all things horsey, from colourful, actual, horse products, to toys and ornaments, clothes, food and novelty items. Behind these, the shops, restaurants and pubs churn out food and meals. People meander, stopping unexpectedly, as something glistens and catches their eye.
As nonchalantly as though they were walking a dog, owners walk slowly through the crowd, with one, perhaps two, ponies or horses trailing behind them. They might halt to browse at a stall, while their equines obligingly rest, surveying the shoppers. Overseas visitors to the fair stop to take photos, amazed at the ease with which the gentle equines are handled. "It would never happen in Italy," a lady, who identifies as an Italian veterinary surgeon, remarks to the girl, "our horses do not receive adequate socialisation, with each other, humans or the environment."
As the girl makes her way, browsing, along the crowded street, she is struck by the courtesy and kindness of ethnic Irish Travellers. She had noticed it on the fair green, however in this street it jumps to life. A child tries to dart in front of her and a hand reaches out to stop him "mind the girl, watch where you are going, I am sorry Miss". A teenager walks aimlessly texting, about to crash into the girl sideways; she has not seen him, an arm shoots out to buffer her "be careful, look in front of you" is thrown at the youth. Some youths have spilled out onto the road watching an auction of horse ware; she cannot get through, her dilemma is noticed, "make way there, lads, let the girl through".
However, it is on her return journey, back up to her friends, that the girl really comes to appreciate the ever-watchfulness of these good-humoured people. As she makes her way, now very tired, rather slowly, she is suddenly pushed from behind and her left walking stick is knocked from her hand, flying onto the ground. As she regains her balance, she can see a well-dressed, beautifully coiffed woman, walking smartly away. A hand extends to assist her. "Are you OK Miss, can I help you?" the young man retrieves her stick. "Are you sure you are OK, do you need to sit down, do you need some tea?"
The girl did get a fright when the woman pushed into her and knocked her walking stick from her. As she makes her way back to her friends, she is more alert, trying to develop the proverbial eyes in the back of her head.
That evening, when the horses are gone to B&B and everyone is washed and changed, they head out to a local hostelry, known for its food. It is jammed. However, on seeing the girl and her sticks, a pathway appears towards the snug, where tables are served: All six of them are heaving. Some avert their gaze, as the girl balances, tired after her long, but enjoyable day. Then, a young man, sitting with his group of family and friends, ethnic Irish Travellers, looks around, glimpses her, and is on his feet in one swift movement. He whips his chair off the ground and plants it firmly beside the girl, "I'm well able to stand", he laughs, "take the weight off your feet, didn't I see you admiring Johnny's piebald earlier?" and they launch into a conversation between the two groups about the horses for sale, what they had made, what they might have made, and what they should have made.
Walk in this girl's shoes…experience what invisibility feels like…and true courtesy and kindness.