It has become something of a tradition that the festive window display in Designs of Skibbereen heralds the start of the holiday magic each year in the West Cork town. Once the fairy lights are switched on and the elves appear in Designs, you'll often find shoppers standing outside front soaking up some classic holiday spirit. Designs' co-proprietor Finola Byrne has been known to work through the night to create her striking traditional Christmas display. "It's a window into the shop, but also something more than that; I think we all need a little sparkle and magic in our lives right now," she says.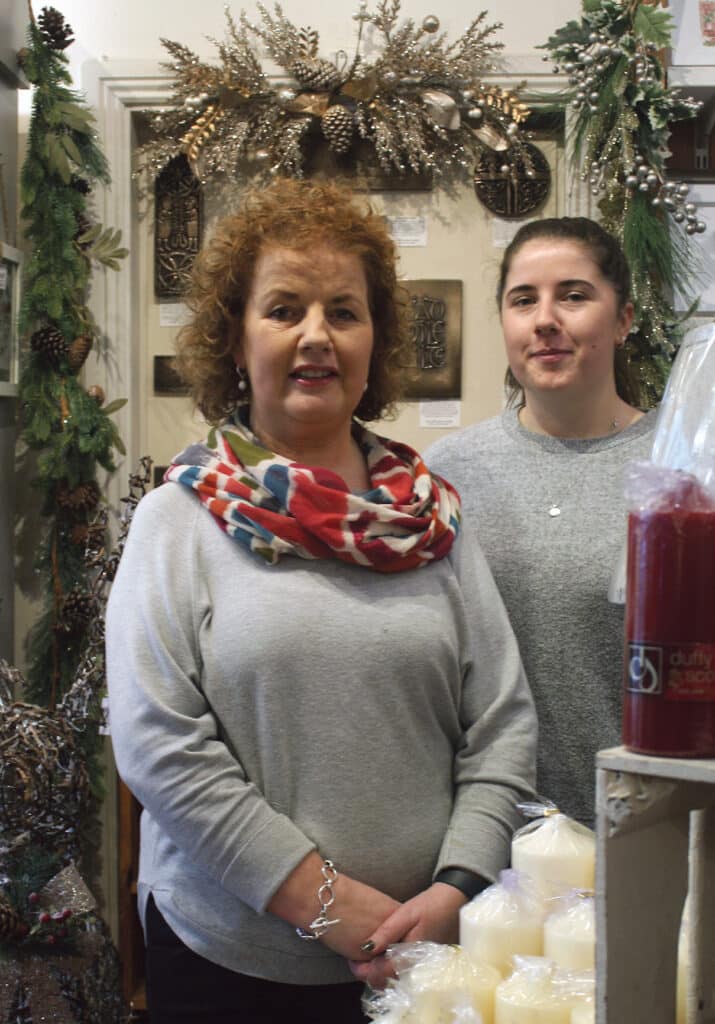 Finola and her husband Alan Byrne run this fabulous little craft shop in the busy market town of Skibbereen. First established in 1977 by Alan's mother, Eileen Byrne, Designs will celebrate its 45th Christmas this year. 
Finola and Alan are proud to be carrying on the tradition of supporting Irish craft and design that Eileen Byrne, 80, initiated all those years ago. "Eileen was very much ahead of her time," shares Finola. "She was never afraid to step outside the box and regularly drove the length and breadth of the country searching out new Irish makers and designers. She attended the very first Showcase at Dublin's RDS, a mere seven stalls at the time."
Today Finola and Alan carry on the practice of going the extra mile for their customers sourcing unique and quality products, from traditional crafts to contemporary homewares. "You can't take your finger off the pulse; you really have to listen to your customers, taking into account their needs and budget," says Finola. "And of course without good customer care, there is no doubt that your business will falter."
A native of Clonakilty, Finola grew up greatly influenced by her close family relations and the great work ethic in their respective businesses, Lowney's Coach Hire and Dunmore House Hotel.
This care and attention to detail regularly reaps well wishes and thank you cards from customers all over the world. "A customer making the effort to send a card by post really brings a smile and makes it all worth while," shares Finola. "When we reopened after the first lockdown, I realised that it was the interaction with our customers more than anything else that I had truly missed." Alan, a keen sports man, thoroughly enjoys his regular chats with customers about rugby, golf, football, soccer and also cricket with one lovely lady.
Anyone searching for a beautiful and timeless gift will find a wonderful selection to peruse at Designs. Ceramics range from Nicolas Mosse pottery to closer-to-home Charlie Mahon Ceramics Pottery Collections from East Cork to Paul Maloney Craft Pottery and Art. Bring light and scent into your home with the local ranges of La Bougie candles from Kinsale or Inchydoney Candles from Clonakilty. Looking for a baby or children's gift? Look no further, as Designs has gifts that will be treasured forever. Check out the selection of super soft quirky toys from Jellycat and organic children's clothing from local company Cotton Caterpillars. They also carry a beautiful selection of waterproof and breathable children's coats from Irish company Lighthouse. Adults aren't left out either with the latest styles from Brakeburn and Seasalt.
Christmas shopping is well underway in Skibbereen and Designs has a wonderful selection of items to choose from. Share the warmth of 100 per cent wool slippers with a loved one, the practicality of a pair of rubber garden crocs, the luxurious style of faux suede gloves, matched with a bag or purse, or the sparkle of one of the many jewellery ranges in store. For house proud friends, check out the Mindy Browne collection of table runners, oven gloves and napkins or invest in a timeless set of glassware from Newgrange. Add even more panache to your gift with one of local artist Sonia Caldwell's beautifully decorated cards or calendars.
For this and so much more, call in to Designs in Skibbereen today.
Designs, 32 Main Street, Skibbereen. O28 21221. Follow on Instagram and Facebook.