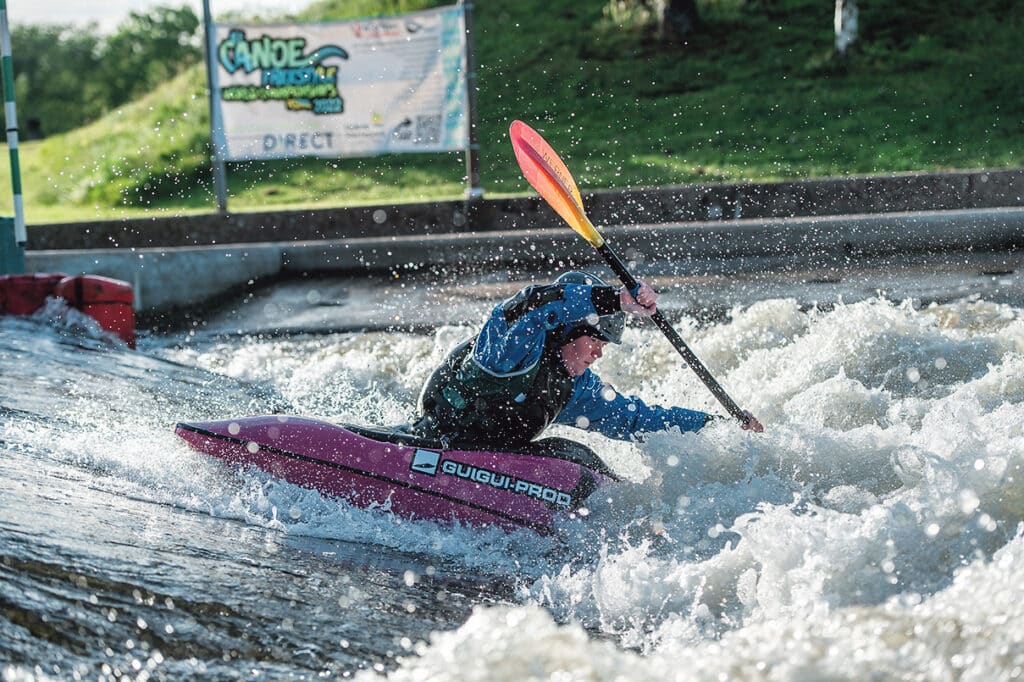 Anaïs O'Donovan (22) from Skibbereen is part of the Irish Freestyle Kayaking team representing Ireland at the Canoe Freestyle World Championships in Nottingham, taking place from June 27 to  July 2, 2022.
Perhaps one of the biggest challenges for this up-and-coming young star on the water is funding her ambitions. "We are self-funded athletes, receiving no funding from Sport Ireland or Canoeing Ireland, and have to take time off work and pay for our own flights and accommodation," she shares.
Right now in order to make the trip to the World Championships more affordable and follow her dream, Anaïs is temporarily living in a van in Nottingham.
The West Cork gymnastics instructor's passion for watersports only branched into kayaking with her local West Cork Kayaking Club four years ago.
"From the very first trip out with the West Cork club, I was immediately hooked and I have never looked back," she says.
Always wanting to compete at a sport, Anaïs switched from whitewater kayaking to freestyle.
She now trains in freestyle with Southeast Freestyle and also does a lot of peer paddling with friends.
Freestyle kayaking is a fast developing sport, which involves performing tricks on river waves, often similar to those performed by snowboarders, surfers or skaters, where the athlete completes spins, flips, turns, often with the kayak and paddler completely airborne.
Hooked from the very start, Anaïs describes freestyle kayaking as gymnastics in a kayak. "We have 45 seconds to perform an array of tricks with different values to get our scores," she explains. "The tricks are somersaults, flips and tricks, and are incredibly difficult but really enjoyable.
Freestyle was appealing to me because of the gymnastics element and once I started there was no going back."
While she enjoys the challenge that comes with competing, Anaïs says part of the reason she's so driven is because she feels females are so under-represented in this sport. "I really want to make a difference," she shares. Anaïs' aim is to place in the top five in the world championships in the next couple of years.
After two selection competitions, in March Anaïs officially made the tram representing Ireland at the World Championships.
Her training typically involves two sessions a day, five days a week. She also works closely with a personal trainer who helps her with strength and conditioning, does mobility work and is careful with her diet.
While she often doubts her own abilities, Anaïs' performance in a kayak is impressive, particularly when she's twisting in the air for one of her tricks. It's exhilarating to watch her airbourne manoeuvres and she often gains additional bonuses for airtime when competing.
Definitely one to watch on the water!
If you're a business owner interested in sponsoring this rising star, you can contact Anais on Anaisodonovan@hotmail.co.uk