Cast your minds back to mid-March and the Cork Footballers had one point from five games in the Allianz Football League Division 2. Fast forward three months and the Rebels found themselves in the last eight of the Sam Maguire Cup, playing against the mighty Dublin. Castlehaven defender Rory Maguire, who has been a massive part of the Rebel Revival, chats to Matthew Hurley about the journey.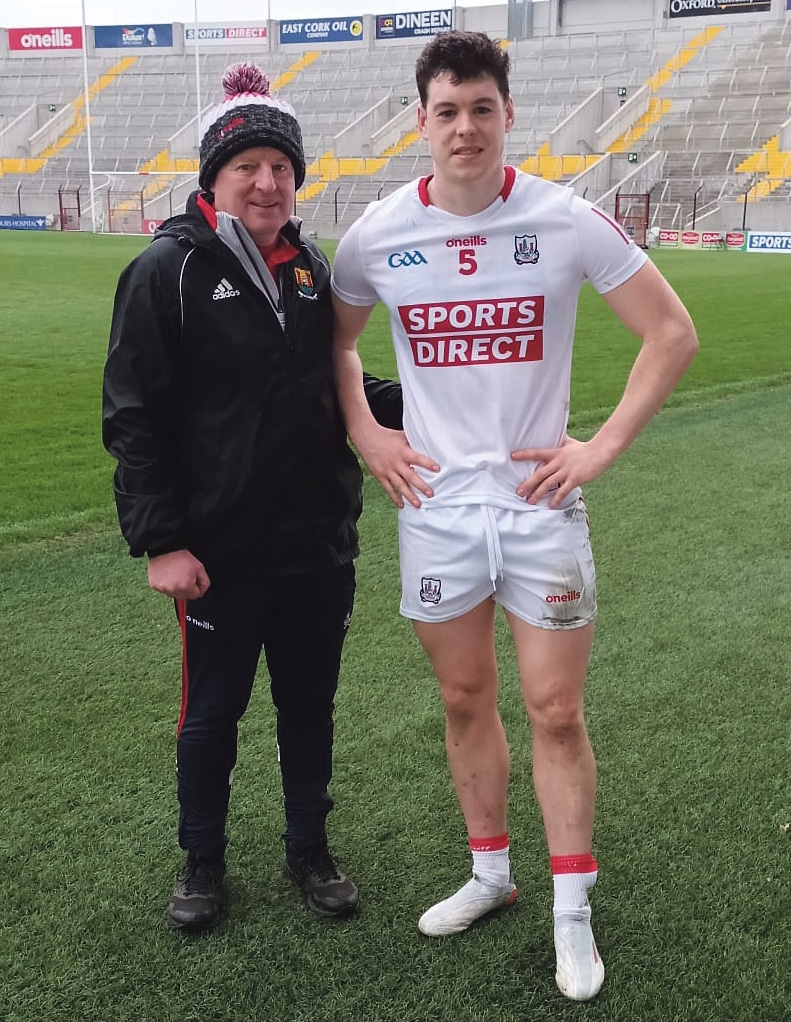 "It's been a bumpy enough journey so far. We had a slow start. A lot of bodies were missing at the start of the league. Really eye-opening games. 
"We could have easily been playing in the Tailteann Cup. Now here we are in an All-Ireland Quarter Final, can't complain really," he said.
After losing to Roscommon, Derry, Galway and Meath, the signs were that the Leesiders would be playing in the inaugural Tailteann Cup for 2022, but the players never gave up.
"After that Meath game, it was a tough place for the squad. We were playing well in training, and things just weren't translating to the pitch, I couldn't really understand it.
"The poor performances and the injuries kind of bonded us together as players and we kind of stuck together after that."
Despite the poor early league form, Maguire still believed they had enough to grind out results against Down and Offaly, two games in which they won to stay in Division 2.
"We knew we had forwards like Cathail (O'Mahony), Steven (Sherlock) and Brian (Hurley). We knew if we could get them quality ball, they would score.
"It was at the other end then we had to just keep the score down. With Maurice (Shanley) and Sean Powter coming back in there, it really solidifies things.
"Mattie Taylor was also in there at wing-back in addition to the emergence of John Cooper on the other wing. Kevin (O'Donovan) in the corner as well. We were all working together."
The last two league games against Down at home and Offaly away at the end of March were crucial if the Rebels wished to contest in the All-Ireland Football series.
The players knew the significance of the games and won both.
"We knew we had to win those two games no matter what was going on. We knew Down were reeling in injuries too, just remember that," Maguire added.
"There were 20 fellas in the stand that were unavailable for multiple reasons. With that amount of players missing, we knew we had a job to do.
"Cathail made a huge impact when he came back in there. The whole Offaly game was frantic, especially in the second half.
"We thought we were cruising and next thing, bang, penalty, black card, down to 14. When that happens, it was a scramble for everything with all hands on deck.
"At the end of the game, who would have thought Cian Kiely could've popped up with a score, that was a real clutch kick there and obviously there was that kickout when the ref made a weird call. It was very important to get those two wins."
The Rebels' championship performances have been relatively good since the league.
After an encouraging performance against Kerry in Pairc Ui Rinn, they followed it up with wins against Louth and Limerick in Pairc Ui Chaoimh.
Those three games were Maguire's first championship outings for Cork.
"It's great to get experience. We weren't perfect against Louth or Limerick by any extent. We know what we need to work on, and we know where we want to be at, whether that's better shot selection or positioning.
"Kerry are probably the benchmark at the moment, and they beat us by 12 points when a lot of their scores came in the last 20 minutes."
While there have been promising signs about the Cork team this year, the players are still determined to keep learning and progressing.
"We know that we could stay with these teams, we have to make sure to keep improving, we have to learn lessons.
"There is no point in taking a hammering from Kerry and not taking anything from that game. Imagine if the same game is coming around next year, and the same thing happens again.
"You have to keep getting better and keep learning and it'll all come together eventually."
In the last six games, Cork has only used 19 different starters. The half-back line with John Cooper, Rory and Mattie Taylor has been the same for those six matches.
That consistency in team selection was a big part in getting Cork into the last eight.
"It's important to get everyone on the same page. From the initial Roscommon game to around Meath, it was just chopping and changing.
"Even my position, there were about five different players at Centre Back throughout the whole thing. Even small things like kickout strategies, there were so many pieces moving around.
"It's just about getting the lads back in and up to the pace. That consistency is key to keeping the squad positive."
Cork haven't even got to an All-Ireland Semi-Final since 2012. A consistent team selection could be the kickstart Cork football needs to get back to Croke Park regularly.
"If you look at the other top teams, they haven't changed much in their structure personal wise. They're three or four years of training at a high level with each other.
"Hopefully, we will be pushing that on now."
As for the Castlehaven man, he had an interesting start to 2022 when he was called up initially.
"It's been a long journey for me. It all started in December and January, those dark, dirty nights of training.
"We went up to Miltown-Malbay, I remember the team was announced and I was sitting on the couch at home. I found out I wasn't on the team at all.
"Next thing, I got a phone call going up saying that I was starting. That kicked it all off. I performed well in that game.
"I played v Kerry down in Killarney (McGrath Cup Final) and then started against Roscommon in the league and held my place. I've been under pressure all year to stay on the team, so that's keeping me going. To be settled in the team, I'm happy enough and ready to drive it on more."
Not only has Rory dealt with the pressures of consistently starting, but he has also taken up a crucial position in the team. He has played centre-back (No. 6) in every game since that second last game of the league against Down.
"I played there the odd championship game, I was always wearing either 3 or 4. I played out the field in a few of the games.
"We were caught for a fullback with the club, so I was just penciled in for a spell, but I would have always been a forward underage. At around 16 or 17, I went back to wing-back and there was no going back up to the forwards after that.
"Centre-Back is a very tough position to play because you have the cover the middle and you also have to worry about your man. There's a lot of learning to it, a lot of experience needed to be a top defender. I hope I'll get there, but I still have a lot to learn."
Former U20 Manager and St Vincent's man Keith Ricken was in charge of the team until the Meath game before taking a sabbatical for personal reasons.
In came fellow Castlehaven man John Cleary, whose impact on the players has been evident from the get-go.
"John's been great trying to get us to move the ball faster. He played in corner forward, so he knows the type of ball the forwards need to gain an advantage," Maguire explained.
"Also, at the same time, he knows how important it is to keep scores out at the other end. Everyone's back when we don't have the ball, just working hard and putting as many tackles in as possible to try and prevent goals."
When Cork's championship campaign does eventually come to an end, the defender has club matters to focus on.
Castlehaven are drawn in the Cork PSFC 'Group of Death' with championship aristocrats Nemo Rangers and West Cork rivals Clonakilty and Newcestown.
They lost on penalties to eventual champions St Finbarr's in last year's Semi-Final.
"Really looking forward to coming back with the club. It's tough after last year the way things ended, and fellas will be chomping at the bit to get back in, especially after not losing a game last year.
"Nemo, big team, we lost to them in the county championship Final 2020 and we'll be looking to get one back on them.
"Obviously, there's the rivalry with Newcestown, and we have recent history. We've played them the last couple of years. I haven't played Clon in the championship before, really looking forward to that game too."
While Rory Maguire and his Cork teammates may have got lucky along the way, there is no denying that the talent within this group of players is there.
Whatever way the year has ended, this year is only the start of a journey towards where they need to be, contesting for All-Ireland's.