The rise of Innishannon native and Bandon Rugby Club graduate Jack Crowley has been remarkable, from Munster third choice out-half to Ireland starter. Munster Rugby Competitions Co-ordinator James Neville talks to Matthew Hurley about the new Irish out-half. A former Bandon underage coach himself, Neville would have seen Jack from U13 to U18 level with the club. Neville is also a former Bandon RFC secretary.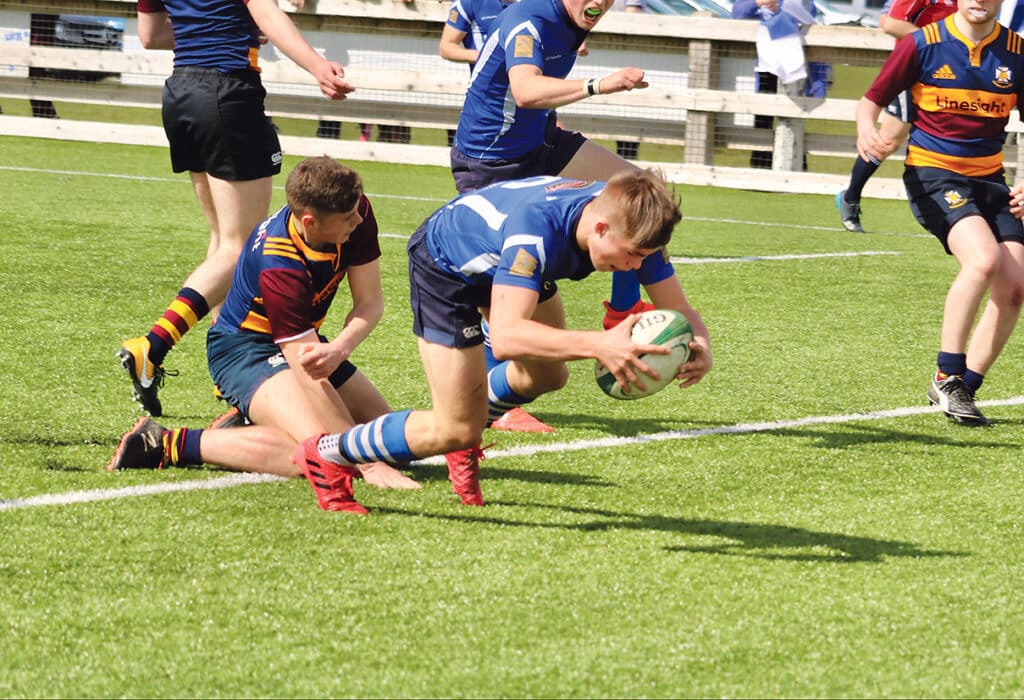 Jack Crowley received his first senior international cap after coming on for Munster teammate Joey Carbery in their 35-17 win over Fiji. A week later, he was initially named on the bench for their final Autumn Internationals game against Australia but was drafted in at the very last minute due to an injury to first choice number 10 Jonathan Sexton.
Ireland won the match 13-10, with Crowley registering five points and receiving plaudits from former rugby stars too: Ian Madigan, Ronan O'Gara and Rob Kearney were just a few singing the praises of the 22-year-old from West Cork.
Neville had first seen Jack perform at U13 level when the Munster starlet was just 12. "A fantastic day for the club. Great for the young players coming through to have somebody, to see someone go through the same pathway as ourselves."
Jack's rise up the ranks hasn't all been plain sailing. For one thing, he came into Munster ranks relatively late.
"I think his first Munster involvement was at U19 level. He hadn't played schools or youth with Munster. He was also playing as a scrum half at the time. He would have played out-half at around 13-years-of-age but moved to scrum half for four or five seasons.
"It was the tail-end of the 2016/17 season where he moved into out-half and played there all season in 2017/18 when Bandon won their All-Ireland," explains Neville.
The All-Ireland U18 win came against Skerries by 20 points to seven in 2018, a game where Jack scored a try, two conversions and two penalties. This is an accolade that the club is extremely proud of.
Covid times were hard for everybody in various ways. For Jack, it was also a hindrance. "He came into the national consciousness with the (Ireland) U20s in 2019/20. That campaign had hinged when COVID hit," says the former Bandon club secretary said.
"He had a few disturbed years in some respects. When Jack wasn't on the Munster team at that time, there was no All Ireland League for a season, he had no outlet with Cork Con for the following season.
"He was also in there with three other good out-halves in Carbery, (Ben) Healy and Jake Flannery. He's now number two if not number one in the Munster pecking order."
As well as excelling in his position for both province and country, Crowley has developed into a leader on the pitch too, even in his early 20s.
"He's more than led by example. He's very dedicated, unbelievably fit, always a very good goal kicker, even for a young age. Things like line kicking, drop kicking, dropouts. He worked very hard on those individual skills," adds Neville.
"I thought he'd get good game time anyway because Johnny Sexton was carrying a knock into the game. You're just delighted but equally you're hoping he does well and doesn't make any mistakes. The general consensus was that he got through the game solidly. Did nothing wrong. Kicked his goals, got good distances on his line kicks, made his tackles."
Not only is Crowley an outstanding up-and-coming talent on the rugby field but he was also good at other sports.
"He combined a triathlon of swimming, road running and horse riding. He was good at those apparently. He's a very driven character," shares Neville.
It's no surprise Crowley is a star coming from a family that's sp passionate about sport.
"His brother Jerry is player in the first team for Bandon, his other brother Billy is on the Cork Con senior team, his sister Tessa would have played underage football and camogie with Cork. His parents, Fachtna (who used to play for Bandon) and Maria, are very supportive of him also," explains Neville.
Current underage players will be inspired by Jack's recent performances.
"It makes the dream realistic and tangible to see a guy, who's not that much older than themselves, come through the ranks and make it. Jack didn't get on a Munster team until relatively late in his underage career. It just shows, if you don't get picked on those teams initially, keep plugging away like he did and the hard work will pay off," says the former Bandon coach.
The chances of Crowley going to the Rugby World Cup next year have now risen. Sexton will undoubtedly be first pick at out-half, which leaves two spots in the squad up for grabs. Crowley did play well in the Autumn Internationals, but Neville still feels there's work to do yet.
"It would be unbelievable, you're talking about the showpiece event in the whole sport. To have someone from your own club on that stage is great.
"A year is a long time in sport though, there's still a long way to go. From his own point of view, he has to keep putting in good performances for Munster and take his opportunities with Ireland when they arrive," explains Neville.
The Bandon Rugby Club isn't just celebrating their starlet this year. 2022 marks the 140th anniversary of when the club was founded in 1882. A fantastic feat for the long-running West Cork club whose current president is Billy Daly, father of Munster player Shane.
The club won the Junior, two County and South Munster titles, as well as competitions in U16 (x2), U14 (x2) and U13 in the 2021/22 season.
"The 140 years is something you can't take for granted, there is a load of people that have put so much into the club. There's a very dedicated committee there at the moment too," admits Neville.
"The underage coaches as well. It's hard to get your head around 140 years when you think about it. I don't think the people who started the club in 1882 would have imagined that 140 years later we'd still be going. Not many clubs around the country have done it."
The future looks very promising for the club too. There is more than just Jack Crowley being brought through at this great club. Another couple of young guns coming through according to Neville are Daniel Coughlan (out half) and Noah O'Sullivan (scrum half).
It looks as if Bandon Rugby Club won't stop producing talented players just like Crowley any time soon. The whole of West Cork will be hoping that this run of international games is just the start of a glittering Ireland career for the Innishannon dynamo.