Winning not one but two races in the Red John Memorial Festival in Lyre during August, Reenascreena man Jamie Hurley chats to Matthew Hurley as he moves up the ladder of West Cork harness racing.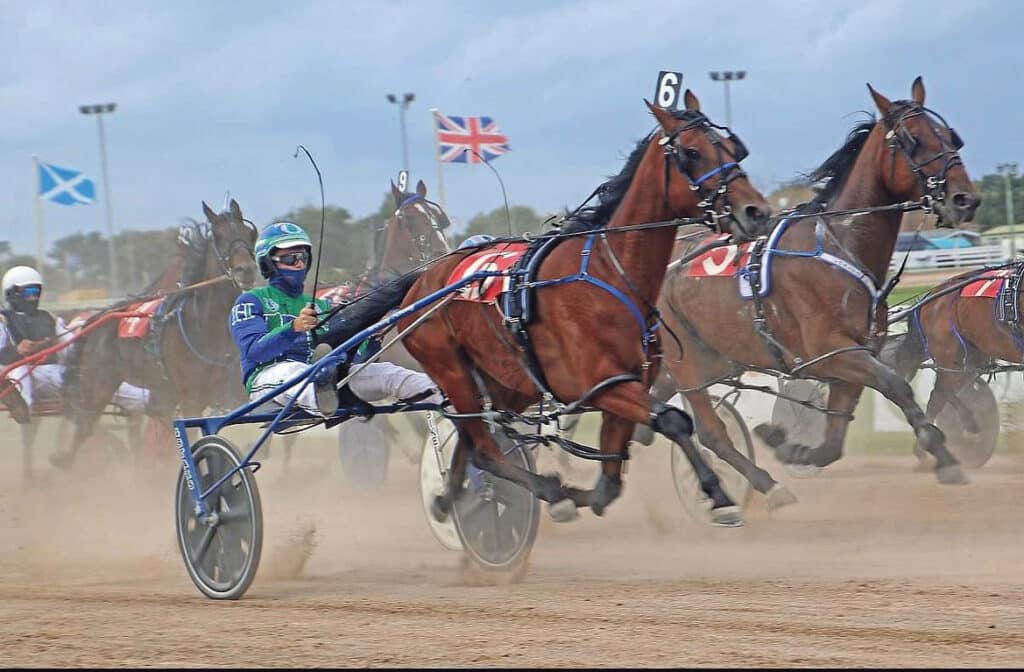 The largest grass racing meeting in Ireland and the UK, the Red John is a massive event for those involved in the sport of harness racing and a great way to showcase the skill and horses involved. The event was set up in 2015 to pay tribute to the late 'Red' John O'Donovan from Leap, who was just 27-years-of-age when he passed away in January 2015.
It's a time of year loved by harness racing fanatics and players, including the Reenascreena man.
"Bill Donovan in America came up with money to sponsor the event, which is one that racers aim for every year; to get horses right for that weekend. It is the Cheltenham of harness racing," explains Hurley.
There were 20 races overall across the Red John weekend with Jamie winning two of those, with horses 'Oakwood Maestro' (race one) and 'Foxfield Kendall' (race 11) charging him to victories.
"We didn't have a lot of horses in races compared to the last few years. We'd usually have seven or eight race horses that would be running every week. This year, we had a lot of fresh new horses so it was great to get two winners out of it," says Hurley.
"'Oakwood Maestro' won at the Red John last year so he is after winning there twice. He did pick up an injury recently but he is a hardy horse. He'd turn up for you every day.
"It was only Foxfield Kendall's second start so she was new to the game. She doesn't know a whole lot about racing but she is very professional about her job, winning easily. I had her brother at the Red John and he won two years in a row as well. The pressure is on her for next year.'
The Reenascreena man's background revolves around horses. It's his hobby and his job; he works in a thoroughbred yard for the majority of a regular week.
He got into the sport after his father bought a horse a few years back "I just went racing. That was it when I was younger. I just got stuck into it from then on. When I was old enough, I started to get my own horses. It has gotten busier every year," he says.
While the two aforementioned horses have brought Hurley some major success in recent times, it's his first few horses that hold the memories.
One horse in particular stands out, mainly because it started a trend, winning races.
"We won an All Ireland final with 'Maitha Buchaill' a couple of years ago and he was probably my first big success. I was young. Winning with him dragged me into it which is why he was a standout."
A lot of people might wonder what the big difference between harness racing and regular horse racing is, for instance, Cheltenham or the Curragh?
According to Hurley, there is one clear distinction. "I think money is the big difference," he answers.
"We're not supported the same as them. If you went to the races, you'd see that harness racing is run very well and all the horses are looked after. It is fairly hard for us to have less resources but I feel we're doing very well at what we're at. The money is getting better but it's just that we are trying to come up with it ourselves."
"Before Covid, a lot of people started to sponsor races and it was easier to get money in. It's very hard to get sponsorship since people stopped asking for it," he says.
Currently, there is planning permission to get an all-weather race track in Lyre.
The West Cork region hasn't had an all-weather track since Leap a few years back; a new one in Lyre could help the sport grow.
"For a training facility alone, it's massive because a lot of people in Cork have horses and it is hard to exercise them," explains Hurley.
"There are bans on beaches meaning you have to have to be off them by a certain time. It is dangerous to practise in open spaces like that whereas on a track people are more inclined to get horses and you'll be guaranteed racing as well. We were guaranteed to have racing on the Saturday and Sunday (of the Red John Memorial), 10 races each day. We got heavy rain on the Friday though and the racing Saturday was cancelled so 20 races had to go on Sunday. If the all-weather track was there, you could have just raced away."
The Reenascreena community are behind Jamie and proud of their own sports star.
"You would see a lot of texts on Facebook wishing the best of luck or well done. I remember we were in England racing the weekend before the Red John. We had two-year-olds over there and one of them came second. My phone was hopping so much I couldn't text people back. It's massive that people follow it and you wouldn't think that they'd have an interest in the sport but it's becoming more popular now," he adds.
Hurley's plan for the remainder of the year is to head up to Annaghmore, Co. Armagh in Northern Ireland, the only place presently to have an all-weather track, to do some more racing training to end a memorable year.