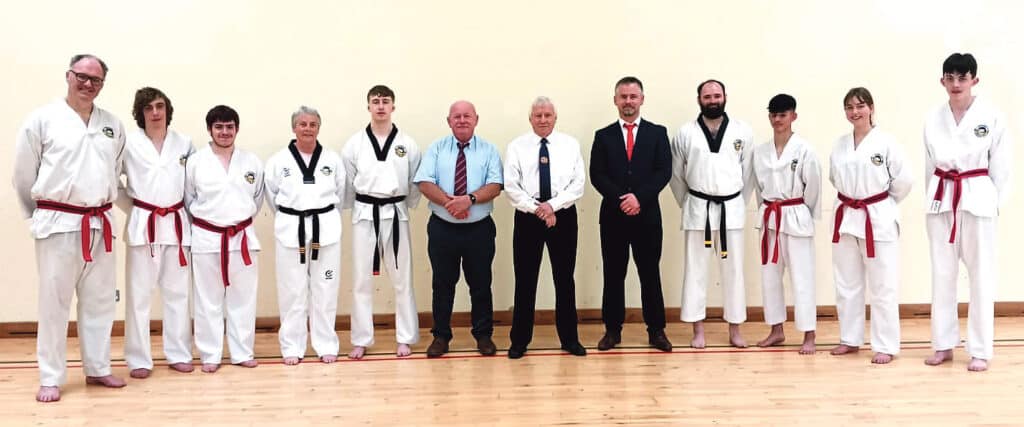 In a celebration of dedication, perseverance, and community spirit, the Warrior Martial Arts Taekwondo clubs in Clonakilty and Rosscarbery are gearing up to proudly commemorate their 25th anniversary. Founded by local Taekwondo instructor Dan O'Mahony, these clubs have grown from humble beginnings to become the cornerstone of martial arts training in West Cork.
When local man, Dan O'Mahony, opened his first Taekwondo club in Rosscarbery in September 1998, and started coaching two weeks later in Clonakilty, he did not realise that he had set out on a journey that would inspire generations to come. From its modest inception, this venture has flourished into the embodiment of passion and perseverance. The success of these clubs went far beyond Dan's initial expectations, and within a couple of years, enquiries were coming in from neighbouring towns about the possibility of Dan opening more clubs. In time, collaborating with his wife Anne, son Barry, and Anne's niece Claire, (all Taekwondo Black Belts and instructors in their own right), Dan founded the Warrior Martial Arts Association. Today, this association boasts a network of clubs stretching from Ballydehob to Ballinhassig, and even more members have risen through the ranks to join the coaching team.
What sets the Warrior Martial Arts clubs apart is their all-encompassing approach. These clubs stand as welcoming havens for individuals of every age group, embracing the diversity of participants from energetic four-year-olds to determined adults. This inclusive ethos nurtures a sense of community and mutual support, fostering an environment where all members can thrive. Over the past 25 years, the Warrior Martial Arts Association has evolved into a paragon of professionalism. Their calendar brims with engaging events that contribute to the development of their members. Inter-club tournaments spark healthy competition, while specialised courses in umpire training, instructor development, and First Aid training enrich the skill set of participants.
A pinnacle event in the association's annual agenda is the prestigious Black Belt promotion examination. Each year, a select few are put through a rigorous assessment, overseen by renowned Taekwondo Grandmaster, Clive Harrison. Grandmaster Harrison's participation, travelling from the UK especially for the event each year, underscores the respect and regard he holds for the Warrior Martial Arts Association.
The journey towards earning a Black Belt is a testament to dedication and hard work. Over five years of unwavering commitment in regular training, followed by an intensive year of advanced practice and a series of challenging preliminary exams, culminate in the highly anticipated Black Belt exam. This year's examination was marked by a momentous achievement, with six members from various West Cork clubs attaining the esteemed 1st Degree Black Belt. Two exceptional members ascended even higher, achieving the rank of 2nd Degree Black Belt.
To commemorate the 25th anniversary of the Clonakilty and Rosscarbery Taekwondo clubs, the Warrior Martial Arts Association will host a special tournament in the upcoming season for members of all Warrior Martial Arts clubs. As the anniversary celebrations approach, the Warrior Martial Arts Association stands as a living testament to the potential borne from dedication and determination. After two and a half decades of instilling in its members the traditional Tenets of Taekwondo: Courtesy, Integrity, Perseverance, Self Control and Indomitable Spirit, its impact reverberates beyond the training halls, resonating across the West Cork region.
For more information about the Warrior Martial Arts clubs, visit www.warrior.ie