Clonakilty girls' rugby has experienced a meteoric rise in the last year or so. Much of that hard work has been down to the club PRO and U16 girls' manager Vicky McCabe, who chats to Matthew Hurley about the club and the fierce drive in its female membership.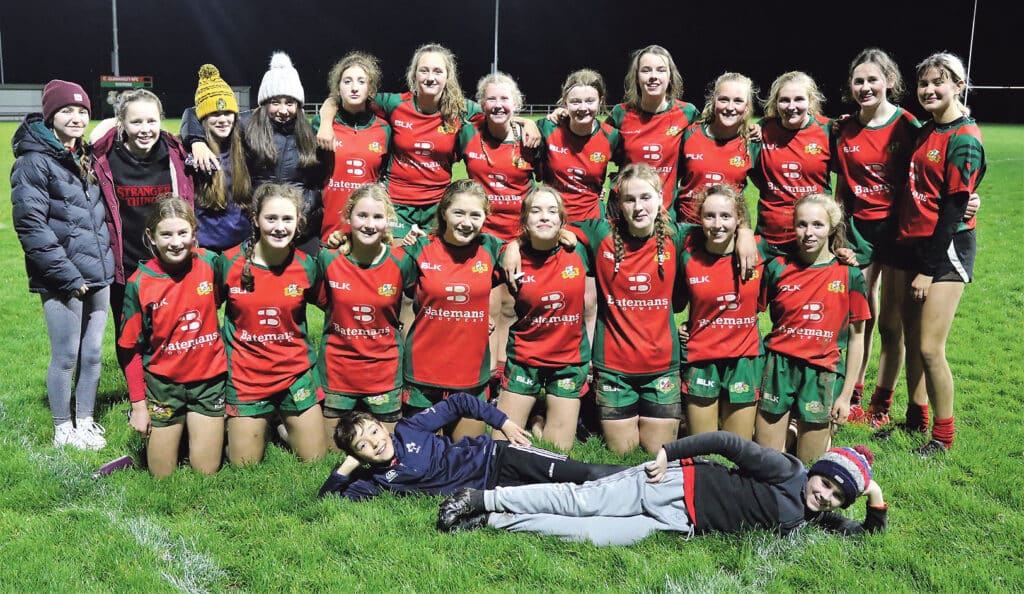 "I started off as most of us do, as a parent. My daughter and a few of her friends really enjoyed rugby but didn't really enjoy how many more boys than girls there were in the mini teams! So, we decided to set up a girl's mini division and it has grown from there," says McCabe. "I have gone from parent to manager and coach of minis, then u12s and u14s girls, as well as being head of girls' rugby."
For the last two years, Vicky stepped back as coach due to study commitments and has been manager of both the u14s last year and the u16s this year. She is also the club PRO with Sinead McNamara, head of minis girls, and Teresa Oliver is head of youth girls.
The rugby club had its first U18 Girls' side for the first time in quite a while.
"We also made club and possibly provincial history this year by having so many girls registered in the u14 division that we registered two teams into the league competitions. We split the girls equally into the red and green teams. This helps us ensure that all girls get decent playing time," explains the PRO.
According to McCabe, in their first season (2013/14), Clon had around ten girls playing in different age groups.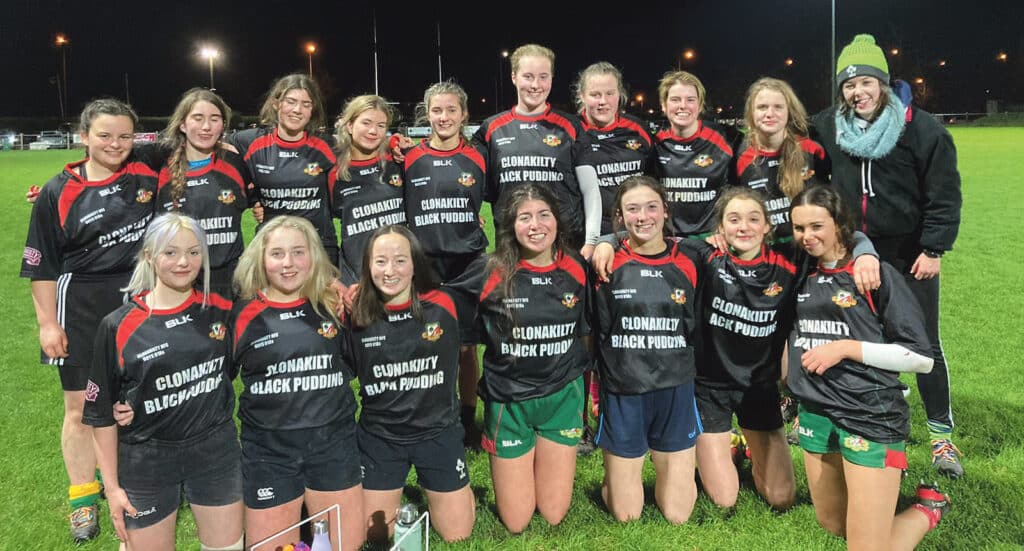 One-hundred-and-sixty-nine girls are now registered with the club. This number continues to grow year on year, with the last two years in particular showing real progression.
"We have u8s, u10s, u12s, u14s, u16s and u18s. The aim in a couple of years is to have a female adult team too," says McCabe.
In addition, girls rugby in Clon has 33 coaches. All coaches go through training with Munster, are Garda-vetted and get basic first aid training and concussion training.
McCabe now takes up a management role. She organises the team sheets, communicates with parents or other organisations involved and makes sure the team shirts are washed.
"I loved coaching but just did not have the time for it, as it really does become almost a second job," she says.
"We have a great team of coaches for the u16s and indeed, across all the age groups. I still (love) being involved with the girls though. I have known so many of them since they were about eight or nine and it is just fabulous to see them grow and hone their skills year on year.
"Games are the most stressful days, as you worry about every one of them. You really feel their lows but wow, it's lovely to celebrate their highs with them."
McCabe also enjoys the PRO aspect of Clonakilty Rugby.
"The PRO role is great because the club does so many great things and I feel very strongly that we should be sharing those things with the wider community. We are a very inclusive club and are proudly 'autistic friendly'.
"Courtney Canning and Sinead Burton, our community engagement officers, do a huge amount of work in the community, especially with children from the Lodge in Clon."
The club participates in various social media activities on Facebook, Instagram and Twitter.
"We also share a first team sheet before each match and recently we have added team sheet videos along with that.
"Whatsapp is used by all of us to communicate with each other, in committees and with parents. We also have a news group set up on Whatsapp for those members who don't use the usual social media pages.
"In addition, we are in the process of redoing our webpage to share all above info too, along with (the) history of the club, etc."
However, it is more than regular activity on social media platforms, with the club recently putting out welcome videos.
"We recently had a great video put together by Neville Burton, Director of Rugby, as we have started selling pride laces, and we got our whole seconds adult team to wear them for a match, as well as our u18 girls' team," adds McCabe.
"We wanted to welcome all players to the club, and the video was a huge hit and has been shared far and wide by various LGBT Facebook pages and social media accounts.
"It's not all just rugby, although we obviously shout about gains and achievements there too! I feel very passionately about girls playing rugby, so I also like to share how well our girls' section is doing. Indeed, other clubs, trying to set up girls sections, have said Clonakilty is an inspiration and drives them on."
Covid-19 has been tough to handle for various sports in West Cork in the past year. McCabe says the guidelines were "tricky and frustrating at times," but everyone wants to go onto the pitch and play despite this.
"We have always used the IRFU guidelines as our way of working. We are only nervous now as to what disruptions may come our way from Omicron," she says.
"Hopefully not many, as we would like to finish the season properly. Last year we were locked down for much of the end of the season, so as soon as lockdown lifted, we made a special effort to have a proper end-of-season session with each age group.
"We also ran a summer tag league for four Friday nights during summer for our youth teams, which was a great success, as the teens were dying to get out and socialise and this was a safe, out in the air way of doing it."
Clonakilty RFC also has many volunteers to help out around the club.
"We are very proud as a club to maintain a good ethos of keeping rugby fun for the younger ages and keeping teens engaged through fair play and equal playing time.
"Especially with girls when there is generally a drop-off in participation in the later teen years, we are delighted we have so many girls with us and they are joining all the time, no matter the age group. So if any girls would like to get involved, it's never too late!"
Clonakilty Girls Rugby has risen tremendously in the last couple of years. Despite Covid trying to get in the way, it doesn't seem to be slowing down anytime soon.