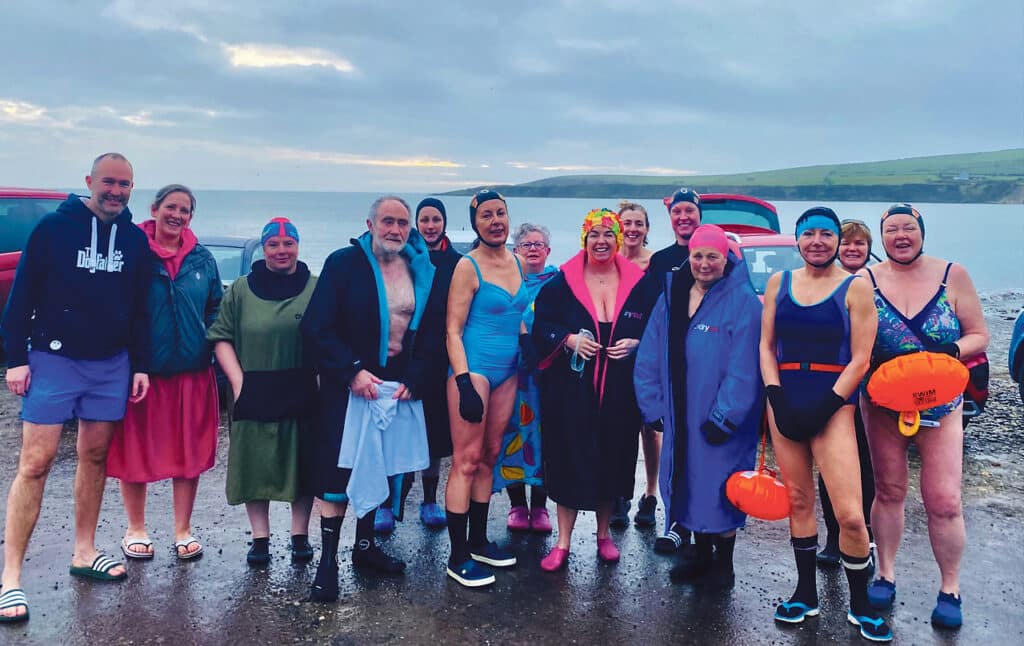 West Cork open water swimmers came out in force this week to support 81-year-old Donegal man Paddy Conaghan who is 'ducking and driving' around Ireland, swimming at every Irish beach and pier he passes along on the way, to raise awareness for mental health. With over €60,000 raised, and that figure climbing rapidly, for the Donegal counselling service Gemma's Legacy of Hope, Paddy has far exceeded his initial goal of €1000.
The hardy octogenarian trained year round in all conditions for his challenge before buying a van and the necessary equipment for his trip and setting off before Christmas.
Taking the plunge at Union Hall, Inchydoney and Ring last Sunday, he stopped off in Courtmacsherry early on Monday morning, where he was given a warm welcome from friendly local swimmers. A group of about 15 local people joined the 81-year-old for a swim at 9am in Broadstrand on Monday after County Councillor Paul Hayes put the call out on social media.
"I was delighted to get a message from the 'Ducking and Driving' team on Sunday evening to see if we could arrange a swim in Courtmacsherry on Monday as part of Paddy's tour of the Irish coast to raise funds for Gemma's Legacy of Hope," says Paul. "I'm very grateful to the swimmers who joined us in the water and for the welcome they gave Paddy."
Paddy has really tapped into the public psyche and, with Sky news picking up the story this week, his journey for mental health is now inspiring people all over the world.
"Over the past two years of this pandemic, people have discovered a newfound appreciation for nature and enjoying the great outdoors. I know that beach walks, hiking and swimming have certainly helped me to cope with the sometimes overwhelming consequences of this virus, so the 'Ducking and Driving' initiative is really striking a chord with the public in that regard," says Paul.
Paddy had hoped to spend two months on his tour around the coast of Ireland but he is enjoying the experience so much, he intends extending this to three months, so that he can spend longer in each place, meeting more people and enjoying more dips in the sea.
If you would like to follow the remainder of Paddy's journey or donate to his cause, search for 'ducking & driving' on gofundme.com