Bandon coaching supremo Niall O'Regan, formerly Coach Education Manager of the FAI, was recently appointed as Head of Coach Education with the FAI. He talks to John Bohane about his appointment and hopes for the future of Irish football.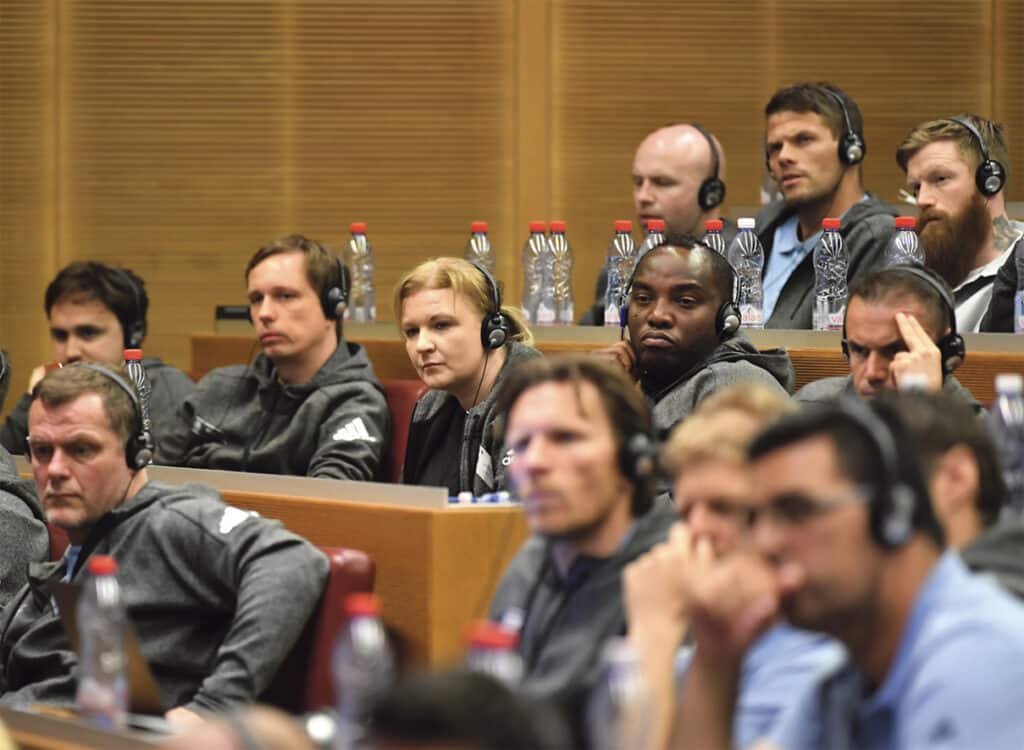 "I wish my appointment had happened in better circumstances with the current ongoing crisis but I am very proud to continue my progression within the FAI. It has been an amazing eight years since I first started in the role of the Academy Coordinator of the FAI/ETB Programme in Carrigaline," revealed the soccer enthusiast.
During his many years spent playing before advancing to coaching, Niall received great support from his family. He pursued his coaching commitments while also studying academically. Paying tribute to his wife Stacey for her support he said, "To be appointed Head of Coach Education is a real privilege for me and those closest to me. Football has been my life. It is great to be involved in the FAI especially during such a transitional and changing period. I believe there are very exciting times ahead for Irish football. 2020 has been a strange but memorable year. My wife and I welcomed our second son Joshua James O Regan on January 16 and both mum and baby are doing great. We have two boys now, with Joshua joining Jack who is three-and-a-half, so the house is busy. Stacey has been phenomenal with us all. I am very lucky to have such a supportive partner who supports my ambitions to work in football, which can see me working away a lot of the time."
In February, Niall graduated with MEd from UCC after studying part-time for four years on research titled 'Identifying the features of a Learner-centred coach education programme for footbal'l.
After serving as Coach Education Manager for four years, he leaves this role having fulfilled a number of key objectives during his tenure. He is looking forward to beginning in his new job. "It is great to be given additional responsibilities in terms of heading the department. My new role will see me building on the implementation of the UEFA Adult Learning Principles, specifically Reality Based Learning and, within the new governance structures, it will see me having additional responsibilities. I am very grateful for the continued support of High Performance Director Ruud Dokter. We will work closely together to implement the changes expected in the 2020 UEFA Coaching Convention. It was a very exciting time when I entered the role in 2016, as the focus was really on continuing the excellent work within the department by my predecessors. The focus for me was aligning the coach education pathway with the player development pathway and ensuring to implement all of the requirements of the UEFA Coaching Convention."
During the recent Covid-19 pandemic, Niall was fortunate that he was able to continue working from home. "It was a scary time for everyone and it put everything into perspective. The important thing for us all now is to follow the guidelines and ensure we take the opportunity to take stock on how lucky we are to have acted the way we have."
From home, Niall was able to engage with the coaches through Microsoft Teams, Skype and Zoom. "The one positive from the whole situation is that we have all had to engage more with the opportunities of online interaction and online resources. I have certainly gained from being forced into using the online options. It is something that will become a significant part of our work lives moving forward. In terms of coach education we are working away with our coaches who are currently on courses and working to provide feedback on theory assignments and working with new groups to get all of the theory aspects of the courses completed. When we return to active interaction, we will then focus on the practical aspects of the course. It is an extremely busy time for us all in the organisation with the implementation of the governance review and the direction the new board and interim CEO is taking the organisation, so thankfully there is significant work to be done. This is giving us the time required to ensure it is completed thoroughly and we look forward to returning as soon as possible. You only realise how important sport is when it is taken away from you."
Bandon AFC was due to celebrate its 50th anniversary this season. An array of events had been organised to coincide with the prestigious anniversary. Niall, who played and coached with his beloved local soccer club, is very confident the club possess a very bright future. "The club had an excellent launch night to launch the events for the year and they really identified some excellent events from the club dinner dance, the Cathal Murphy Memorial game to the golf classic. I know they had worked tirelessly behind the scenes to have an excellent year, but worst-case scenario, they will celebrate the 51st year rather than the 50th.
The club has a phenomenal number of teams competing at all levels of the game and Niall says he's delighted to see a former player of his, Sean Holland, now serving as player manager. "Sean has been a fabulous stalwart for the club and it is great to see the club giving him the opportunity. A key to this is having a strong backroom team and he is really blessed with the supports he has. One signature appointment he made was that of Jimmy Cullinane, who has a lifetime experience playing for the club. It is great to see him back and giving his knowledge and experience to the players"
The club is working hard fundraising for the next stage in their continuous development and it won't be long before they have an astro pitch to deal with the volume of training sessions with the significant number of players playing within the club. "The club has been great for me and gave me an excellent education into football, as a player, coach and manager. Without them I would never be working in the game I love today," says Niall.
A number of West Cork players have represented the various Republic of Ireland international sides in recent years at all levels. Fellow Bandon man Conor Hourihane continues to impress in the Premier League with Aston Villa. Niall is thrilled with the progress of the many West Cork soccer players. He paid tribute to their clubs for providing great coaching. "For me it is always great to see West Cork players doing so well and this is a credit to the coaches, clubs and leagues within grassroots football. I am confident that the structures being implemented at grassroots and the elite levels will allow for all of our players to thrive and reach the levels their talent has them destined for. All the local clubs and their coaches deserve huge credit. It shows the phenomenal work being done across all levels of the game when you see so many underage internationals and players continuing to progress."
Niall travels extensively around the world studying various coaching techniques, which he then interprets and brings home to Irish coaches currently studying for their coaching badges. He is positive the current coaching procedures established by the FAI will greatly benefit Irish soccer going forward. "One of the most important aspects of our roles in High Performance is to ensure we ask ourselves the question, when we do anything, how will it benefit Irish football? It is fabulous to see all aspects of football enhancing and this is never more evident that with the success of our underage international teams, our League of Ireland and women's national league structures and the continuous development of player development and grassroots football. I believe the structural changes which are currently being designed and the strategies being created will continue to help grow the game and continue developing Irish football at all levels. We have over 12,000 coaches completing formal courses annually. We have more UEFA Licence holders than ever before."
Niall's most recent coaching protégées Keith Andrews and Damien Duff were recently announced as coaching assistants with new Republic of Ireland manager Stephen Kenny. Niall is confident the former international soccer players will prove a resounding success. "I think this is a very exciting time for Irish football. I believe the next decade will be one in which we see ourselves competing at the highest levels in all categories of the game. Equally with Vera Pauw at the helm with the women's team it could be a year to remember as the senior ladies are in a great position to qualify for a major championship."
"Stephen has done brilliantly with the U21's and they have a great chance of qualifying for a major international tournament for the first time. His knowledge of the game is outstanding and his ability to get the best out of individuals is something rarely seen. It is always great to see our senior internationals returning to coach the teams. We have Damien and Keith supporting Stephen, John O'Shea assisting Jim Crawford in the U21's, and Andy Reid managing the U18 team. This presents a phenomenal opportunity for our players to learn from players who have competed at the top level over a significant period of time. I have had the pleasure to work with all four, with John on his UEFA A, and Keith, Andy and Damien on the current Pro Licence group and their work ethic, knowledge, willingness to learn is outstanding. They are a credit to themselves. It is very exciting to see how they implement all of their respective knowledge into their new roles. I believe we are in very good hands."