Mair Kelly, a 22-year-old student from the Mizen Head, was recently named 'Student Activist of the Year' at the Union of Students in Ireland's Student Achievement Awards Ireland 2021. Sponsored by Amnesty International, the award recognises Mair's significant efforts to challenge inequality, support our community and instigate positive change.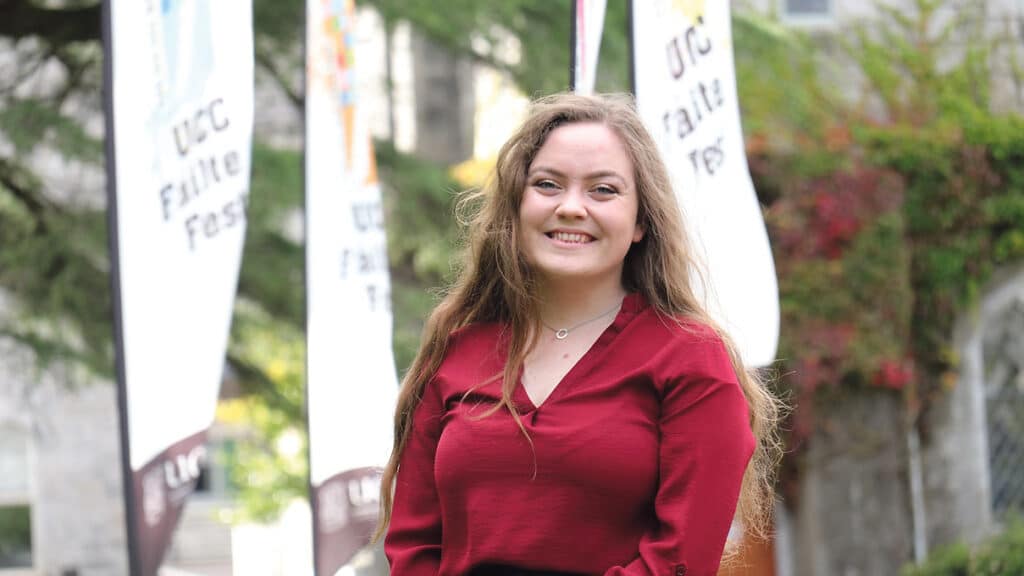 Growing up in rural West Cork, Mair has always been surrounded by a small close knit community; she attended National School at Lissagriffin, right beside Barleycove Beach. Surrounded by beautiful biodiversity and an active community in the stunning, but isolated most South Westerly point in Ireland has inspired a strong commitment in her to addressing climate change, rural isolation and community support.
Mair was introduced to the concept of International Development through becoming involved with the YMCA in 2015, where she gained a greater insight into global issues. She was also inspired by the Schull Community College Lesotho Exchange, which led to her studying the Bsc in International Development and Food Policy in University College Cork. Getting involved with UCC Fáilte Refugees Society and the Cork Migrant Centre changed her perception of community. "It isn't necessarily a set place or location, it's about a group of people supporting each other and that whether you're living in Cork City, Goleen or halfway across the world, we are all intrinsically linked," says Mair.
Mair has thrown herself into any opportunity to support her community and was awarded an Overall Garda Youth Award in 2016 for her commitment. In 2015 she learned about direct provision, learning about the dehumanising prison that people seeking asylum are subjected to. She then got involved with Clonakilty Friends of Asylum and, on joining UCC, also joined the Fáilte Refugees Society and the University of Sanctuary Working Group. The first day at the coffee morning in Clonakilty, she described being met with "huge warmth and kindness". Mair aims to ensure that empathy is returned, that the refugee and asylum seeker community is supported, and their contribution to our society is celebrated and appreciated.
A strong Climate Justice Advocate, Mair says this was instilled in her through her rural upbringing and is unwavering in her belief in the importance of a just transition for all in relation to climate change mitigation. She recently interviewed guest of honor Mary Robinson at the Launch of the Climate Justice Manifesto, created by the NYCI Young People's Committee, developed a workshop with SpunOut.ie on Climate Justice for young people and constantly ensures that rural Ireland is not forgotten in discussions on climate change.
While Covid-19 opened up a world of opportunities, ones that she normally was unable to access due to where she lives, Mair also recognises the huge negative impact it has had upon the mental health and wellbeing of youth in Ireland. She was a member of the DCYA Youth Mental Health; the Covid-19 Advisory Group, which led to the 'How's Your Head' Report on Youth Voices during Covid-19, a project focused upon amplifying the voices of youth, their needs and fears during the pandemic. She is also the the Welfare and Accessibility Officer for UCC Societies executive, supporting over 100 societies, as they work to support students and provide opportunities for connection in a predominantly online world.
Now in her third year at UCC, Mair is currently undertaking the five-month placement aspect of her degree, working online with the Human Rights Centre Uganda. She has no plans to cease her work, as she moves into her final year.
Mair believes to enact real, tangible change, "we need to ensure we amplify voices typically unheard in our society, actively listen to them, hold those in power accountable and push for positive change". She cites "community" as the drive behind her work, and she strongly believes that every member of our community deserves they opportunity to live a happy, healthy and safe life.