Like a fine wine, Mick and Lauren's relationship matured over time. This Franco-Irish couple first met 22 years ago in 'The Kingdom', Mick's county of origin, through mutual friends. The seeds of a friendship were sown but a few years later Mick relocated to Canada so they lost touch with each other until reconnecting again on Facebook. On Mick's return to Dublin to do his masters degree in 2012, they reconnected in person and ended up becoming very good friends. One thing led to another and a year later the friends became much closer, moving in together two months later. Nine years on and the couple, united in their common love of nature, animals, gardening and culture have made their home together close to the coast in the countryside of West Cork.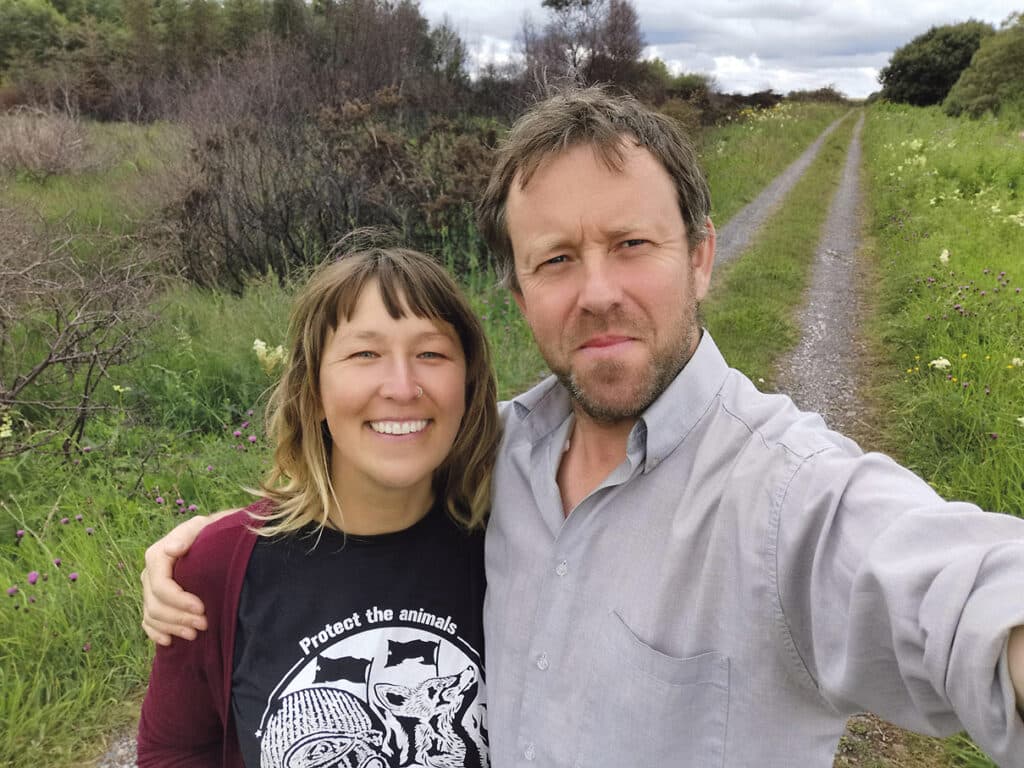 "We always had a real respect for one another and, when we finally became close, we realised that it felt like the most natural thing in the world," shares Lauren.
Originally from the north of France, Lauren Guillery has been in Ireland for as long as she's known Mick. Fifteen years of those were spent in Dublin, working in an office by day and playing music gigs by night. A talented musician, she released two albums as a rock singer/songwriter, with a band and as a solo act. When she's not making her mark in the music industry, Lauren is a passionate craft-maker and horticulturist, so much so that she now runs a small craft venture named Seaside Squirrel making herbal skincare and various low-impact, handmade products including scarves, bags and reusable cloth pads. "All my products are genuinely ethically produced and kind to the environment," explains the animal lover and keen ornithologist. Lauren has had a big interest and role in climate activism over the last seven years and, while Mick shares her concerns for the environment, he doesn't get directly involved in activism.
Also a northerner, but this time closer to home, Mick Holly hails from the north of Kerry, close to Ballybunion beach. Like Lauren, a creative streak runs through him; he loves art and studied photography at Dún Laoghaire art college in the early 2000s. During his eight years in Canada, he worked as a staff photographer at a large university. It was during his time here, exploring the Rocky Mountains, that he developed his passion for hiking and the great outdoors. Since then, he has been making contemporary art exhibitions and films; three years ago beginning a PhD in documentary film studies at UCC, where he also teaches film practice to undergraduate students. Always on the go, when he isn't working on a film project, Mick enjoys watching films; or cooking, to which Lauren's passion for eating pairs well!
This is a couple who more often than not are to be found outdoors in nature; Mick on long adventures with Pincho, their collie, exploring the coastal walks and beaches of West Cork, and Lauren in the garden, in the company of their cat, hens, Pincho when she's not off exploring with Mick, and the hundreds of garden birds that visit throughout the year. She too loves strolling their local beach.
Gardening isn't simply a hobby for Lauren. In fact, it's what encouraged her to start a new life in the country when, in 2015 with Mick, she escaped the grey walls of an office job for the green walls of West Cork. She admits that at the time they really didn't have a clue what they were getting themselves into. Once the initial obstacle of finding a place to live however was overcome, they settled in quickly to their old farmhouse and, almost seven years later, they're still in the same location, albeit with many new friendships and great experiences made.
"We love the vibrant sense of community here, especially the fact that there are so many creative, progressive people," they share. "The farmer's markets in Clonakilty and Skibbereen have become central to our routine, and we feel that the quality of life here is much better than anywhere else either of us have lived. We would love to stay, if West Cork will have us!"
Best friends, as well as loving and respectful partners to one another, Mick and Lauren have supported each other through various difficulties and challenges in life, and always encourage one another to strive for new goals.
Of one mind, of one heart, on so many levels, they tend not to argue and happily tolerate each other's idiosyncrasies; although from time to time the housework can cause some tension with Mick doing most of the weekly 'cosmetic' housework like hoovering and washing the floors, and Lauren every so often taking a fit and decluttering a room or doing some deep cleaning. "We have a pretty good system," they laugh good-naturedly.
Both agree that respect for one another is the most important thing in their relationship. "When one of us oversteps a boundary or does something that upsets the balance, we manage to work it out and get back to a harmonious life," shares Lauren.
"We both think that the best kind of love is one that makes each other feel free," says Mick.
Spending quality time together is certainly never a chore for this fun-loving couple.
"Mick is the most interesting person I've ever met," says Lauren sincerely. "We always have great conversations, and life together is never boring. Also he gives the best hugs!"
For Mick, Lauren's compassion and loving nature is part of the reason she is his 'grand amour de sa vie'.
"I have never met anyone who loves animals so much, and she never says a bad word about any person. I think that anyone who knows Lauren, knows how lucky I am to have her in my life!"
Romantic gestures like pancakes in bed, a surprise picnic on the beach or little cartoon drawings left for the other person to find, happen often, and while the pandemic may have delayed wedding plans, their families will hopefully finally get to meet on their new wedding date set for later this year in West Cork.