For just over a year local staff and teams at the Irish Wheelchair Association in West Cork have been supporting members to cope and adapt to the restrictions and health concerns brought by Covid-19.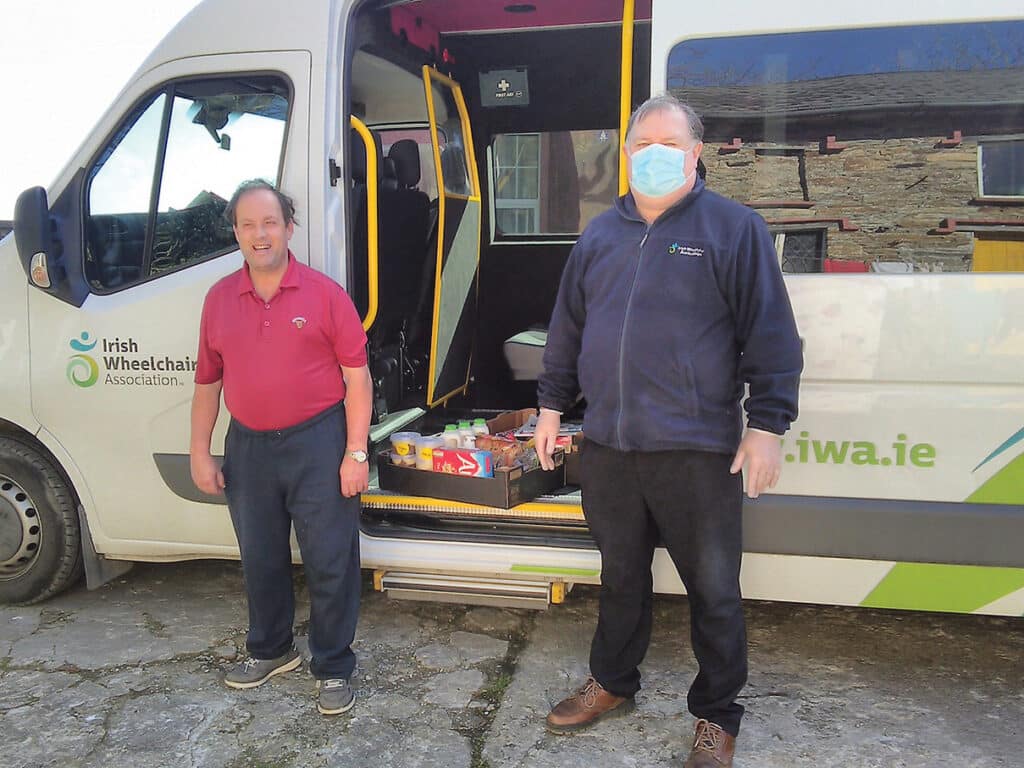 It has been a long year for people who are living with a disability. Since the first lockdown in March 2020 many people and their families around West Cork have been become very isolated. Local staff and teams at the Irish Wheelchair Association have been working across the community to make sure all its members are connected and that noone is forgotten. 
The most recent lockdown has proven more difficult and has really challenged people's wellbeing. Sinéad Burke, Service Support Officer at the Clonakilty-based centre explains:
"We phone our service users daily, just to check in, have a chat, see how they are, checking if there is anything we can support them with. Service users will readily say they are struggling with the social isolation, with the lack of personal contact with the outside world, and for many, they have not left their house during lockdowns out of fear of getting Covid. Our role is to try to lift their spirits, bring something positive to their day, try to have a laugh, and lighten their day a little'.
At the IWA Clonakilty, based in Clogheen Business Park, a three-day a week service was run with a fourth day supporting Outreach for service users, offering programmes and courses along with individual supports. Due to Level 5 restrictions, this service is currently closed to service users. So the IWA decided to bring the service, as best as they can, to the homes of service users. This is done through 'Entertainment Packs' and a 'tailored service to meet the needs of service users'.
Each week the team at the Clonakilty ROC put together quizzes, art therapy drawings, delicious recipes to try at home, local and community news and a weekly newsletter to update their service users. Zoom activities are on the go, including exercise, table quizzes, bingo, drama and arts and crafts. Art packs like stained glass and collages are delivered to those who are interested in doing it as a hobby at home.
"It keeps our service users feeling included and still part of the service, giving them something to focus on and immerse themselves in," explains Sinead. "We produce seasonal craft made by our creative team that we include in our deliveries. The St. Patrick's Day packs included felted shamrock brooches and ceramic Irish Maps along with handmade lucky charm bags filled with chocolate coins. For Easter we will be delivering homemade brown bread made by one of the ROC staff and chocolate, kindly donated by Dealz, Clonakilty. We are very lucky to have a team of creative staff working at the Centre who make such a fantastic effort to meet the needs of the service users."
These are the kind of things that bring some joy and positivity to the service users at the Clonakilty ROC; staff deliver these packs weekly, and stay for a social distance chat with service users.
"Often the only person I see in the week is the visit from the IWA staff member; I look forward to it and have a laugh, which I really need. We reminisce on the 'good oul days' and try to look forward to what plans may lie ahead at the Clonakilty ROC," says Pat O'Brien, a regular service users at the Clonakilty ROC.
Shopping and chemist calls are carried out daily for the service users who rely on IWA staff to pick up their essential items.
"I can honestly say having IWA staff to do my shopping is an invaluable support that I could not do without during this lockdown. I know that I can call them if I need anything and they will just drop it out without any hassle and it's always delivered with a friendly face and a good chat, which means a lot to me. I'm so grateful for what IWA have done for me over the past 12 months," explains Harry Bennett, Service User of the IWA Resource Centre, Clonakilty.
Recently one of the IWA staff handcrafted some beautiful nesting boxes that were delivered to service users' homes last month. "This idea came about from speaking to service users daily and noticing how much time they spend looking out their windows and we thought how nice it would be to have something like a nesting box outside where you can watch the magic of nature and get to know your garden and migratory birds. An illustration of garden birds that might nest was also included with the nesting boxes," says Sinéad.
"It was such a lovely idea and they are so well made, we are delighted to receive it. I have some birds already checking it out," reports Dee Harrington, service user at the Clonakilty ROC.
"Our members are really looking forward to the vaccine becoming widely available and they are hopeful for a better 2021 over the coming months. We have campaigned and lobbied at government level to make sure that people with disabilities are included on the priority list for Covid-19 vaccinations. It is encouraging to see some of our members getting their appointments and we hope to see this increase significantly over the coming weeks."
The IWA looks forward to opening its doors again and has mighty plans in the pipeline for upcoming community projects at the centre – there will be a beautiful music community project coming to the doors of service users' homes and to the local area. There is also a group project focusing on service users telling their life stories that will be printed in a book form, together with holistic days at the centre, arts, crafts and mindfulness programmes. So next time you see the IWA bus in your area, give a thumbs up as you can be sure they are delivering a quality service to people with physical disabilities.
The Irish Wheelchair Association currently has 1,500 frontline workers across Ireland visiting 4,000 homes each month, caring for individuals with disabilities, in their own homes. Like many frontline workers across Ireland, IWA staff continues to work even during the darkest days of COVID because their members need them and rely on them.
Irish Wheelchair Association has 57 community centres across Ireland that provide social and training activities for thousands of people with disabilities every week
Irish Wheelchair Association is Ireland's largest organisation supporting people with physical disabilities to lead active and independent lives and has 20,000 members. It is the leading provider of home support for people with physical disabilities in Ireland.