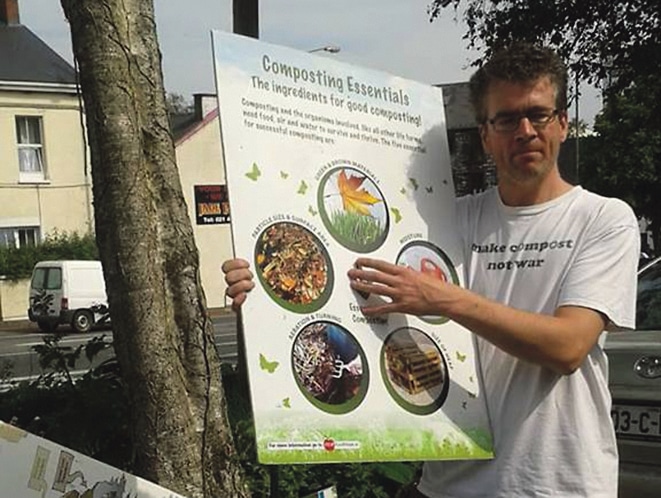 Not the most promising word – waste. 'Unusable or unwanted material' says the dictionary. Our world is knee-deep in waste problems; that's for sure! This includes edibles: '1.3 billion tons of food is lost or wasted every year,' according to www.theworldcounts.com. This is all the more alarming, as to prepare one meal for one person, requires no fewer than 10 kilograms of topsoil.
There are solutions. Donal O' Leary from Macroom is a self-confessed compost enthusiast who trained in psychology but has turned waste management into a business called Waste Down. His true ambitions go even further, as he tells Moze Jacobs. 
"It has been a dream of mine for years to facilitate community composting. I think every community should collect their own leaf mould and use local materials. More people are taking up gardening these days. Mostly, this means visiting the German discount supermarkets or hardware shops and buying peat moss as a growth medium, which is deeply unsustainable. At the same time, we are putting our food waste in bins for it to be taken away and composted elsewhere. Far better to use our own waste or organic materials to build local soils." 
Everyone with a garden (or even a courtyard) can create their own compost. The question is how? Donal casts a critical eye on various systems on his website. "In my 15 years working as a composting trainer, adviser, and researcher," he writes, "I have met many people who face issues with their composting system. It's a smelly heavy mess, they don't know what is happening inside the pile, and it just isn't easy enough to use." A 'Dalek' style compost bin or compost tumbler does not permit quick or easy composting, he states. Instead, Donal has devised a box and tray system called the 'Magic Box composter' while he also sells stackable wormeries containing two, three or four trays. "Now we are all staying at home you become aware that there is a lot of food waste to deal with." For a household that wants to just compost its kitchen waste, a wormery can be a good solution. "A very important aspect is getting the mix right. 'Green waste' (food and grass cuttings) tends to be soft, wet, and high in nitrogen, which means you'll get a sloppy smelly sludge. This doesn't happen if you mix in 'brown materials': Straw, cardboard, sawdust, autumn leaves, newspapers. The latter contain ink but that is plant-based, which is fine, while plain cardboard is, essentially, made out of wood. However, anything covered in plastic, including glossy magazines, can pose problems, as the chemicals will be released into the compost."
Worms are a different 'kettle of fish'. "These are not the long fat earthworms you'll find in your garden. They are smaller, surface-dwelling worms. Their natural habitat consists of rotting leaves, animal manure or compost piles. I can help people source them from online worm sellers. The worms need to live in a moist environment, as they breathe through their skin, which has to be slightly damp all the time. They live in brown material (bedding) into which you feed your kitchen waste. The worms will move around and eat it all. You cannot feed much meat, fish or dairy to the worms, only fruit and veg waste plus small amounts of leftover rice, pasta and bread."
Once the worms have digested the food, they leave behind nutritious compost, which can then be applied in the garden. For instance, to grow vegetables.
Donal sets great store by autumn leaves. "I don't have a big grassy garden but my preference is that leaves are left where they fall. It is much better for biodiversity; everything organic turns into soil, and the leaves will decompose naturally: They are consumed by fungi, then bacteria and worms and wood lice and other organisms. And they release nutrients wherever they land. If you want fertile soil, plant as many trees as you can. The roots bring up minerals that the leaves will then return to the soil. I have collected a great many leaves in recent years. People see them as a nuisance or undesirable material but I put an ad in my local magazine every autumn: "If you are bagging your leaves I'll take them." I pile them up. Over time, under the weather, they turn into a very valuable compost called leaf mould, provided there is enough oxygen and moisture. Without organic matter, the soil will degrade and erode, as happened in the US Dust Bowl in the 1930s, when no organic matter was ploughed back into the soil, which is held together through the chemicals exuded by bacteria and fungi. Hence, everything turned to dust. These conditions could reoccur as temperatures rise. It is already happening with the Amazon rain forest."
www.wastedown.com