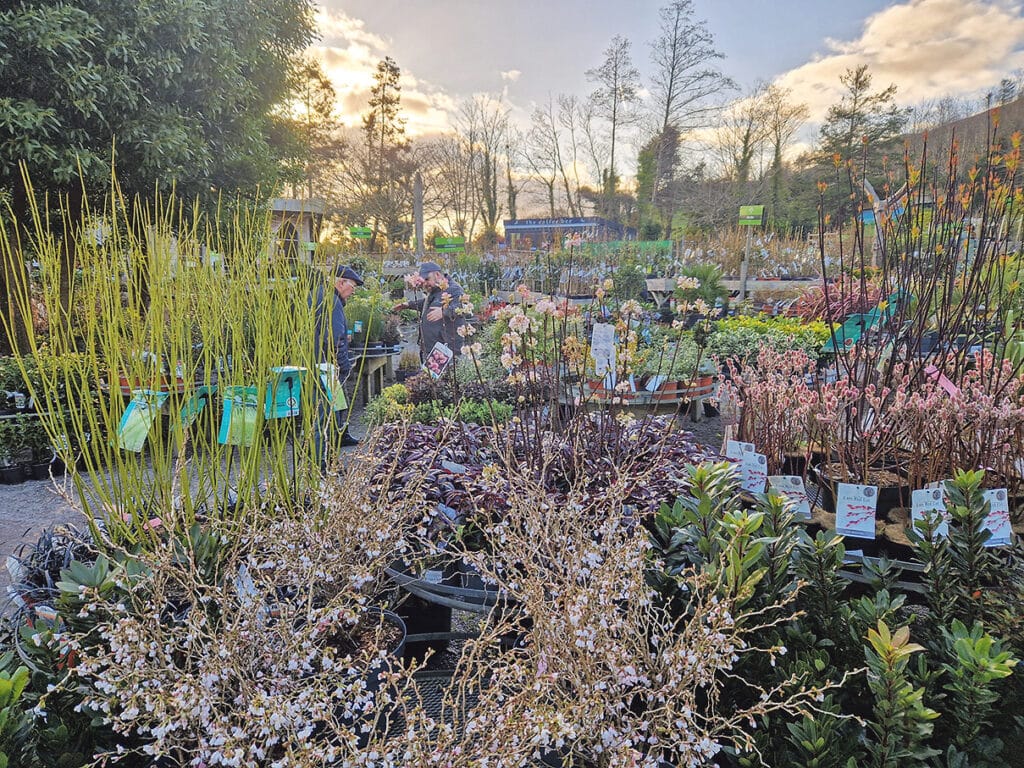 Spring has definitely sprung at Future Forests says Matt Keane
For everyone in the horticultural industry the next few months are by far the busiest time of the year. For us the bare root season starts in November, but peaks in February and March, so it is all go every day at the moment. There is still a good month left to get your bare root fruit, hedging, trees and shrubs in. 
We have experienced a real burst in interest in fruit in particular and it has become a major part of our offering. This season, we have our most extensive range of apple trees, with 18 varieties of heritage apples still available and of course a large range of more modern varieties including some specialist cider varieties. Now is also a great time to get in your raspberries, blackcurrants, gooseberries, blueberries, hybrid berries and other soft fruits in the ground.
As usual native trees are in demand and our mixed hedges are as popular as ever. Mixed hedges are informal and are a great way to bring diversity into your garden. We offer a native mix, which are great to plant to bring more life and wildlife to your garden, some people worry that a native hedge will be unruly and unkempt, but a well clipped native hedge would not look out of place even in an urban garden, of course in my opinion there is nothing wrong with letting it do its own thing as well, if room and space allows. I feel there should be a place for some native plants in every garden, we have so many beautiful species to choose from.
Another favourite is our mixed permaculture hedge, everything in this mix has an edible use, from jams, preserves to eating straight off the bush, it's also another great one for the pollinators, as the different species will flower at different times. The plants included in this hedge can change depending on availability, but currently we put in Aronia, Cornus Mas, the Autumn Olive, Elder, Hazel and Amelanchier.
For me, when I think of Spring, Japanese cherries and Magnolias always come to mind. We love Magnolias and they bring so much to a garden, they are simply beautiful. Magnolia Star Wars, which was bred in New Zealand in the 1970s has stunning pink flowers and has just found a home in our own garden. Japanese cherries are so easy to grow and people often forget that they can also have some amazing Autumn colour to complement their famous Spring flowering. There is generally one to suit every garden, Prunus incisa Kojo-no-mai will grow well in the smallest of gardens, this dwarf cherry was originally found on the slopes of Mt Fuji and if you have the space, my personal favourite is Prunus Shogetsu (Moonlight on Pines), also known as Oku Miyako.
Winter can, at times, feel long, I think our new St Brigid's bank holiday is very well placed to give everyone a boost in February. For us we noticed a definite increase in interest around that time, as people were using the opportunity to get some planting done.
But March is when people really start to think about planting and the garden in general and what they want to get done in the Spring, it isn't just the plants that are waking up. There is an innate instinct in people to start planting, to get their hands in the soil and the promise of growth is life affirming.
Future Forests is about 15 minutes from Bantry towards Gouganne Barra, we are open from 10 to 5pm Wednesday to Saturday and 12 to 5pm on Sundays and Bank Holiday Mondays. Tel: 027 66176 Email: info@futureforests.ie Web: www.futureforests.ie Eircode: P75 H958
The Coffee Bee is open on Saturdays and Sundays.