Already boasting a 12,000 sq ft showroom, the completion of a new, expanded storeroom last year couldn't have come at a better time for Glentree Furniture & Carpets in Dunmanway. This extra space enabled husband and wife team, Paul di Rollo and Evelyn Keane, to order in much bigger volume from suppliers than previously, and ensures they can offer both competitive prices and the quantity of stock needed to meet the unprecedented demand of recent months.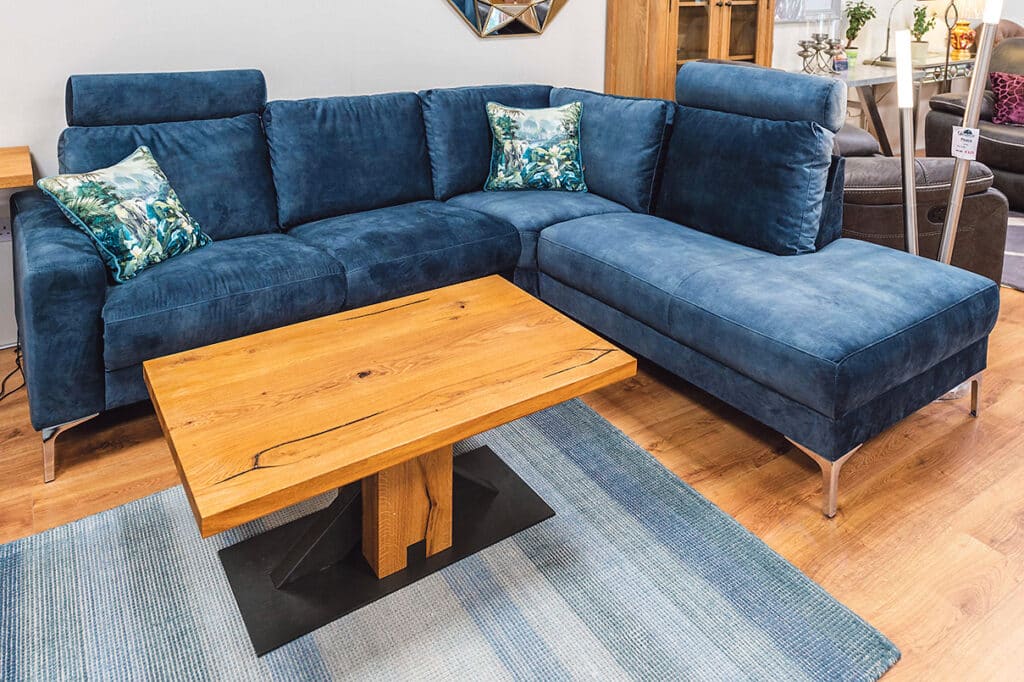 Being located at the heart of West Cork – and offering plenty of space to roam and browse – Glentree has welcomed customers from all corners. With such a wide choice of brands and styles in sofas, beds, dining and flooring and knowledgeable service, few leave without finding exactly what they came for. Subsequently there is hardly a road in West Cork that a Glentree delivery vehicle hasn't travelled in recent months.
From talking with her customers, Evelyn has noted that, "With so much time on our hands this year whole houses have been done up. People have put a huge effort into making their space a welcoming retreat and many customers are now replacing furniture that they realised had become tired or downright uncomfortable from use over the years. 
"Whilst we make sure to also stock some traditional styles, contemporary is by far the most popular choice in furniture now as it suits every home, from new builds to traditional farmhouses. Customers want to see modern styles that are made with beautiful materials and they want to be able to find that in West Cork, a demand we are absolutely catering for."
Evelyn also has an eye for choosing more unusual pieces that are dotted throughout the store. "Whatever the taste of a customer coming through the doors – traditional, contemporary or slightly quirky – there's something here that will catch their eye."
Sofas, armchairs and corner suites takes centre-stage in Glentree's showroom, just as the suite is the centre-piece of any living room. A bestseller is The Savoy, available as a sofa, armchair or corner unit. "It's supremely comfortable and comes with or without a reclining function," explains Evelyn. "We first ordered it in two colours of leather and the model was so successful that we quickly expanded the range to include several styles of fabric including the popular stain-resistant miocrofibre!
"Our Michigan corner suite is also enduringly popular. Corner suites remain a favourite with Irish families for two reasons: it's a very social seating arrangement and it takes up much less space than a traditional sofa and armchair arrangement – this leaves much more wall space in a sitting room and maximises seating in a small den."
New instore this season is the Scandinavian designed Fendi; a modular suite in many sizes that can be arranged to suit any space. It comes with a movable headrest and a very discreet optional reclining function.
Evelyn explains that, "Whilst the model we have in the showroom is in a beautiful blue velvet, as with all our suites, you are not limited to just what is on the floor. You can mix and match many combinations of fabrics, colours and styles to achieve a unique look that reflects your personal taste."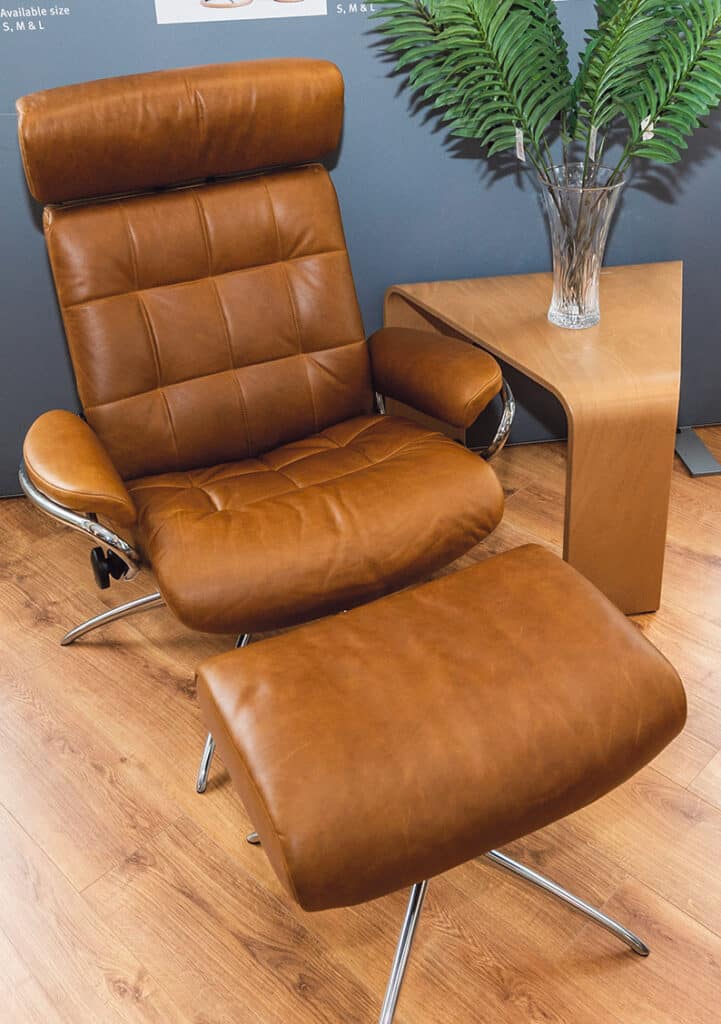 If 'retro' is more your style, The Berkley sofa in luxurious teal or midnight blue velvet will certainly catch your eye. Alternatively, the Stressless London chair and footstool, in tan leather with elegant chrome spider legs, also brings a taste of 1950s glamour.
Dining tables have never been so multi-functional as in recent months, catering for mealtimes, schoolwork and remote working. If you're considering retiring a scratched and wobbly table, and replacing it with something built to last, then have a walk around Glentree's dining section.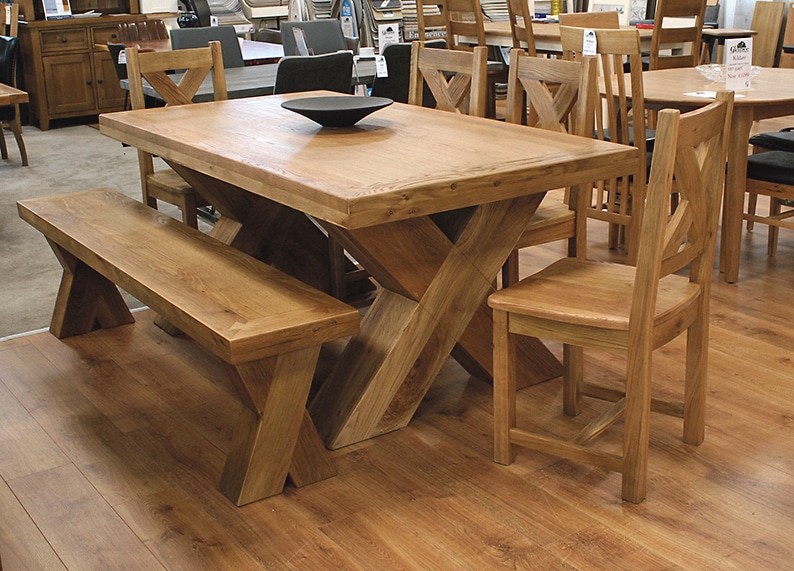 A standout here is The Regal, a solid oak farmhouse table whose chunky cross legs provide a modern edge. It comes with matching chairs and bench and is perfect for busy mealtimes. For a classic dining room, The Malmo is a good option, combining a solid oak top with sleek black metal base. There are also tables with scratch-resistant finishes that can withstand all and every non-dining related use!
Beyond dining is Glentree's carpet and flooring department, where there is an extensive range of carpets, lino and wooden flooring to see and touch. As remote working takes hold in West Cork, Evelyn is seeing lots of customers who have repurposed rooms and see a change of flooring as essential to that: "Carpet can warm up a cold dining room that has become a home office or help soundproof a room. A perfect choice would be our stunning range of high-pile wool neutrals but all of our carpets are warm, very hardwearing and easy to clean.
"Alternatively a bedroom might become an office/treatment room and require laminate or hardwood flooring. While light and medium washed oaks remain a top seller for us, walnut is a lovely choice to provide an interesting contrast to pale furniture and walls."
All flooring from Glentree comes with a 10-year guarantee and is fitted by expert local fitters with over 20 years experience.
Another way to ensure you have a cosy place to retreat to on dark winter nights is to look at your bedroom. Would a divan bed with a headboard in a luxurious fabric be the ticket or would an oak frame suit the space more? Glentree has a huge department at the rear of the showroom that is ideal for viewing beds, wardrobes, chest of drawers and side tables in room arrangements…. and for trying out mattresses.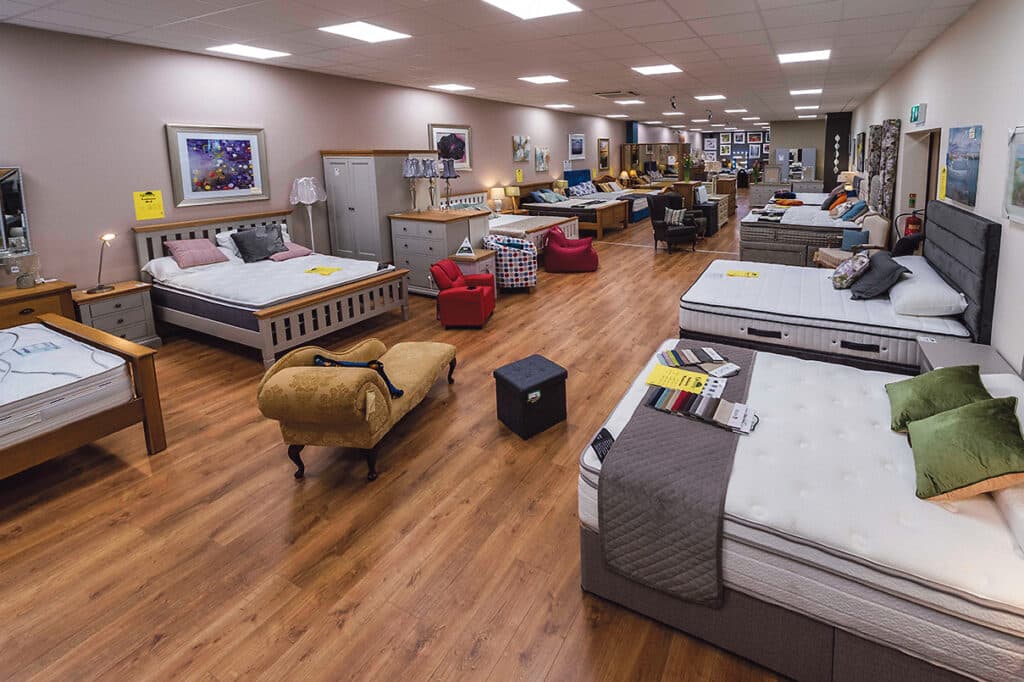 Glentree stocks a wide range of quality mattresses at different price points including two Irish-made brands, Respa and The Natural Sleep Company. "We display a huge amount to try because everybody's needs are different," explains Evelyn. "From support level required to temperature preferences. For example some love a warming memory foam top layer but others will go for a cooling gel. We talk the customer through all the different options and ensure they make the right choice for a good night's sleep for years to come."
Another tip for creating a calming boudoir is to look at your storage; many of Glentree's divan beds come with an astonishing amount of hidden space underneath and there is also a display of space-saving German-engineered sliding wardrobes with numerous options in sizes, storage configuration and finishes.
Relatively new to the showroom is the dedicated children's bedroom area where you will find other space saving solutions such as triple bunks (double below, single on top) and the ingenious Mid Sleeper which incorporates a bed, with a built-in locker, bookshelf, ladder and pull out desk…designed for box rooms everywhere!
In your quest for a cosy home, don't forget the important finishing touches of lighting, rugs, pictures and throws, all of which you will also find displayed throughout the showroom.
The Glentree Furniture & Carpets showroom is situated in Brookpark, on the Clonakilty Road, Dunmanway so make some time this month to visit and browse. The company has a well-deserved reputation for quality, service and exceptional value for money and the team is always willing to share their knowledge and expertise.