Already the shop of choice for Ireland's organic producers and gardeners, more and more conventional farmers are turning to Fruit Hill farm – Ireland's specialist for environmentally-friendly house, farm and garden supplies – to help them make the switch to organic. With over 2000 new applicants to the Organic Farming Scheme indicating that Ireland is in a good position to hit its target of 7.5 per cent of agricultural land being used for organic farming by the end of 2027, it is inevitable that there will be even greater demand for the type of high quality organic products stocked by this West Cork-based online shop, which celebrates 30 years in business this year. Boasting an excellent selection of seeds and propagation equipment, soil and plant food and high quality tools and equipment, with business owner Elmer Koomans' background in organic food production and an experienced team of 18 behind him, Mary O'Brien shares how Fruit Hill is well-equipped to support the high numbers of our West Cork farmers already signed up to the Organic Farming Scheme.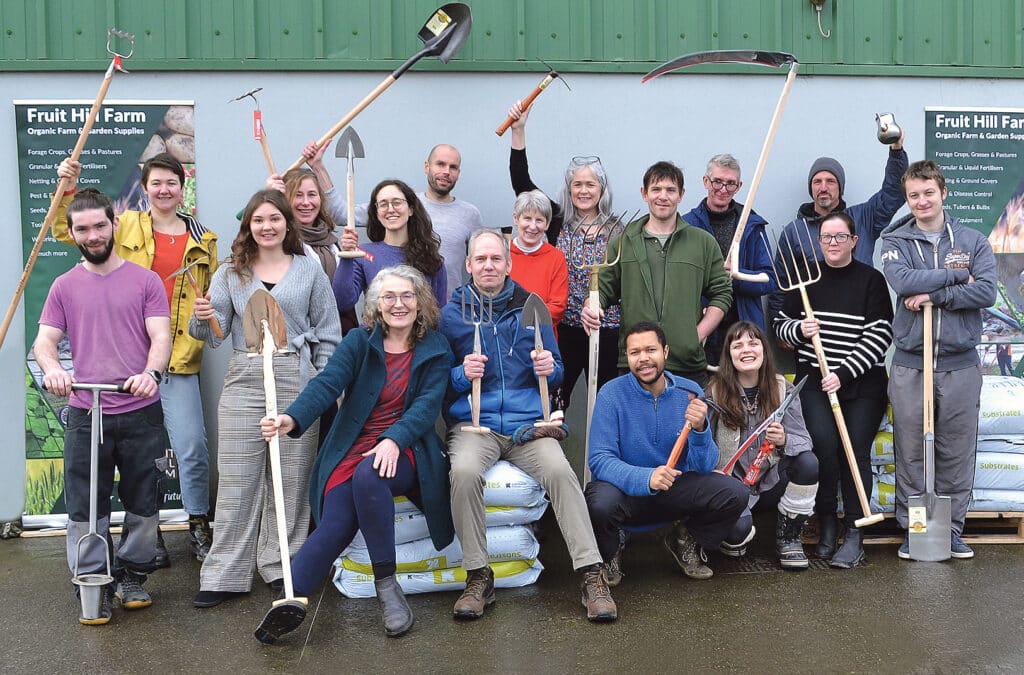 Fruit Hill Farm is the leading supplier of organic grass seed, clovers and cereals in Ireland. The company supplies organic oat seed to farmers who grow for Flahavan's and trials of Fruit Hill's variety rich grass seed mixtures by some of West Cork's conventional farmers have been going exceptionally well. "They're very happy with the results," shares Elmer.  "There is an increase in milk production, a decrease in vet bills, the grasses need less input and are proving to be more resilient in wet and drought conditions.
"We are improving our range of variety rich grass seed mixes all the time so we have a sheep pasture mix coming in this year."
He does point out that due to organic nitrogen in the soil only becoming available to plants once the soil warms up, the organic grass seed mixes are slower to get going in the spring. The introduction of clovers in organic swards is crucial for nitrogen fixing.
Elmer is available to interpret farmers' soil analysis results with them and offers advice without charge.
Fruit Hill Farm was started by Manfred and Edite Wandel from their home in 1993. Manfred and Edite were organic pioneers in the eighties and have done excellent work sourcing and supplying quality products for small and large organic growers. As an organic grower since 1989, Elmer was already a customer of Fruit Hill for years before joining the business as a sales manager in 2012. His experience in farming, organic food production and his in-depth knowledge of soil health has been of huge benefit to the growth of the business: He made new contact with larger growers and commercial farmers and, in 2015, Fruit Hill Farm moved to a larger premises in Colomane, between Drimoleague and Bantry.
After years of working side by side building a successful business together, in July 2021 on Manfred's retirement, Elmer took over the reins, securing Fruit Hill's future and continued growth.
What started out as a printed catalogue 30 years ago with a small selection of tools and products like chicken pellets and seaweed dust is now online and stocks a wide range organic vegetable, microgreen, herb and flower open-pollinated seeds, as well as an excellent selection of blight-resistant seed potato varieties, composts, fertilisers and soil conditioners, products that can help with pests or disease and quality hand tools and propagation equipment, many which are unique to Fruit Hill. "People might be surprised to hear that one particular tool we are selling a lot of is the scythe," shares Elmer. "More and more people are now switching from using strimmers to this more traditional tool, which is efficient and environmentally-friendly. Our Austrian scythe has a lovely light ash handle and is very easy to use once you master the technique."
While it's still too early for gardeners to start planting out, thoughts are turning to growing healthy and productive plants. New to Fruit Hill this year are mycorrhizal fungi products. "With our changing climate and more extreme weather conditions, products like the mycorrhizal fungi are excellent for helping to make the soil and plants more resilient to pests and disease," says Elmer. "If the soil is not alive and healthy, you will attract so many more problems."
Also, if you haven't done so already it is worth investing in some quality organic mulch or a fabric ground cover to protect the soil and keep weeds at bay.
As we head into seed potato season, Elmer recommends blight-resistant varieties Vitabella, Connect and Carolus for their flavour and yield but there are lots more to choose from on the website. "Many people plant potatoes too early, in mid March," says Elmer. "The ground outside is too cold in Spring and there is still a risk of frost so the crop won't thrive. The beginning or middle of April when the ground has warmed up is the best time to plant potatoes for a good crop."
For anyone new to growing potatoes, Fruit Hill farm stocks large 30 and 40 litre containers, which are perfect for starting out.
Whatever your growing requirements, Fruit Hill Farm prides itself on offering a high quality customer service and product and is ready to help you make the right choice for your own needs and the environment.
To celebrate 30 years of successful business Fruit Hill Farm will be running a number of special offers and giveaways over the next few months so keep an eye on their social media or sign up for their newsletter for more details.
www.fruithillfarm.com