Bandon-based, food supplement business SOMEGA continues to extend its product range  – the latest additions are pure and natural Vitamin D3 and Vitamin D3 + K2 liquid supplements. Vitamin D and Vitamin K are fat-soluble vitamins essential throughout life.  According to food scientist and SOMEGA co-founder, Mark Clifford "With our new range of vegan Vitamin D and Vitamin D & K supplements, we continue to develop products that are not only good for our immune system and bone health, but are also better absorbed than other supplements'.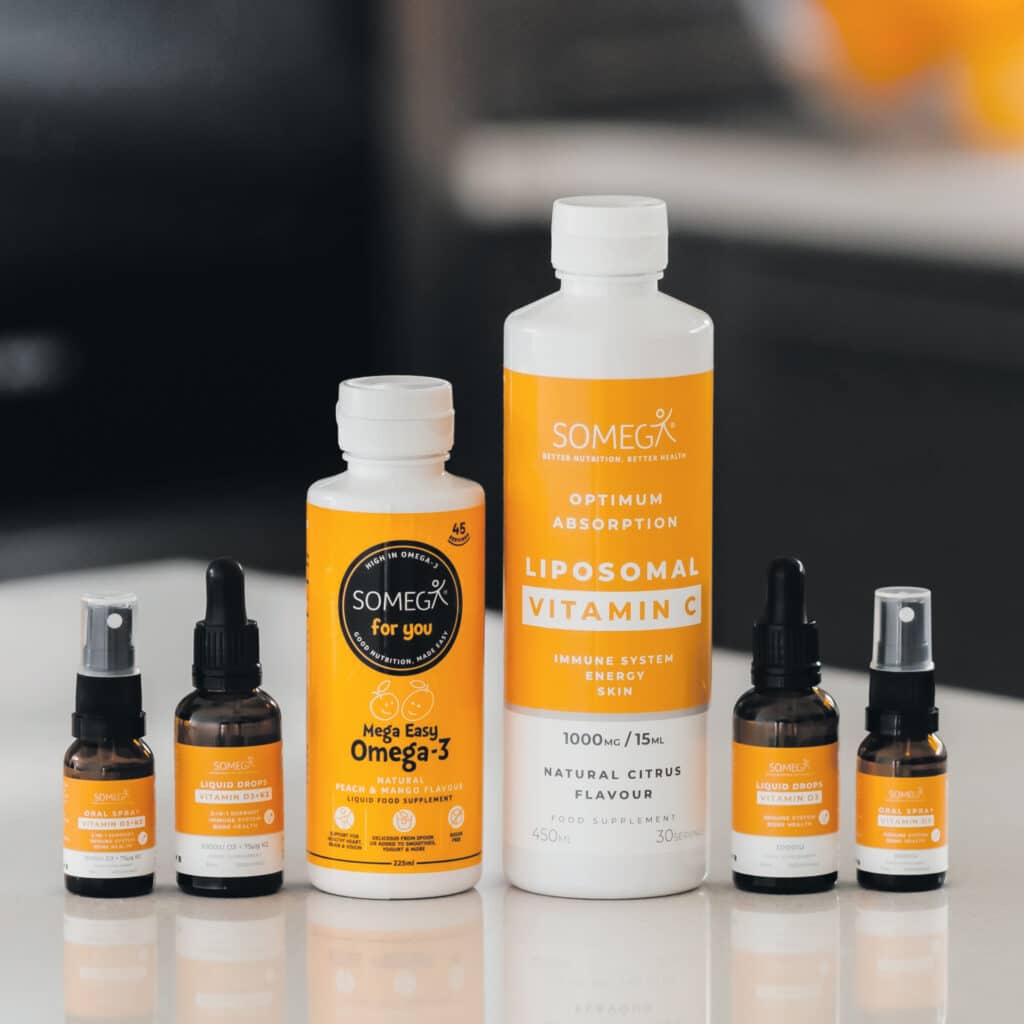 SOMEGA launched its first supplement, pleasant-tasting Easy Omega-3, last year. Stocked now in health stores and pharmacies nationwide, it has proved hugely popular with adults and children alike and benefits brain, heart and eye health.
SOMEGA's Liposomal Vitamin C is a powerful nutrient, essential for health. When it comes to supporting your immune system, Vitamin C is key, which is why Vitamin C supplements are often the first port of call for many people when they feel a flu or cold coming on. Vitamin C also supports the nervous system and psychological function – studies show that Vitamin C supplementation can be effective in reducing stress-related anxiety and blood pressure.
Vitamin D plays an important role in your immune system as it is crucial in the activation of our immune defences. It is also important for bone health. Sunshine is where most of your Vitamin D comes from. Vitamin D is made in your skin when it is exposed to sunlight. Unfortunately, in Ireland, the sun is not strong enough from October to March to allow your skin to make any Vitamin D. Other factors, such as applying sunscreen and aging, also lower the amount of Vitamin D your skin can produce. Your diet generally provides only a small amount of Vitamin D because very few foods naturally contain this vitamin.
Vitamin K is essential for bone health as it helps direct calcium into the bones. Research indicates that supplementing with vitamins D and K together is more effective for bone health than taking either vitamin individually.
Pure and natural SOMEGA Vitamin D3 and Vitamin D3+K2 liquid supplements provide all the health benefits of Vitamin D and K and are ideal for maintaining adequate levels of these vitamins all year around. They are expertly formulated to be optimally absorbed in your mouth, unlike traditional tablets and capsules.
SOMEGA Vitamin D and Vitamin D+K supplements are available as Oral Spray and Liquid Drops. The oral sprays are ultra-convenient to take and can be used on-the-go. The liquid drops allow for easy and flexible dosing, making it ideal for both children and adults. For individuals who struggle with swallowing tablets and capsules, SOMEGA provides an excellent alternative.
SOMEGA packaging has been chosen with the environment in mind; both the oral spray and liquid drops come in a recyclable glass bottle within a recyclable cardboard carton.
SOMEGA is stocked in An Tobairin (Bandon), Brookes Pharmacy (Bandon), Collins Kinsale Pharmacy, For Goodness Sake (Dunmanway and Skibbereen), Gallwey's Pharmacy (Clonakilty), Glengarriff Pharmacy and Beauty Rooms, Loop de Loop (Castletownbere), Nature's Corner (Macroom), The Olive Branch (Clonakilty), Organico (Bantry), O'Riordan's Pharmacy (Enniskeane), Rosscarbery Pharmacy.