The múinteoirí of Naíonáin Bheaga to Rang 6 at Gaelscoil Dr. Uí Shúilleabháin in Skibbereen, share with West Cork People, how school life has changed under the current restrictions. Although the changes have proved challenging for everyone, children and staff have adapted well and are all on board with the new routine.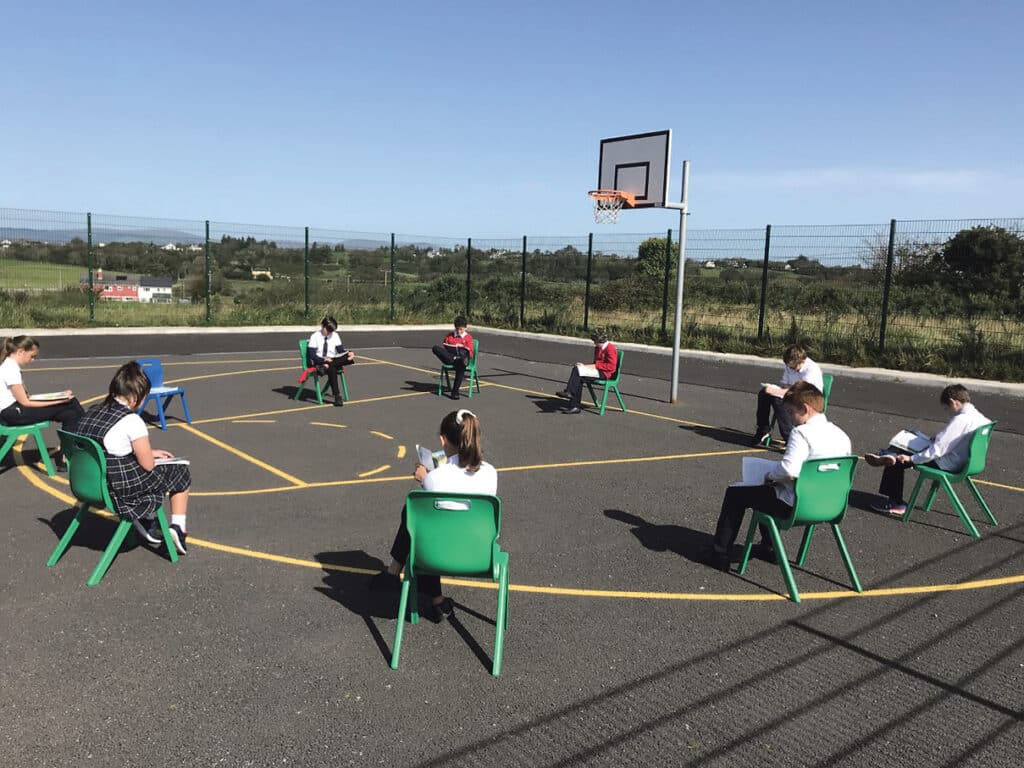 As lockdown happened so quickly, the teachers at Gaelscoil Dr. Uí Shúilleabháin found that the first of their challenges this year was digital learning; the overall consensus was that teaching without being able seeing their 'páistí' was difficult. However within a short space of time, new skills were learned and innovative ideas and approaches to teaching and learning were introduced.
One of the main impacts of lockdown for the school was that it changed their approach to digital or distance learning. However, being a small personable school, the interaction with children was very much missed.
Fortunately the Seesaw app proved an invaluable resource, as it facilitated feedback for the school and allowed the teachers to keep contact with the children.
As a result of its digital experience during lockdown, Gaelscoil Dr. Uí Shúilleabháin now foresees a greater use for digital learning in schools. In fact it is currently awaiting a delivery of chrome books thanks to Kieran Collins of Ludgate. The teachers are currently working very closely with Ludgate to establish G Suite for Education within the school.
Gaelscoil Dr. Uí Shúilleabháin is newly built so it is a modern and well-ventilated building with plenty of indoor and outside space.
Classroom spaces have now been adjusted, breaks have been staggered and a rigid hand washing routine has been established to create a safe learning environment for pupils and staff alike. Access to the building is now monitored and controlled and where possible only children and staff are permitted on the premises. Bubbles and groups have been created within classes and teachers maintain a two-metre distance where possible.
The teachers all wear PPE, masks and/or visors at different times of the day. Visors have to be cleaned regularly, as they fog up easily.
"Teaching a phonics lesson is not as easy as it is vital that the children can see our faces and even the shape of our mouths for different sounds.
"We are all getting used to them and will be with them for a while yet so we will find the types that work for.
We all find that our eyes tell lots of stories!"
Teaching practices and social distancing
The children in the younger classes now sit in 'pods' of six; distanced from each other. Prior to Covid they were able to play together or swap toys. Now each pod needs to keep their game for a few days and can't share with a different pod. The toys are then put in 'quarantine' for a few days before the next pod is allowed to use it! The teachers are used to teaching children how to share but are now having to do the opposite, which they admit is difficult, as it goes against social interaction with each other.
Older children are required to sit further from each other and can't share in the same way as the younger children can.
The taachers are all working together to support the children.
"All of the children have adapted really well and are really amazing with all the changes. We wear our PPE and can be beside the children and sanitise our hands between helping each child with their work. It is harder to keep distance when working quietly with individual children.
"It is definitely challenging to find creative ways to teach classes when we try and socially distance group work!"
One of the most significant challenges for teachers has been not being able to interact with each other in as relaxed a manner as before. The buddy system for junior infants has also been a loss. Older children would have looked out for the new kids during break times and now they are missing the interaction of shared reading together.
Teachers met regulalarly over the summer to discuss how the children would settle back once the schools reopened. There was a lot of anxiety amongst children and parents during the lockdown about how children were going to interact with other people again. Making sure the children were happy, settled back and a creating a feeling of safety and wellbeing was of paramount importance to the teachers.
One of the subjects on the curriculum at Gaelscoil Dr. Uí Shúilleabháin is SPHE (Social, Personal and Health Education). The SPHE curriculum fosters children's wellbeing, self-confidence and sense of belonging. It also develops children's sense of personal responsibility for their own behaviour and actions and promotes children's self-awareness and understanding by helping them to manage their own feelings, to recognise and appreciate individual abilities, and to cope with change of various kinds and supports children to become active and responsible citizens.
"SPHE is definitely taking centre stage at the moment! The children's wellbeing is vital to allow for their educational needs to be met."
Frequent breaks outside are also allowed where possible and the children are encouraged to read outside and play more in the school play areas.
Over the next few months, the focus will be on instilling a feeling of safety and wellbeing, as well as making things as normal as possible for the children in these times.
The regular subjects like English, Maths, History and Geography and so on are of course still being worked on and although there is a lot of catch-up being done after lockdown, classes are also looking ahead to new topics.
Overall everyone is very happy to be back in school. Teachers have never been so happy to hear a noisy school yard!
"The support from the parents of the children really cements our ability to work together as a team. The children in the school are fabulous to work with and have adapted to the new normal and luckily are still excited and happy to run in the gate in the mornings!
"What we want is that all children go home with a smile and happy at 3pm."
Some feedback from the kids….
What's it like to be back in school? "Thumbs up. It's good to be back." "It's great to have a routine." "It's great to have something to do instead of just sitting around." "I feel really happy to be back" "I'm so happy to see my friends." "It's better than homeschooling." "I feel happy, scared and excited at the exact same time." "I am glad I have some work to do now."
What are the differences this year? "We have to wash our hands all of the time." "We can't share our colours or books." "The windows are open all of the time." "We can't hug our friends like we used to." "Teachers are wearing visors but we are used to it now." "We can't play with the younger classes." "We are going outside more, which is a lot of fun, and we are using our pitch now so we have a lot more space."