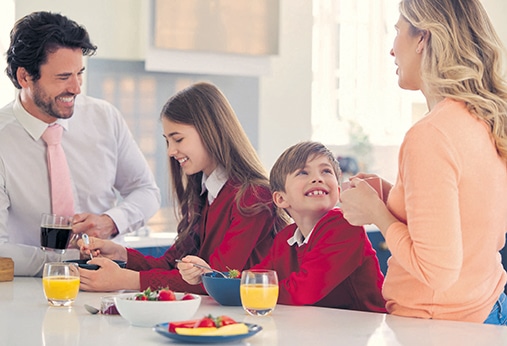 With the classroom doors open again, now is the perfect time to kick-start a good health routine for children. Supporting back-to-school health is crucial for their overall well-being and academic success. The best approach to help ensure children have a healthy start to the new school year is a holistic one which incorporates exercise, sleep, good nutrition and health supplements.
Regular Exercise
Encouraging kids to be active is very important. The National Guidelines on Physical Activity for Ireland recommend that kids should be active at a moderate to vigorous level for at least 60 minutes daily. Regular exercise not only helps build strong muscles and healthy bones, it can also result in better sleep, improved moods, lower stress levels, and increased circulation of immune cells in the body which contributes to a healthy immune system.
Sleep Hygiene
Good sleep habits are vitally important for all of us but especially kids. Sleep allows the body to rest, regenerate and heal and the lack of sleep can affect the immune system. Research shows that people who don't get quality sleep or enough sleep are more likely to get sick after being exposed to a virus, such as the common cold virus.
Well-Balanced Diet
Good nutrition and a well-balanced diet are key to supporting kids' health. A well-balanced diet includes plenty fruit and vegetables, full of vitamins and antioxidants, lean protein, healthy fats including omega-3s from oily fish, wholegrains and probiotic rich foods, such as yogurt (ideally low sugar varieties).
Health Supplements
While not a replacement for a well-balanced diet, health supplements can help to provide extra support for kids' health, including support for their immune systems, brain health, energy levels and bone health.
Vitamin C is a great all-rounder supplement for kids and adults alike and is one of the most popular go-to supplements for supporting immune health during the oncoming cold and flu season. Vitamin C also helps reduce tiredness and fatigue which many kids experience when they head back to the classrooms. For kids with low iron levels, taking a Vitamin C supplement at the same time as they take an iron supplement is very beneficial because Vitamin C increases iron absorption. It's important to note that not all Vitamin C supplements are created equal – liposomal Vitamin C is the best absorbed form available. SOMEGA Liposomal Vitamin C is a great-tasting and sugar-free supplement that is suitable for the entire family. It can be enjoyed straight from the spoon or added to drinks and smoothies.
A Vitamin D supplement is important all year round in Ireland, but particularly as children head back into the classrooms and have less access to the outdoors and sunshine. Vitamin D supports the immune system and is vital for bone health as it helps increase calcium absorption. Combining Vitamin D with the lesser known Vitamin K2 provides enhanced support for healthy bones. Pure and natural SOMEGA Vitamin D3 + K2 in liquid drop format is ideal for children and adults and is placed under the tongue for fast and effective vitamin absorption.
Omega-3s, naturally found in fish oil, play a major role when it comes to supporting brain health throughout life. The omega-3 fatty acid called Docosahexaenoic Acid (DHA) is found within the grey matter of the part of the brain known as the frontal cortex which is responsible for attention, problem-solving, decision-making, learning, memory, emotions and behaviours.
Omega-3 fatty acids have been shown to help children with their concentration, attention, behaviour, mood and how well they learn. Unfortunately, the majority of Irish kids don't consume enough oily fish so a high quality omega-3 fish oil supplement can be a great alternative. Of course, for many kids, the taste of omega-3 supplements can be a real no-no! SOMEGA Easy Omega-3 + Vitamin D3 consistently gets the thumbs up from kids and adults alike – this creamy, smoothie-like supplement has a delicious, natural peach and mango flavour and can be enjoyed straight from the spoon or added to drinks, smoothies and yogurt.
SOMEGA now offers a range of Back to School bundles at gosomega.com. SOMEGA supplements are stocked in health stores and pharmacies throughout West Cork.