Fuelled by a vision to deliver natural, effective and highly palatable health supplements, Bandon-based company SOMEGA was co-founded in 2019 by husband and wife team, Mark Clifford and Dr. Paula Gaynor. As well as having backgrounds and more than 30 combined years of expertise in food science and nutrition, the couple have three children and it was a concern for their kids' nutrition that ultimately led Mark and Paula to start the business.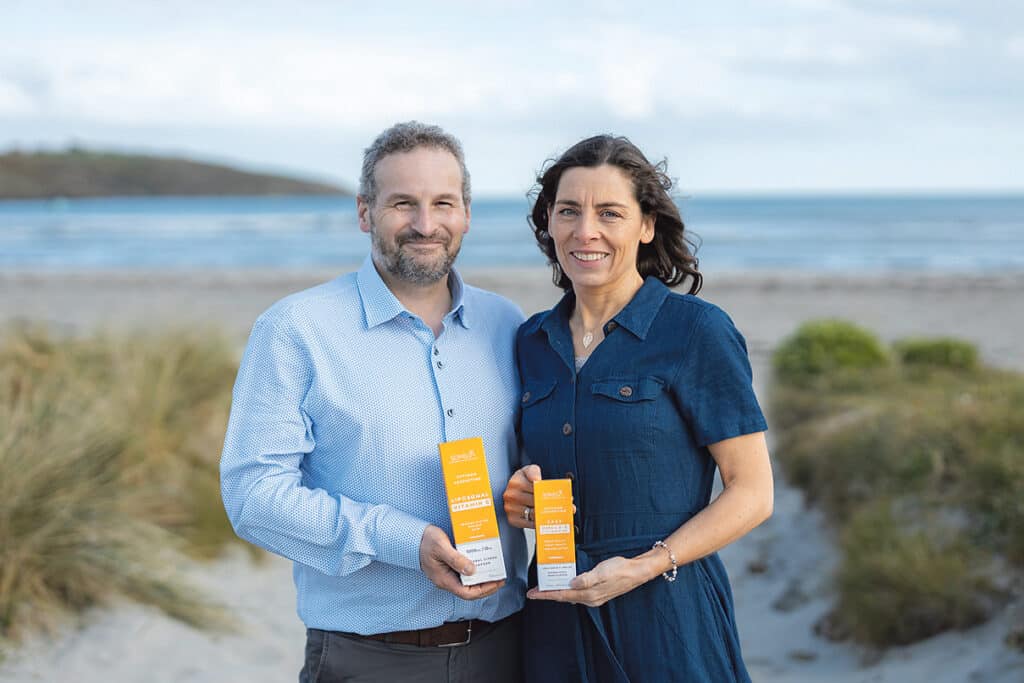 "When we looked at their diets, it was clear that the kids were lacking in Omega-3's because they would not eat oily fish" says Mark. Omega-3s are healthy fats, essential throughout life for supporting brain health, heart health and vision. In children, they are particularly important for brain development and, as we age, they play a critical role in maintaining brain function. "As an alternative, we turned to supplements but getting the kids to take these was also challenging due to the fishy taste and oily texture" says Paula. So that was the genesis for their first product ' Easy Omega-3 + Vitamin D3', a liquid supplement with a delicious natural peach-mango flavour and smoothie-like texture, suitable for both children and adults. It can be enjoyed straight from the spoon or added to smoothies, yogurts and other foods.
While SOMEGA was very much in the start-up phase, the COVID-19 pandemic struck and this heightened people's interest in supplements to protect their health and especially their immune systems. The SOMEGA product line rapidly expanded to include a Liposomal Vitamin C supplement, as well as a range of Vitamin D3 supplements. Vitamin C is well known for supporting the immune system; it also enhances energy levels and promotes collagen formation for healthy skin. However, regular Vitamin C supplements are poorly absorbed. "We want to make sure that Vitamin C is well absorbed, which is why we use liposomal technology to maximise vitamin absorption, thereby leading to enhanced health benefits," according to Mark.
The SOMEGA range of Vitamin D3 products includes pure and natural, convenient oral sprays for adults and family-friendly liquid drops. Vitamin D supports the immune system and is also essential for maintaining bone health and helping with calcium absorption. "The reason we chose sprays and drops as delivery systems, as opposed to tablets and capsules, is because the vitamin can be rapidly absorbed under your tongue" adds Paula.
B-Vitamins have also been added to the product range – a 'Vitamin B12 Oral Spray', which naturally enhances energy levels, helping to reduce tiredness and fatigue and 'Liposomal Vitamin B-Complex + C', which combines the many health benefits of the 'energy' B-vitamins with Vitamin C.
"What makes SOMEGA supplements unique is that they well absorbed, they are enjoyable to take and easy to fit into your everyday routine," highlights Mark. Their expertly formulated products are all designed to be pure and natural, non-GMO and free from gluten, yeast, soy, sugar, and dairy and contain no artificial sweeteners or preservatives. SOMEGA products are packaged in recyclable, environmentally friendly materials.
Paula and Mark acknowledge the ongoing support they have received from their Local Enterprise Office in Clonakilty, not only in terms of grants and training courses, but also the access to mentors who provide invaluable practical and strategic advice and guidance. SOMEGA has also been supported by Enterprise Ireland.
"The positive feedback we get from consumers is a driving force for us and this makes it all worthwhile" says Paula. Indeed, the future is looking bright for SOMEGA with plans to further grow the product range this year with four new products in the pipeline and also firm plans underway to expand into the Benelux market.
SOMEGA products are available in all good health stores in West Cork and nationwide, in pharmacies and online at gosomega.com.