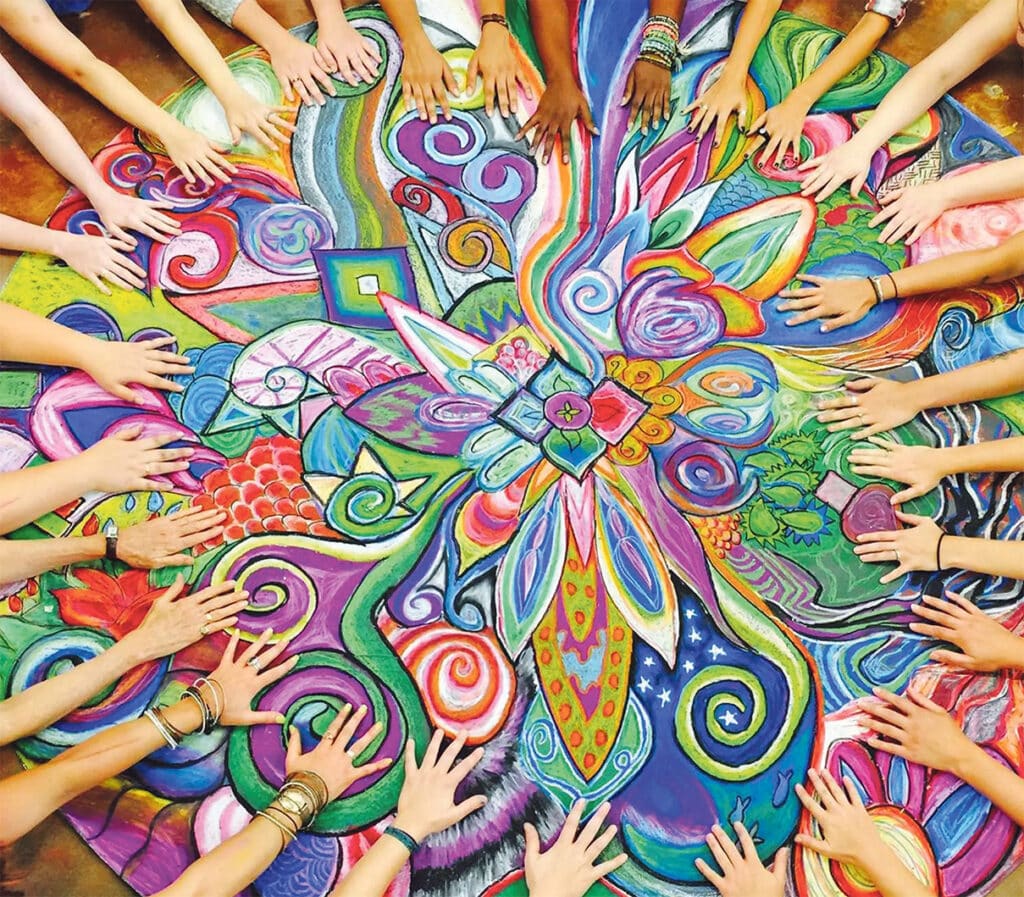 By Marianne Adams
Lecturer of Arts in Health and Education at MTU
Have any of us truly integrated the last two years, are we ready for the coming year, do we feel empowered in our own lives, and in our ability to impact the wider world? These are crucial questions, but ones that often get put to one side as we rush through our day to day lives.
Let us help you create a space where time will pause, where you will be safely held while you find your belonging in a group of like-minded adventurers, where inner knowing will unfurl as your creativity and agency are supported to flow through you and beyond you more powerfully.
This year, as well a providing spaces where you can dive deeply into your inner landscape, there will also be opportunities to think about how we bring the benefit of this knowing out into the world. Testing times can leave us feeling isolated and disempowered, the Summer School will foster your courage to connect with others and it will help you to bring this courage, colour and clarity back into your life.
Bearing in mind the demanding times we are living in, the calibre of our workshop facilitators is superlative this year, and the pivotal themes of internal and external connection are at the forefront of our planning. We welcome Eileen McCourt from Enniskillen and Stephen Millar from Belfast as two of our four group facilitators, as well as Louise Gartland from Dublin and Ed Kucjak from Waterford. Eileen has been a pioneer of Art Therapy in Northern Ireland and is President of NIGAT, before her recent retirement she worked with offenders in custody and in the community. Stephen is part of the Array Collective, who won last year's Turner prize for their powerful art led social and community engagement. Louise is the Founder and Director of Artonomy, and Ed was the Head of the Department of Arts in Health and Education as well as the Chair of IACAT.
The Summer School will feed your heart and the soul as well as your head. The most profound element of the experience are the experiential workshops. The workshop groups are of approximately 12 participants, and the membership of each group stays constant over the event to allow trust to grow. The group facilitators are skilled in supporting the creativity of each individual and the group as a whole, and the group becomes a place where everyone can experience the powerful process of being witness and being witnessed. As the journey unfolds, the shared experience inevitably generates a camaraderie that is hard to put into words. Similarly, one's relationship with oneself if also kindled as the art making creates a conversation with parts of ourselves that perhaps sometimes feel forgotten and unseen. Absolutely no art making experience is necessary, every mark that is made will be honoured, all aspects of ourselves that come out to play will be welcomed and held dear.
A series of three lectures woven through the five days helps to create a theoretical framework for those new to Art Therapy, while those with more Art Therapy experience will learn deeply from leading practitioners in the field. Everyone will be inspired by seeing the transformation that happens in the therapeutic space Art Therapy creates, through the clinical work shared in the lecture series. Participants will also learn ways to understand their own process.
The Art Therapy Summer School is a long established, nurturing and dynamic event run by a hugely experienced team whose aim is to create a safe space to allow your innate creative energy to flow more strongly. The beautiful building of the Crawford College of Art and Design, already imbued with art making, is the perfect venue and our coordination, caretaking and kitchen staff will ensure you are well fed and well orientated and well minded.