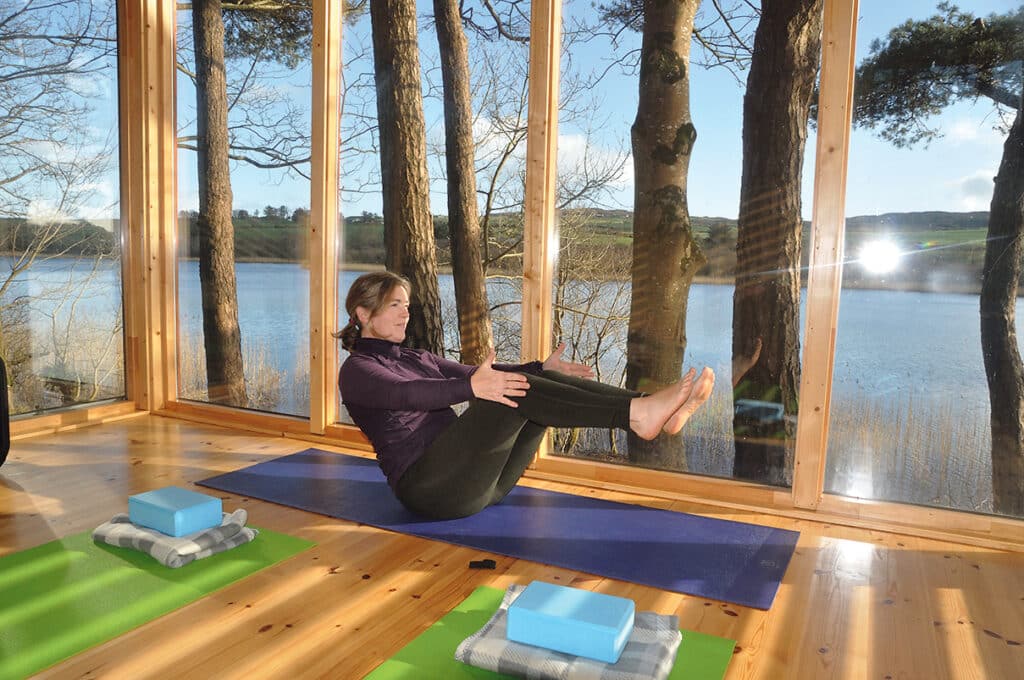 Craving the holistic lifestyle that she has since found in West Cork, Michelle Hegarty, packed in her rewarding but stressful engineering career with a technology company in the States, which involved juggling a 40 to 50 hour work week with family commitments, and moved with her American husband and two children back to Ireland.
Today she's a yoga teacher, living her dream life in Drinagh with husband Barry and two boys, Eoin and Rory.
Practicing since 2006 and teaching for over five years under the name 'Budding Yoga', Michelle is well experienced in helping people live more fully through moving and breathing, "Our bodies are meant to be moved," she says "and so many benefits will come from that; calming of the mind, grounding and connecting through every practice."
Michelle has trained in a number of yoga disciplines including Hatha, and Yin with the Vitality Traditional School of Yoga, studying under teachers from the renowned Yoga Therapy Ireland group. She now concentrates her teaching around Hatha, Yin and Chair yoga, giving classes around the Skibbereen area, and gains great satisfaction from seeing her clients more relaxed and grounded after just one class.
"Many claim that they sleep great and feel great after it," shares Michelle "but when people dedicate to practice more regularly, they notice improvements in range of movement, strength, flexibility, balance, overall health and even fine control movements."
Personally Michelle tries to 'live' yoga off the mat, physically and mentally. She works at instilling this mindset also in her clients.
"One lady told me that her yoga class with me saved her," she shares "that she fell backwards off the second step of a ladder, with a bag in hand, and just rolled back with her feet in the air, and then rolled forward almost to standing without even hitting her head," explains Michelle, who often teaches rolling up and down in her class.
You need to ask what you can you take from a practice or class that will help you in how you live your life," she says passionately.
"Whether it's a postural awareness, or how you can improve a repetitive task, or the philosophy of yoga; this helps me a lot, with perspective, detachment from egotism, minimalism, true quality of life and relationships with people I know and don't know. Finding compassion and kindness even for those that aren't always the most pleasant to deal with, maybe because they need it the most."
According to Michelle, the trust that develops as you ground and connect in yoga is very powerful. "Things start to unfold the more you practice and the more dedicated you become, the more fully you want to live your life."
In her own life, Michelle enjoys living as organically as possible, close to nature and the ocean, where she tries to swim a few times a week all year around, but mainly in Lough Hyne. She loves to be outdoors. The family grow their own vegetables, and Michelle has a passion for making and repurposing things, her most recent project involved giving new life to an old trampoline in the form of a polytunnel.
This way of life has encouraged her to collaborate on yoga and food retreats to give people a glimpse into what's possible if you embrace movement, good ingredients and the outdoors into your life. They have been a huge success: The combination of stunning coastal locations at the heart of nature with the detoxification of a sauna and the grounding practice of yoga and swimming, a winning combination.
For updates on Michelle's offerings keep an eye on her social media, Instagram and Facebook, and posters locally.
Michelle runs classes in Baltimore on Friday's and Skibbereen on Mondays. She also gives group classes at day centres and active retirement groups locally, and private sessions in Liss Ard Estate and on demand. An online class takes place on Mondays. Retreats are usually on a Friday or Sunday.
For more information or to book a class call Michelle on 087 2358188.