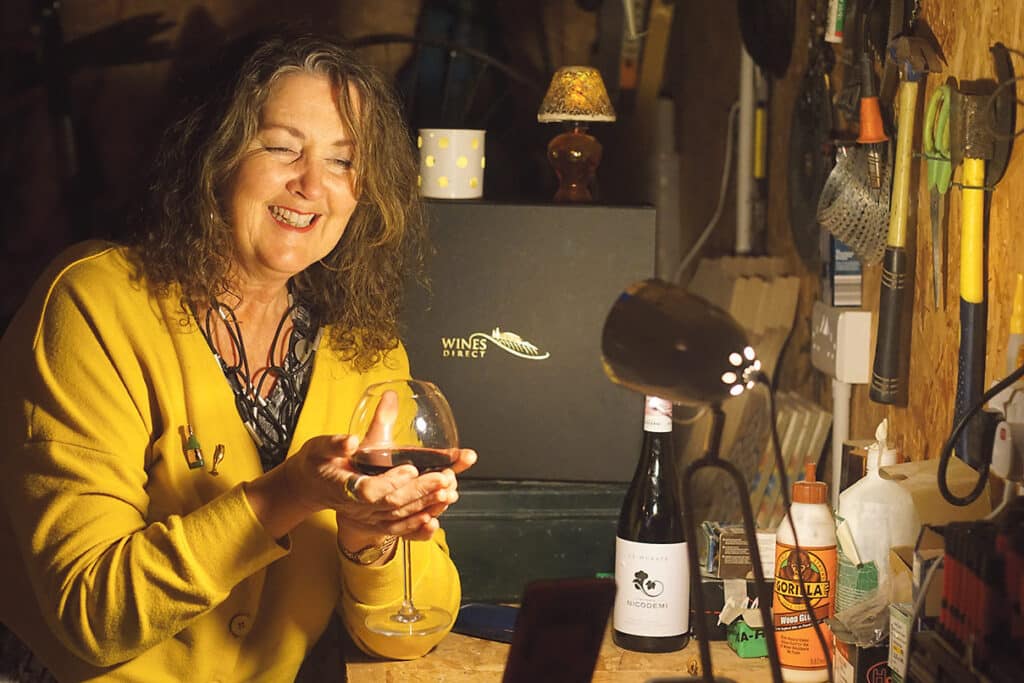 When I'm asked for recommendations for Christmas day wines, it's usually expected that I'll suggest bringing out the best wine in the house. I don't! Of course, I'll want to drink something really lovely, but funny enough, I don't think it's the moment for the special bottle you've been saving under the bed. That's for an evening with just two of you, and nothing else going on, where the wine takes centre stage. 
At Christmas time, many other things are going on, and it's really about sharing, chatting, laughing, eating and relaxing, rather than focusing on the complexities and nuances of some rare vintage. A wine to go with selection boxes and charades, that's what we're looking for!
Now, for me, nothing says fun like bubbles, be it Prosecco, the excellent Cremant de Loire, or of course, Champagne.
My favourite fizz this year is Pet Nat from Di Filippo in Umbria. 'Pet Nat' is the trendy new style of sparking wine, but like many new trends, it's been around for a long time. Otherwise known as 'methode ancestrale ', it's a different style of sparkling from Champagne and Prosecco, as it's a single fermentation in the bottle. This gives beautiful brioche aromas, with lots of fresh apple fruit, so a perfect wine for Christmas day breakfast!
Starters in our house are usually a grazing affair, happening for a couple of hours between the Inchydoney swim and the main event. Coming in cold and energised, a nice hot shower is followed by a market platter of salami, olive paste, feta and basil dip, Ummera smoked salmon, and this year, I'm going to add some heat from Caitlin Ruth's 'Hot Box' from NeighbourFood. It takes quite a wine to stand up to all those flavours, so an unoaked Chardonnay, or Gavi or Soave from Italy would be my choice. Balestri Valda Soave is definitely well able. Laura Rizzotto, the winemaker, is also a beekeeper; and I don't know if it's my imagination, but I definitely detect a hint of honey in this wine, along with ripe pear and citrus fruit. Lively, fruity and delicious, it stands shoulder to shoulder with all these robust smoky, creamy, herby and spicy flavours.
By this time, I believe our palates have been well and truly stimulated, if not assaulted. There will also have been chocolate, crisps, cake and all manner of sweets, so by dinnertime, a wine with a bit of a kick is required. We are a traditional roast turkey with all the trimmings house, even though we have a vegan diner, so a nut roast is also on the table. A region I am always drawn to is the Languedoc in France. This is the source of some of my favourite wines and offers great value. My choice this year is L'Hortus Grand Cuvee. While not cheap and the 'Grand Cuvee' in the title refers to the special status of this wine, it is a stunner for the money. I love it because it is not too heavy, while definitely having the punch necessary for the richness of the Christmas feast. It pleases the wine lover (even the wine snob!) but is equally enjoyed by those family members who just want a nice glass of red – no drama! A blend of Syrah, Grenache, Mourvedre, the holy trinity of this region, aged in oak for 12 months, its got oodles of flavour, great structure and balance, and is the perfect sauce to bring all those seasonal dishes together.
After a snooze in front of Home Alone 17, we try to wake ourselves up for a game of charades. Reluctant at first, it usually gathers momentum and turns into bedlam. This is when the port and cheese is needed for a last bit of sustenance. LBV Port is a great choice for its balance – lovely rich, ripe, fruit and a touch of spice.
Crasto LBV Port with some mature Cashel Blue is my dream pairing, followed by a sweet and salty Hungry Crow chocolate. This port is sweet but savoury, rich, fruity and complex and is a comforting drop at the end of this hectic and exciting day.
Recommendations:
Di Filippo Malafemmana frizzante Pet Nat,
Umbria, Italy €20.95
Balestri Valda Soave,
Italy €15.95
L'Hortus Grand Cuvee,
Pic St Loup, France €30.75
Crasto LBV Port €25.75
Why not add a couple of Christmas Eve wines:
Château des Eysssrds Sauvignon Blanc/Semillon, Bergerac, France €13.55
Nicodemi La Murate Montepulciano d'Abruzzo, Italy €16.40
Case including delivery, €123.35
Contact me for a special 10 per cent discount for West Cork People readers!
Wines all from www.winesdirect.ie
or contact fharkin@winesdirect.ie. 
Follow or join my tastings on Instagram @wineshedwestcork. Corporate gifts and Zoom tastings for colleagues, friends, book clubs etc available also, contact me for details.