Claudia Kinmonth's new book 'Irish Country Furniture and Furnishings 1700-2000' illuminates a way of life in Ireland that has almost vanished. From investigating farmhouse and cabin furniture from all over Ireland to discussing the origins and evolution of useful objects, this book contributes as much to our knowledge of Ireland's cultural history as to its history of furniture.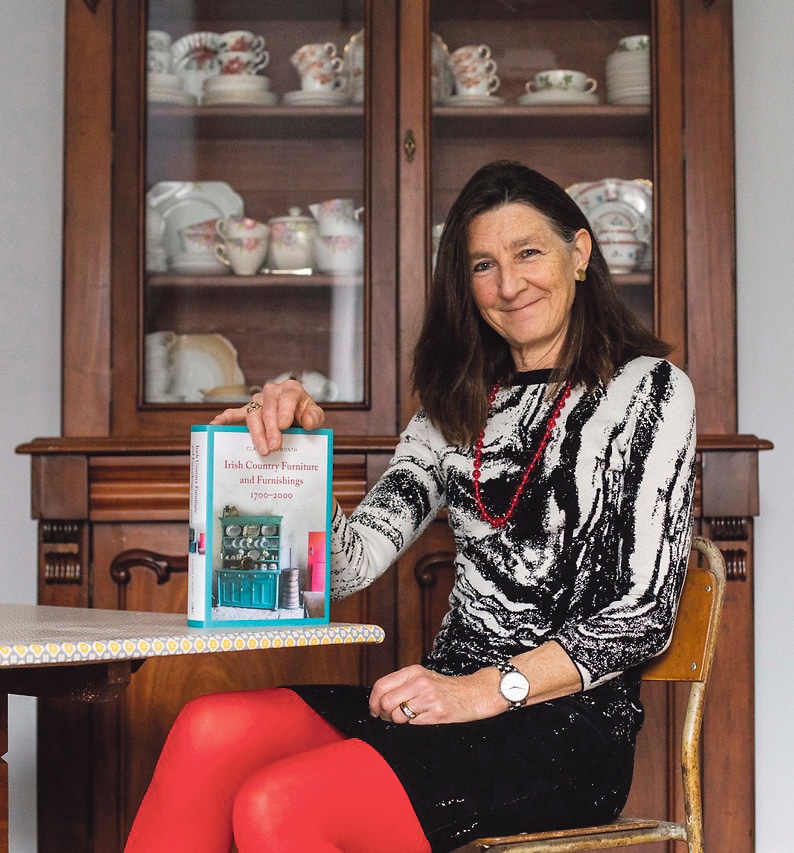 Claudia has a fierce passion for Irish country furniture, which stems from her enjoyment of researching subjects other people have often neglected. A conservation consultant, as well as an art and design historian, her work involves a lot of time working in Irish museums, as well as knocking on doors for her research on farmhouse interiors. When Claudia began her fieldwork, photographing dressers, settles and so on, in situ, in the late 1980s, there were still considerable numbers of un-modernised homes in Ireland. "I could still occasionally seek out people living without electricity, or living in houses with no fitted kitchens, so the dresser and settle was sometimes still in place, and the arrangements were beautifully traditional," she explains.
"Colour schemes were especially interesting, compared to interiors in other parts of Europe, the twentieth century two-tone colour of the Irish interior was striking, having evolved as a way to brighten up and unify things made of a mixture of timbers."
It is the photographs that Claudia took back in the late 1980s, some of which haven't been published before, that make her new book particularly interesting to people who like a traditional authentic appearance, or who are perhaps restoring an old house.
Nearly every illustration in this remarkable book has some kind of fascinating story behind it.
"The people who welcomed me into their homes were mainly elderly, and many of them have since passed away. But they were welcoming and friendly, and usually couldn't wait for me to finish my photography, so they could lay the table and offer tea," explains Claudia. "One of these meals was laid out on a 'falling table' in County Kilkenny.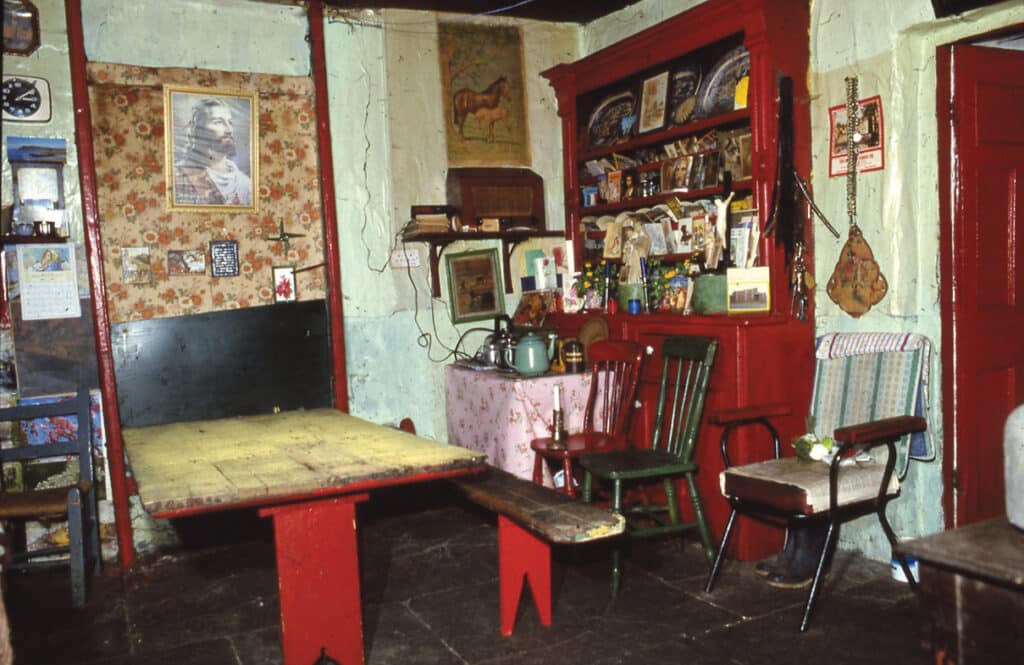 "A falling table is a type that was hinged up flat against the wall when no longer needed. So it saves space, and uses comparatively little timber, as it only needed to have one hinged leg to support it. This particular table had deep score marks all over it, when it was lowered down, which the owner told me resulted from her parents having cut up the pig on it, when it was butchered, each year. Such memories live on and that story, of the killing of the pig, was often related to me in other farmhouses."
Hen coops were often incorporated into the base of dressers. "This was how women on the smaller farms could ensure a good supply of eggs from their hens throughout the winter, as hens benefitted from light, warmth and extra food indoors," says Claudia. "The hens were carefully let out each morning to forage outside, and ate every scrap that was left over, as did the pig, if the family owned one."
In houses with open thatched roofs, the beds frequently had an arched or canted wooden covering. "This helped keep dust or drips from above, away from sleepers. Curtains across the front of the bed added privacy, and were especially useful in small houses lacking spare bedrooms." At the beginning of her research, Claudia came across a couple of beds still surviving like this. "Now they're only found in museums," she says.
"People who used to bake bread over the open hearth, saved up their closely woven flour bags; and after scrubbing off the print, used them for lining the ceilings, for making clothes or bed-sheets, and for everything else that required textiles, such as curtains, tablecloths and tea towels.
"The thread that held the flour bags together was carefully unpicked and reused too. Butter boxes, each used to pack and transport 56lbs of butter were also lovingly saved and recycled. One could be turned upside down, immediately becoming a plain fireside stool, but with a little ingenuity, a hinged lid was often added, and paint and upholstery helped people create beautiful sewing boxes, with padded seats. These are now becoming rare, and an example recently purchased for a museum, has flowers embroidered in needlepoint on its hinged top, and blue painted sides to match."
Claudia's research reveals how ingenious and frugal our rural Irish ancestors Irish were in the not-too-distant past. "I do think we can learn from this attitude. Nothing was wasted. People had fewer, but better things, that were made to last a long time," remarks Claudia. "The legs of chairs and the feet under dressers were deliberately made so they could be replaced easily by future generations. The woven seats of súgán chairs, made simply of twisted hay or straw rope, were replaced by householders themselves when they became worn. It was the opposite to today's common (and annoying) built-in obsolescence."
Everything was given a second chance and reused if it became worn out, sometimes really cleverly. "So a worn out wooden cart-wheel, was usually dismantled, and the spokes were instantly useful to make a new ladder. Its central hub could become a stool, and the curved outer sections of the wooden rim (called 'felloes') made perfect rockers for wooden cradles. In the nineteenth century, people made hanging cradles, which as the name suggests, were suspended from the cabin roof (saving space and timber simultaneously). In coastal areas, driftwood was carefully collected and made into furniture that could then be unified by paint. If I find holes bored in timber, about the size of a pencil, I know the wood must have been salvaged this way, as only the marine shipworm or Teredo, bores such distinctive holes. Usually the insides of drawers or backs of panels, can be seen to reveal this."
This sense of discovery and the reward of finding something intriguing with a story that begs to be unfolded is what Claudia loves so much about her work.
The award winning author lives near Leap with her husband Michael Duerden, a jeweller.
'Irish Country Furniture and Furnishings 1700-2000' Cork University Press, €39. 550 pages, 448 illus.
Claudia Kinmonth MRIA PhD MA(RCA) is Research Curator (Domestic Life), Ulster Folk Museum, a Visiting Research Fellow, Moore Institute, NUI Galway and a member of the Royal Irish Academy. She is the author of Irish Country Furniture, 1700-1950 (published by Yale UP in 1993) and Irish Rural Interiors in Art (Yale UP, 2006). www.claudiakinmonth.ie