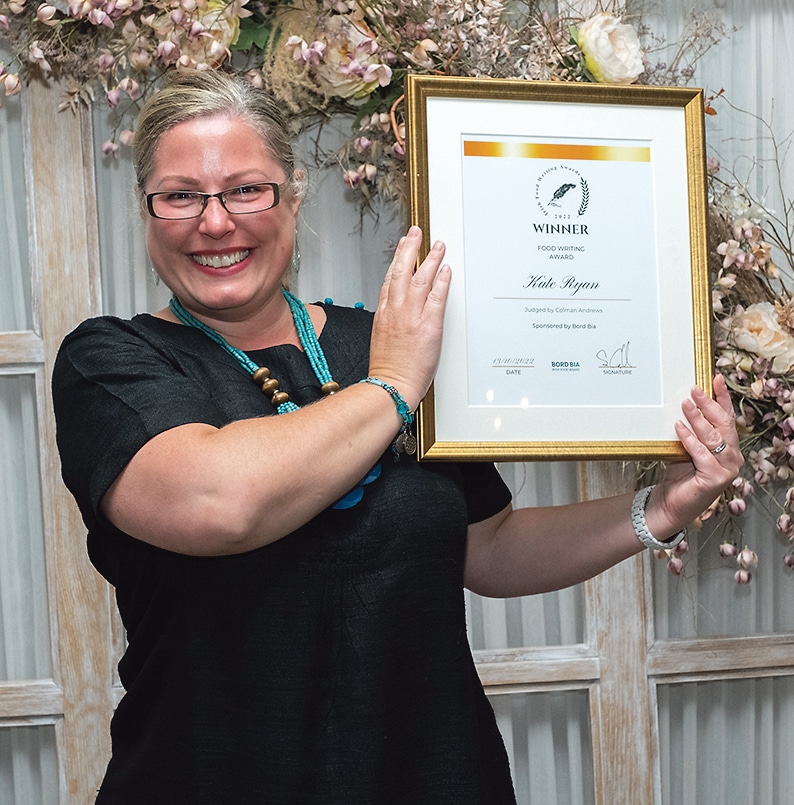 West Cork's Kate Ryan has scooped the award for Food Writing at the second annual Irish Food Writing Awards.
Over 75 award finalists attended from throughout the island of Ireland, competing for the 20 awards on offer covering Irish food and drink journalism, cookbooks, feature writing, blogging, podcasting, photography and social content. The awards were attended by some of international judges including the US-based award winning writer Colman Andrews, writer and columnist at The Telegraph Xanthe Clay, food writer and TV personality Andy Clarke, and Charlotte Pike, Chair of the UK Guild of Food Writers. Other judges included Rene Redzepi, Tom Parker Bowles, Jay Rayner and Fiona Beckett.
"I'm so delighted and proud to be the 2022 winner of The Irish Food Writing Awards in the Food Writing category," commented Kate. "I consider this category to be one of the 'biggies' and the competition was huge, up against some of the most established food writers in Ireland today – fellow writers I have admired for many years. It's fair to say, it's only just sinking in!"
Despite the challenges of two Covid years, which saw Kate having to close and move on from the food tours and events side of her business Flavour.ie, she has continued to develop and enjoy success in food writing.
Kate is secretary to the Irish Food Writers' Guild and has had articles on Irish food and food culture published in the UK for BBC and Vittles. She is also due to have a piece published very soon in Scoop, Ireland's first printed food journal dedicated to long-form food writing.
Irish Food Writing Awards founder, journalist Suzanne Campbell, said, "We were overwhelmed with the amount of entries in this, our second year of the awards. It's been a great experience again working with our international judges and Irish food and drink sponsor companies without which the awards couldn't happened. Myself and colleague Paul O'Connor set this up just last year to recognise excellence and the hard work of writers and food media."
The Irish Food Writing Awards were established to recognise and celebrate the high quality of food and drink writing from throughout the island of Ireland, across print, broadcast and online. In all categories, entries were accepted from the nominees themselves, or by a third party and were open to writers, journalists, bloggers and photographers.