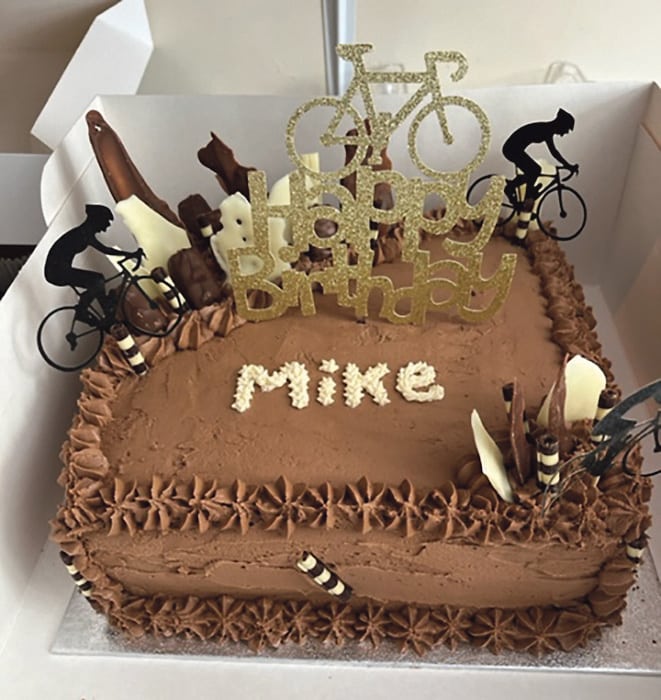 Mention mince pies to Sharon or Laura O'Driscoll at this time of year and they both sigh heavily. "It's like opening Pandora's box," explains Sharon. "we're literally walking over boxes and boxes of mince pies for weeks on end." Baked with Sharon's homemade mince meat and mouthwatering almond pastry, it's not difficult to understand why these festive treats cause such a frenzy in West Cork.
In the short time since they've been running Sharon's View at the Uillinn Cafe, located in the West Cork Arts Centre in Skibbereen, the mother and daughter team have gained quite a reputation for their friendly service and delicious cakes and treats baked fresh every day at their eco-friendly bakery, which runs completely on solar energy in Castlehaven. Conversation and laughter mingles with the scent of freshly brewed coffee and home baking at their bustling little cafe at the heart of Skibbereen town.
Professional baker Sharon is up with the birds each morning enjoying the sunrise from her window in Castlehaven and always busy baking in the kitchen before 5am. Most of the cakes and baked goods such as scones reach the cafe by 11, followed by the quiches and sausage rolls. Sharon also makes a selection of appetising chutneys and jams – chilli jam, beetroot chutney, spiced apple, apple and chilli jam and rhubarb chutney – using ingredients grown in her polytunnel: these are served with the cáfe's tasty panini's, bagels and sausage rolls. Whatever produce isn't homegrown is sourced locally for the cafe. There are also a number of gluten-free and vegan options available and a different soup each day. The cáfe serves McCabe's specialty fair-trade certified coffee. McCabe's is Ireland's first carbon negative coffee roastery.
Originally from Wales, Sharon met her husband Willie, a Castlehaven man, while she was working as a chef on one of the Channel Islands. After their daughter Laura was born in 1994, the couple decided to relocate to West Cork and moved back and forth between Castlehaven and London for a number of years for work commitments before finally settling here permanently 12 years ago. Between 2005 and 2009, Sharon ran the coffee shop in Union Hall, so she is well experienced in running a busy cafe.
After Laura graduated from University and moved back home, and with orders for baked goods flying in during the pandemic, it felt like the right move to both women when the opportunity presented itself to go into business together. With Sharon in the kitchen and Laura running front of house and a reliable and personable team – made up of mostly neighbours and friends – behind them, it's a business that has all the right ingredients for success.
Inspired by her grandmothers, baking has always been Sharon's passion. "One of my grandmothers always baked the most amazing apple tarts and every time I visited my other granny, she would open a cake tin and almost as if by magic there would be a different incredible cake inside it each time," she remembers nostalgically.
When Sharon isn't busy baking, she's coming up with new and delicious cake recipes like her best-selling cappuccino cake, a three-tiered wonder of coffee, vanilla and walnut layers. Other bestselling and tempting creations include her apple tarts, her grandmother's bread and butter pudding recipe, lemon drizzle, chocolate orange or coffee cake, cupcakes in all shapes and sizes, and homemade brown bread and cheese and chive scones (she also supplies her scones to The Coffee Cup in Reen, Union Hall).
Laura has been baking with her mum since she could reach the kitchen countertop. "I've always loved the idea of running a cafe with my mum," says Laura "and there's a really great energy to this place. It feels right."
Everything on the menu is also available for takeaway and cakes are available for order and collection at either the bakery in Castlehaven or at the coffee shop.
Sharon's View at The Uillinn Cafe is open Monday, from 9am-4pm and Tuesday-Saturday, 9-5pm.
To place an order phone 086 853 7685 or email sharonsview@hotmail.com.