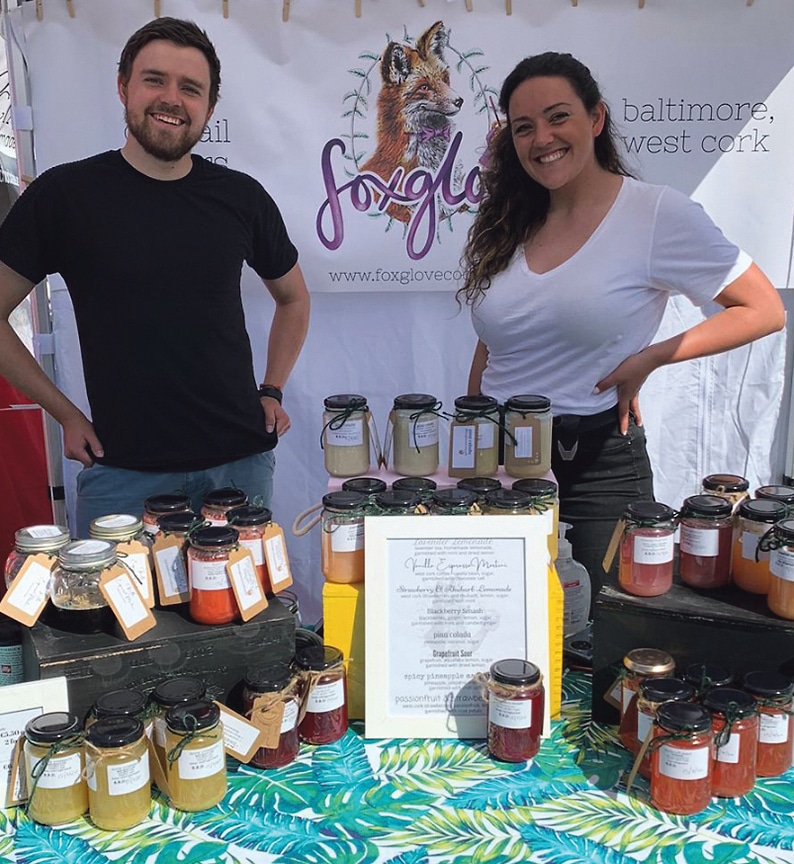 What do you get when you mix some New York bartender know-how with the best of West Cork ingredients? Answer: The makings of some pretty amazing cocktails!
Foxglove Cocktails is the creation of sister and brother duo Tara and Rory Copplestone, who both moved back to the family home in Baltimore at the beginning of the pandemic last March and ended up starting a business together.
Foxglove was born organically: Suddenly presented with the time to get to know one another and have fun together during the first lockdown, the siblings, who have a ten year age difference between them, started experimenting with new flavours and trying out their recipes on family members. The aim was to create a craft cocktail brand that was non-alcoholic, so people still held the power and imagination to create their own cocktails, in the comfort and safety of their home.
Tara brings over six years of experience working in the bar/liquor industry in New York to the table and Rory is a final year student of Shannon College of Hotel Management, who has worked in bars and restaurants in Europe and the US. Together the siblings, who share a passion for the hospitality industry, make an impressive team.
Foxglove's made-to-order artisan craft cocktails, using only fresh local ingredients are creative and delicious – so much so that they will have your tastebuds tingling in anticipation. Topped with handmade garnishes, combinations like blackberry and ginger; rose and elderflower; passionfruit and mint; pineapple and jalapeno; grapefruit and rosemary sour or, for coffee lovers, vanilla expresso martini, promise to bring elegance and sophistication to happy hour in the home. It's 'Sex in the City' West Cork-style! Cocktails in your pyjamas or go the extra mile and dust off the sparkly dress – whatever takes your fancy!
"We want to focus on the experience the consumer gets, when they are making a cocktail," explains Tara. Foxglove mixers are 370mls each, and serve approx three cocktails. Each mixer costs €7 and comes with an accompanied garnish (dehydrated fruit/flavoured salt) to create a fun, engaging experience.
Foxglove only uses real, fresh ingredients, and the mixers are created by a complex blend of teas, fruits and botanicals, so no added preservatives or additives are included.
"We offer a different variety of flavours and mixers to help ignite the imagination within our consumers. Blackberry and Ginger mixer can be added to vodka to make a 'Moscow Mule'-esque cocktail, or gin and tonic to make a fruity and tangy 'G+T' or even added to sparkling water for a delicious alcohol-free cocktail."
Starting a business is new to Tara and Rory so the first six months have been a steep learning curve. Like so many other West Cork food businesses, Foxglove started in the kitchen at home with sales mainly made through various Farmer's Markets and NeighbourFood markets, as well as selling directly online. In an exciting development, Tara and Rory have now sourced a commercial kitchen and been accepted onto the SuperValu Food Academy. "This is a huge step for us in terms of learning and mentorship," says Tara. "We have also set up a 'Click and Collect' service –where people can order their cocktail mixers through text, email or Instagram message, and pick-up their order every Friday at our Collection Point on Lancaster Quay, Cork City." The hope is that by late Spring, Foxglove mixers will be stocked in various SuperValus around West Cork. "We would also love to do more Farmer's Markets and maybe get involved in boutique events and weddings -– as well as doing cocktail classes/online workshops for differnet occasions," explains Tara.
Although starting a business together couldn't have been further from the siblings' thoughts when they moved back in with their parents in March, West Cork has a way of fostering the entrepreneurial spirit in people.
"I think in the times we are in, and living through a global pandemic, there is nowhere better than West Cork," says Tara. "We are both really outdoors people; we love to swim in Lough Hyne a few times a week, to run, walk our three beautiful dogs, and we have never been more appreciative of the space and comfort at home. There are definitely days where I miss New York so much, but those days will come again."
A lover of coffee, the Espresso Martini is Tara's personal favourite. She advises that the key to a good Espresso Martini is the shaker you use. "The bigger the better; so when you shake your Espresso Martini with ice, the air inside creates a rich, foamy top. Also the chocolate salt rim is my favourite, I don't have a huge sweet tooth so this is the perfect balance of coffee and dessert at the end of any meal"
For Rory, who admits to a huge 'grá' for Irish Whiskey, Jameson in particular, the Grapefruit and Rosemary Whiskey Sour can't be beaten. "Growing up, I will always remember the scent of rosemary in our parent's garden, and I love the fact you can use it in both sweet and savoury recipes," he says.
Currently, you can purchase Foxglove mixers at Mahon Point Farmer's Market every Thursday.
You can also order direct, through email, text or social media (Facebook/Instagram) for collection. You can pickup seven days a week, with 24 hours notice, from Baltimore and there is also a Collection Point on Lancaster Quay on Friday afternoons, from 3-7pm. Orders put in before Thursday 3pm can be collected next day.
Foxglove is also listed on various Neighbourfoods across Cork; including Skibbereen, Lisavaird, Timoleague, Ballydehob and Kinsale.
www.foxglovecocktails.ie