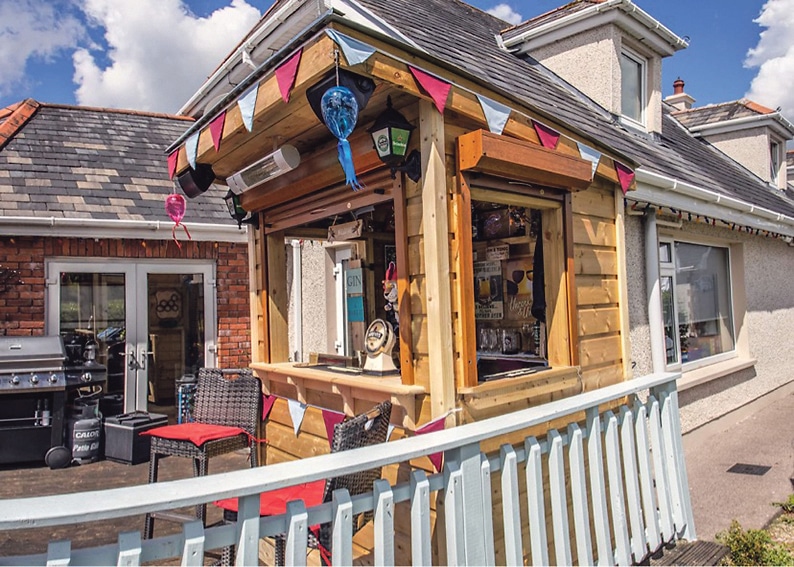 Have you ever dreamed of owning your own pub? Or are you missing some barstool banter over a pint? Two enterprising friends from Macroom are filling a gap in pub lovers lives with their quirky handcrafted garden bars. Since they started in early summer, business is booming and SnugPub is now delivering to gardens and patios around Ireland.
The innovative duo, Donal Mulcahy and Billy Murphy, go back a long way; their fathers also worked together on various projects in the past. When the sudden sunny spell hit in lockdown, Donal, an insurance broker by day, started thinking about how glorious it would be for people to have their own garden bar, open anytime and serving their favourite tipple. He approached Billy, a builder, with his idea and SnugPub was born.
"We have been delighted with the response to SnugPub," says Donal. "People are loving the product, especially now that we are still unable to head down to 'the local' for a drink and a chat. SnugPub is snug enough to fit anywhere and more affordable than you may think!
"The SnugPub brand is all about delivering a high quality product. We combine the finest weather-treated timber with quality workmanship and an impeccable service. We take pride in everything we do and will not compromise, and we feel this will stand us going forward."
SnugPub offer all the extras you could dream of for your very own pub. Draft beer, larger and stout, bottle fridges, traditional beer lanterns and outdoor sound systems can all be seen in the catalogue on the company's website. Roller shutters are also available to secure your investment!
"We are constantly developing what we offer," says Donal. "We seek out quality products that will enhance the experience of your pub."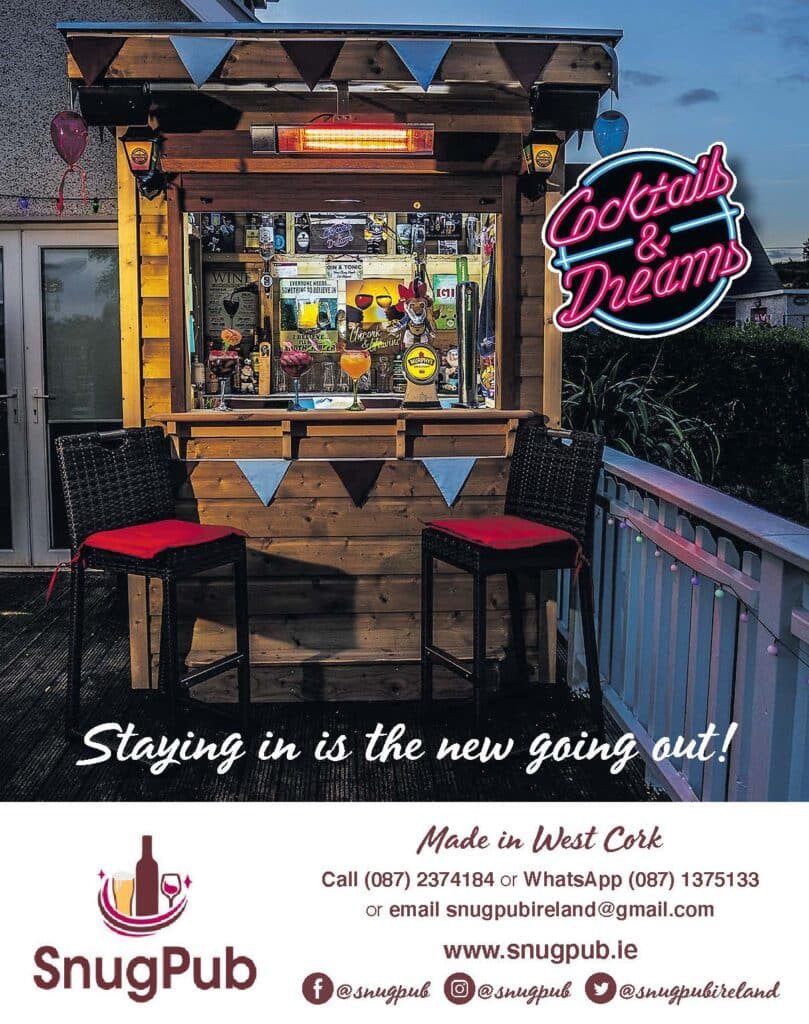 SnugPub offers a nationwide service and delivery is usually within two weeks of a confirmed order. When the company calls to fit your pub, social distancing is fully respected.
SnugPubs are also available for businesses and organisations that need assistance with social distancing. Donal explains that: "Our standard unit is 8ftx5ft but we can custom build to any customers specific requirements. We have installed some units in schools as their 'tuck shops' and some of our bigger units are also being used as home offices…the possibilities are endless for GAA ticket offices etc. We also offer a discount to VFI members.
"Our success so far has been a huge team effort and we believe that if a job is worth doing it is worth doing right. That's a belief that is now paying dividends. We plan to move our operation to new commercial premises shortly and will probably need to increase our workforce to keep pace with demand!"
For more details call
087 237 4184 or email
snugpubireland@gmail.com
www.Snugpub.ie