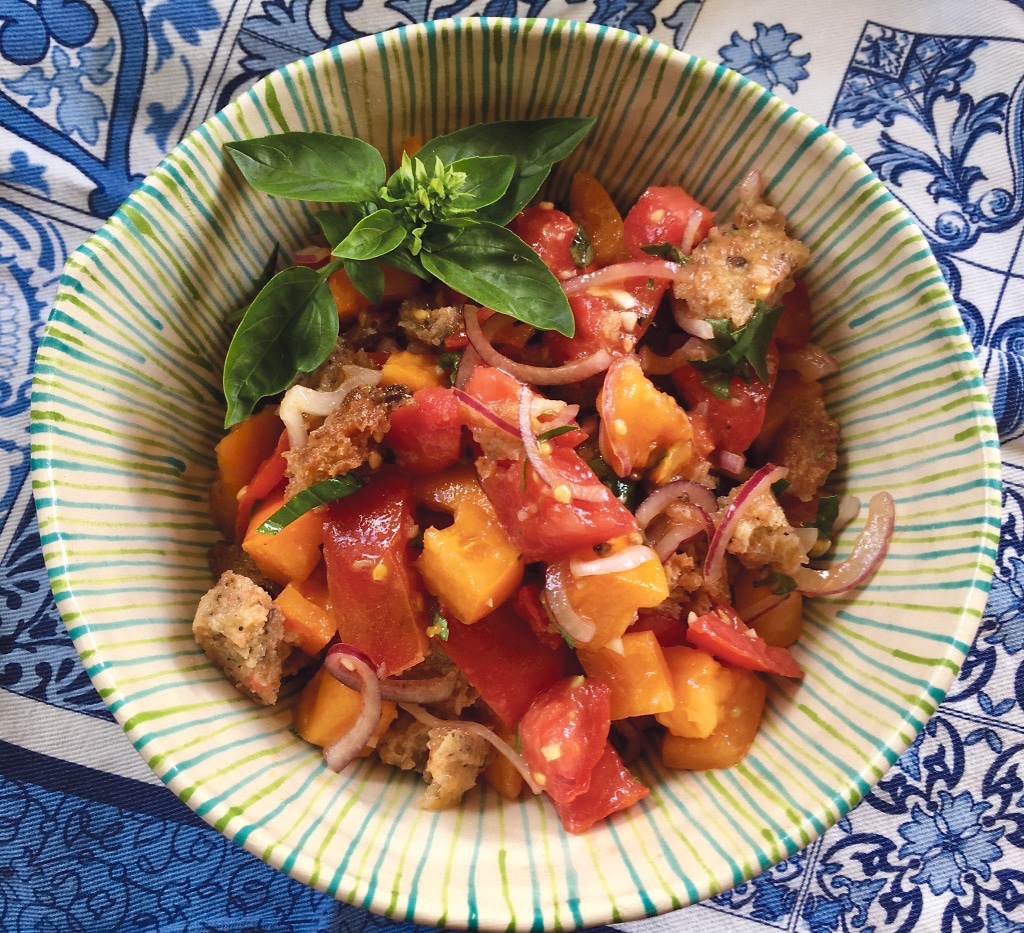 Storm Ellen did a superb job of flattening our beans but fortunately the tomato tunnel stood strong and our beautiful tomatoes are still ripening and bursting with flavour.
The feasting is endless. Tomatoes with everything!
Whilst browsing for tomato ideas I came across a recipe for Panzanella. It was the picture that caught my fancy, as a salad using old bread that was dried then got wet again sounded odd. I checked out a few more recipes and realised this idea had real potential and no better chance of success than when surrounded by ripe home grown tomatoes.
Panzanella originates in Italy where there are ripe tomatoes and dry bread aplenty. These simple ingredients paired with the best olive oil and vinegar that you can lay your hands on make a stunning salad.
The first step is to dry out the bread, which proved easier said than done. I used thick slices of sourdough bread as recommended and spread it out in a breadbasket and left it in the kitchen to dry.
In the south of Europe where these recipes originate, bread bought in the morning is stale by the evening, hence the proliferation of recipes using old bread but no such luck here. Two days later the bread was still perfectly edible and far from dry so I turned the oven on for assistance.
I couldn't resist rubbing the slices of bread with a cut clove of garlic before ripping them into small pieces and tossing with a drizzle of olive oil (if you like garlic bread, you will like this). I spread the bread on a baking tray, popped it in the oven and ten minutes later it was beautifully dry.
Now is the moment to make this recipe. The local tomatoes are ripe and at their full flavour potential; the only time of the year we can eat such tasty tomatoes without travelling. Check out the farmer's markets and small stores that sell homegrown vegetables
This recipe is well worth the effort – dry bread and tomatoes tossed together with olive oil, vinegar and basil makes a sublime combination however odd it might sound, a real flavour and texture bomb in the mouth. Simplicity at its best!
Panzanella
Tuscan Tomato and
Bread salad
Ingredients:
• 4 large ripe tomatoes
• 4 thick slices sourdough or country bread
• 3 cloves garlic
• 1 small red onion.
• 1 bunch basil
• 150mls extra virgin olive oil
• 50mls vinegar – the best you have
• 1 tsp Dijon mustard
• Salt and black pepper
• Anchovies in oil (optional)
• Put the oven on 180ºc
Method:
Cut the crusts from the slices of bread and rub with a cut side of garlic – no need to peel it. Tear the bread into small pieces (2cm). Put it into a bowl, drizzle over a little olive oil 1-2tbs, toss well then spread out on a baking tray. Bake for ten minutes then check. The bread should be crisp but not brown.
Dice the tomatoes into 1-2cm cubes, sprinkle over a little salt and put them into a sieve or colander and set them over a bowl to catch the juices. Leave for 15-20 minutes.
Peel and finely slice the red onion. Massage in a few grains of salt to separate and soften the onion. Peel the remaining two cloves of garlic and chop very finely.
Put the garlic into a small bowl together with the Dijon mustard, vinegar and the juice that has run off from the tomatoes. Whisk these together then drizzle in the olive oil whilst continuing to whisk until you have a creamy emulsion. Stir in the sliced onion.
Put the tomatoes and dried bread into a bowl – approx. 50/50 of each. (Keep any remaining bread to top other salads or soup). Chop the basil and add to the bowl, pour over the dressing then toss together until well mixed. Leave aside for ten minutes to let the flavours to mingle before serving.
We are getting back into the swing of things at LKP and eagerly awaiting our awning to provide shelter outside the shop. We're grateful to all our customers who wait patiently and with such good humour. We are happy to take pre-orders so that your food is ready for collection without queuing – just holler in the door and we'll bring it out. The menu is on Instagram and facebook daily or just phone the old-fashioned way and we will be happy to tell you what we have. This is our number 023 883698
Here's hoping for an Indian summer!