Here's a recipe to teleport you to Greece from your own kitchen using the humble spud.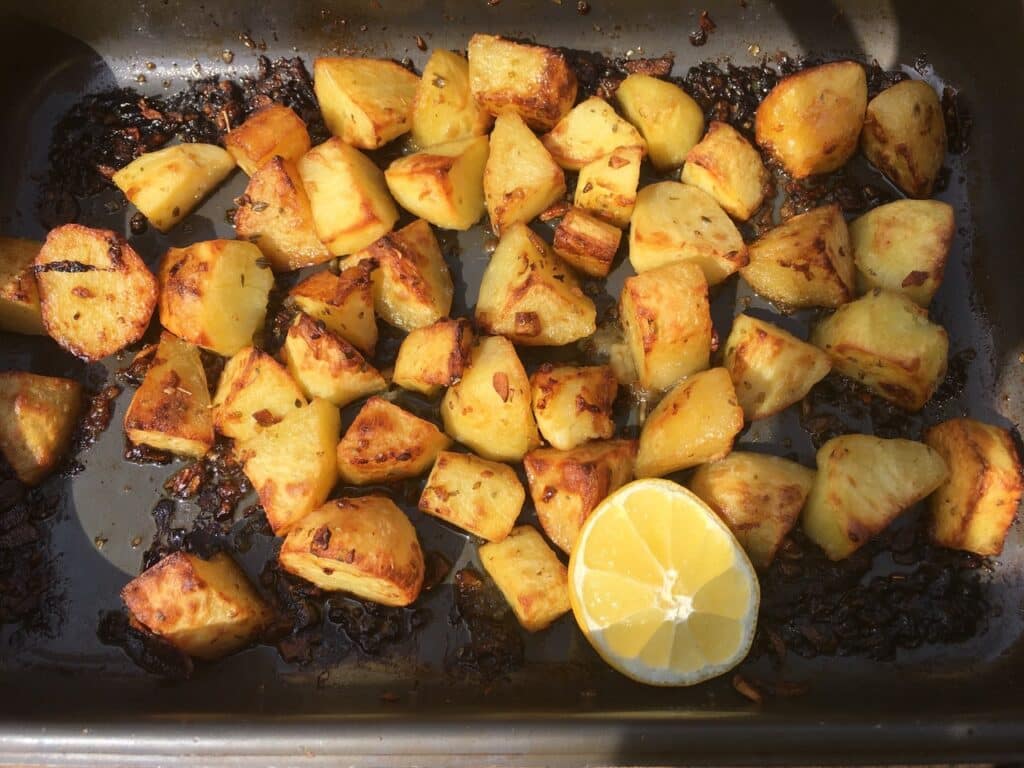 Just imagine the blue sea, the blue skies, sitting outside a taverna and all those tray bakes of vegetables, meats and fish. The Greeks are masters at tray bakes and the tavernas often have rows of different dishes, which have been slowly cooked in an oven displayed on the counter.
The slow cooking is key, generally the dishes aren't complicated but cooking slowly creates intense flavour that hasn't shooshed off into the stratosphere; it's just settled quietly in the pan
This dish is real simple spring food, potatoes roasted into sweet submission with olive oil, oregano and lemon juice. Delicious with nearly everything and the bonus is that it's made with ingredients you might well have in the house.
Greek Lemon Roasted Potatoes
Ingredients:
1kg potatoes
2-3 cloves garlic, peeled and chopped
1 tsp dried oregano
1 lemon, juiced
75mls olive oil
Salt
100mls vegetable/chicken stock
Oven 190c
Method:
Peel the potatoes and then cut into large chunks.
Toss with a generous glug of olive oil, chopped garlic, oregano and salt then put them in a single layer on a baking tray and bake for 20 minutes. Take the tray from the oven, give the potatoes a shake then pour the vegetable/chicken stock over the potatoes. Bake for another 20 minutes then take the tray out again, shake the potatoes and sprinkle over the lemon juice. Bake for 15 minutes more or until the potatoes are golden and beginning to crisp.
Scrape out all crusty bits when serving.
Hope to see you all one day soon!
Karen
Lettercollum Kitchen Project, 22 Connolly Street, Clonakilty