Hungry Crow are five years in the markets. It was the May Bank Holiday five years ago when the Clonakilty purveyors of decadent delights in dark chocolate wandered through Skibbereen Market offering tasters.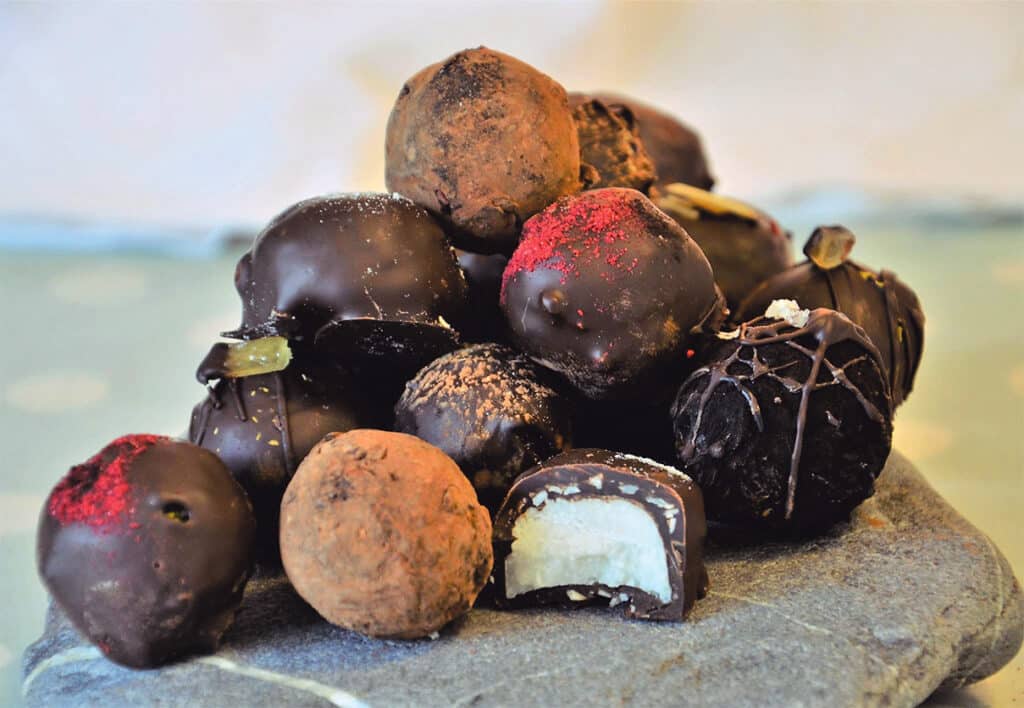 The markets were shut down on their fifth anniversary this May Bank Holiday, so Niamh and Mark had time to reflect. "We had a lot of help along the way," says Niamh, the chocolatier who designs and makes the chocolates. "And when you see repeat customers, you think you might be on to something."
"Aye, it's the regulars keep us going," agrees Mark, who mans the Hungry Crow stall. "It's like Hungry Crow has a fan base."
"I started off making snack bars," says Niamh. "I stumbled into the chocolates by accident. I have so many people to thank.
"So thank you Olive and Andy at The Olive Branch for being the first to stock Hungry Crow, for being with us every step of the way since and for including Hungry Crow in the inspirational initiative that is Twig;
"Thanks Rhoda for the nutritional knowledge that inspired the snack bars that led to chocolates;
"Thanks John, mercurial manager of Skibbereen Market for facilitating Hungry Crow's foray into the maniacally magical world of market trading and thanks to all our customers of all weathers in Skib, Clon, Kinsale and Schull Markets over the years;
"Thanks to Karen for taking a chance on the snack bars in Lettercollum Kitchen Project and sticking with them; to Hannah for breaking Hungry Crow in to Bantry at Organico and to Liz for keeping the orders coming; to Mary at Hurley's Fuel Depot for including Hungry Crow in her West Cork Producers Collection, to Cathy for bringing Hungry Crow west along to Hudson's in Ballydehob and to Linda for getting us on to the Mizen @ Roaring Water, Schull;
"Thanks to Gavin for putting Hungry Crow vegan chocolates on the menu at The Black Pig;
"When I had to move out of my home kitchen it was nearly impossible to find a unit to rent," says Niamh. "They just weren't there. Or the one or two that were there were for ridiculous money. So big thanks to Kathleen and Gik for being there when it was needed with an affordable kitchen unit to rent. And thanks Enterprise Board for the grant/loan to Hungry Crow-ify the unit. And to Jackie and Sheila Anne for advice, business planning and guidance through the application minefield.
"It was a Skibb man, Colm at O'Neill Coffee, started the whole trend of a Hungry Crow date and a good quality coffee that's all the rage now," says Mark. "Thanks Colm. This magical experience is now available across West Cork – by the sea at Long Strand thanks to Peter at The Fish Basket, at the Warren thanks to Brian at Drip and in Clonakilty at Wilde & Co – thanks Mike, and Stone Valley Coffee Roasters – thanks John and Tom. It's great ye're all back."
"Hungry Crow wouldn't have survived the lockdown without Neighbourfood.ie." admits Niamh. "So a very special thanks to all the NeighbourFood.ie hosts: Jack and Simone in Cork, Becks and Carol in Kinsale, Gik in Lisavaird and Skibbereen, Joe and Caroline in Ballydehob, Victor in Watergrasshill, Toby in East Cork, Fiona in Macroom and Keith in Bantry."
"Don't forget Pilgrims," says Niamh. "Oh aye," Mark agrees. "Thanks a million Pilgrims. You know why."
"We're lucky," says Niamh. "We do business with nice people. That's what keeps us going."