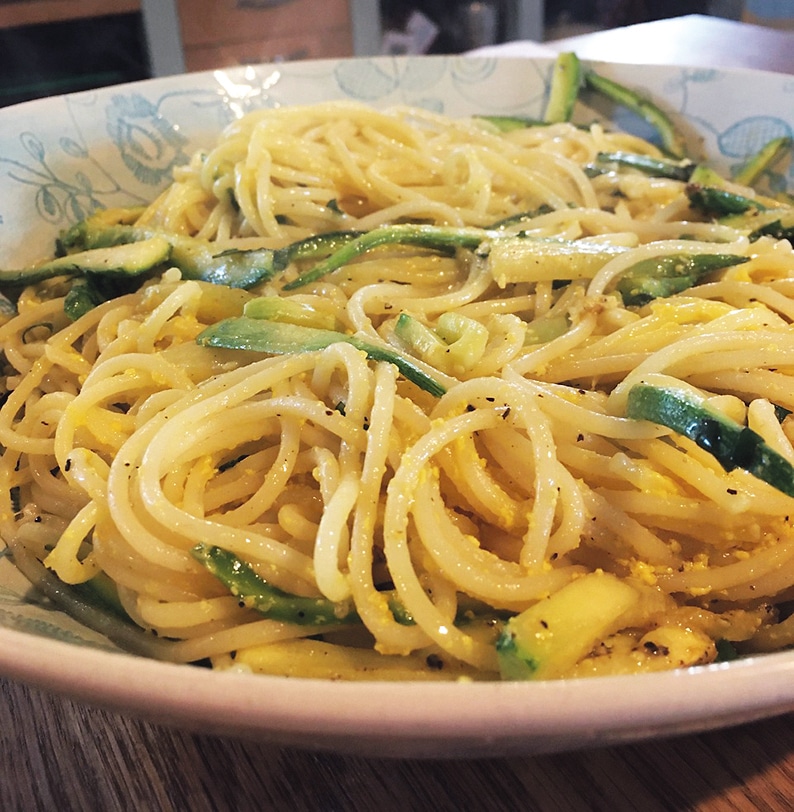 I have been stalking our courgette plants, prompted by a photo of my son's dinner, which was a plate of courgette carbonara – our family is really into food porn!
It got me dreaming of young courgettes, which are succulent and tasty and perfect for this simple dish where they are the star of the show.
So I've been waiting for our courgette plants to produce and finally there are these little stubby beauties winking at me. Apart from being the first and therefore really wanted, the small courgettes have a real flavour, unlike the big ones, which look splendid but are often more substance than flavour. As the season goes on, our enthusiasm for courgettes lessens but right now we're delighted to see them
The dish takes as long as the pasta takes to cook so salt the courgettes and as soon the water boils you're ready to go – the perfect dinner to make now that we're returning to work and have less time.
Serves 2
Ingredients:
• 2-4 small courgettes
• 25g butter
• 25mls olive oil
• 50g grated parmesan
• 2 egg yolks
• 50mls cream
• a little lemon zest
• Handful chopped basil
• 250g spaghetti
• salt and pepper
Method:
Wash the courgettes and cut into julienne strips, sprinkle with a little salt, toss to mix then leave for 15 minutes
Put a large pot water to boil. When the water is boiling add a tablespoon of salt and the pasta. Give it a stir and set the timer.
Mix the egg yolks and cream together in a small bowl
Tip the salted courgettes onto a clean tea-towel and pat dry. Heat a pan to cook the courgettes, one minute before the pasta is ready add the butter and oil to the pan followed by the courgettes. Keep tossing the pan so the courgettes cook evenly.Season with salt and pepper and a little grated lemon zest.
Set a colander over your serving bowl then tip in the cooked pasta and drain over the bowl. Reserve a little cooking water then empty the bowl. This will pre heat your bowl, which is important when serving pasta. Put the spaghetti back into the bowl, tip the courgettes and any cooking juice on top then pour over the cream/egg mix and grated cheese. Toss everything together. Add a little reserved cooking liquid to help everything move. Stir in the basil and serve
Our shop is now re-opening, with the appropriate social distancing measures and plenty of good food. We have so much ready to harvest in the garden that it's a relief to be back in action, so if you are in Clonakilty please come by and see us.
Here's to a sunny June!
Karen
Lettercollum KItchen Project
22 Connolly Street
Clonakilty
www.lettercollum.ie
karen@lettercollum.ie