There is nothing quite like that first bite into a juicy sweet strawberry that welcomes in the summer. A dessert in their own right, they're also a delicious ingredient in baking and salads with the added benefit of being full of essential nutrients. Throw 'locally-produced' into the mix and you have the perfect fruit.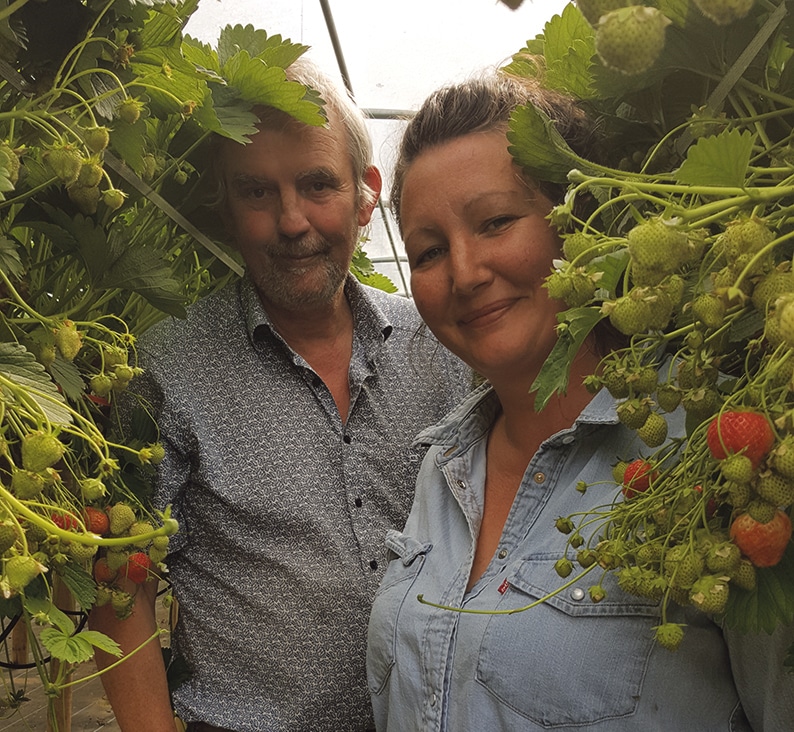 Bushby's have been in the strawberry growing business for 30 years. David and Denise Bushby moved from dairy farming in the UK to growing strawberries for Chivers in Co. Wexford in 1989. After moving away from processing and into the fresh market, they relocated to Rosscarbery in West Cork in 1997 and the rest is history; Bushby's Strawberries are now a part of the West Cork landscape. 
Two years ago, David and Denise's daughter Lydia, who has always had a finger in the strawberry pie, joined the business full-time, taking over the role of plantswoman from her mum. She also looks after the organising of the pickers, marketing, selling, and anything else that needs doing.
Over 100,000 plants are grown in a season at the farm with a bounty of sweet, juicy strawberries, supplying hotels, restaurants and retailers in Cork City and county. "We start planting in January and continue right through to July for succession," explains Lydia.
The strawberry season runs from April/May into October. There is always great excitement on the farm when the first strawberry ripens. "We refer to the early strawberries as 'pinkies or reddies'," says Lydia smiling.
Although they suffered a 30 per cent drop in business at the beginning of lockdown due to the closure of hotels and restaurants, not a single strawberry went to waste. With shoppers hungry for fresh, local, quality produce, Bushby's were able to rehome that percentage to retailers. Their 'sales kiosk' at the farm gate was also very successful. "We would have gone back to selling at roadside stalls if necessary," says David.
Bushby's are conscientious growers, taking both the customer and the environment into consideration. With a keen interest in entomology, Lydia is in charge of biological control at the farm. Biological control of insect pests of strawberries has been very successful in recent years primarily due to the use beneficial insects, capable of acting in a preventative role and thus eliminating the need for pesticide use.
"Quality has always been our mission," says David. 'While our growing technique has evolved, quality and taste has always and will always be what we're about."
"A healthy plant gives you beautiful fruit," continues Lydia passionately. "Our system might be considered antiquated – everything is done by hand – but this is why our customers are so happy with the product.
"Our tunnels protect the crop predominantly from rain and wind and slightly increase the temperature, facilitating us having a longer season (three crop rotations in most of the tunnels), says Lydia "this allows continuity, which is vital when supplying a restaurant or supermarket."
A good spring means that this year's season has been very successful so far. Strawberries are woodland plants; they like dappled shade. They can take hot sunny weather for short periods but too hot and they ripen too fast, resulting in a shorter season and smaller yield. "We like Irish summers in West Cork," explains David "we don't like Spanish summers in West Cork!"
Like all farmers, over the years the Bushby's have learned to adapt to different growing conditions.
"You're always thinking ahead, trying to second guess, which can be challenging" says Lydia. "The planning for this season's crop happened a year ago and when we're picking the crop we're thinking of orders that are going out in a weeks time."
Last year, due to demand from local chefs, they branched out into growing raspberries, which Lydia describes as "raspberries from your childhood, soft but firm and with a fresh sweetness".
Bushby's is a family business and local employer: Lydia's 18-year-old son works in the pack house and her 13-year-old daughter helps out with the picking and the pickers are local and have worked there for years.
Indeed over the years they have also built up phenomenal customer loyalty, which speaks for itself.
"Children who were eating our strawberries 20 years ago are now buying our strawberries for their children," says Lydia with great pride.
There is nothing quite like Bushby's Rosscarbery Strawberries for transferring you back to childhood.