Perhaps one of the most positive things to come out of lockdown has been the recognition that the NeighbourFood initiative has received. At a time when farmer's markets were closed down and the livelihood of small local food producers under threat, NeighbourFood provided a platform that supported these producers thus helping the local economy while also meeting an increased demand for fresh produce and supporting local biodiversity. Never before have we all held such an appreciation for the abundance of delicious local food that lies right on our doorstep. With a contact-free shopping protocol, NeighbourFood markets all over West Cork – Lisavaird, Skibbereen, Bantry, Ballydehob, Drimoleague and Kinsale – also offered a safe shopping experience during the pandemic.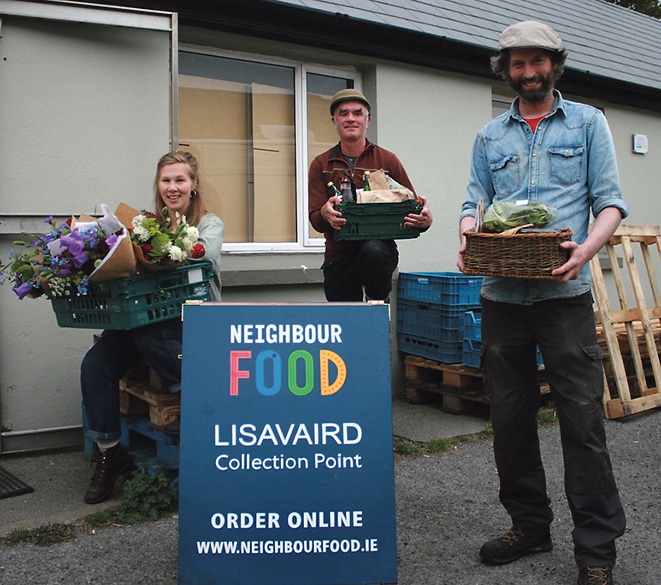 Gerald Kelleher of Olives West Cork and host of Lisavaird and Skibbereen NeighbourFood hubs, says that the response has been overwhelmingly positive. "People feel very safe purchasing their food in this type of environment and, for many during lockdown, it provided an enjoyable weekly outing, as well as giving access to the wealth of fresh local produce out there.
The concept is very simple. Log on to the neighbourfood.ie website, find your local market and choose from a wide range of local produce and artisan food from abroad including fruit and veg, bread, pastries, cheese, meat, beers and much much more. Make your purchases, pay online and each week during a set time slot collect your order at a local venue. It's a fast, efficient and very community-friendly way to shop.
"NeighbourFood was born out of the idea that not everybody has access to the local markets," explains Gerald. "Not everyone is aware of the local produce available and buying patterns are changing with more people going online, so this is a very necessary outlet for producers, particularly in high growing season. Being online as a group is also much more appealing than being online as an individual producer, both to the customer and the producer," he explains. "The producers can share things like distribution and bounce ideas off each other. It's very much a community."
During lockdown sales skyrocketed on NeighbourFood 'It replaced the markets temporarily and now that the markets are back, NeighbourFood sales have gone down," explains Gerald. "They complement rather than work in competition to each other."
The initiative, originally founded in Cork by food producer Jack Crotty (Rocket Man Food Company) and Martin Poucher, has a big emphasis on zero waste. Packaging is minimal with customers encouraged to drop back bottles and jars for refilling.
"We're very lucky to have so many food producers and markets in West Cork,' says Gerald. There are a lot of black spots all over the country where there is no access to freshly baked, freshly picked, locally produced goods. I think sharing good food with family has made lockdown bearable. Hopefully people will, as a result, have more of an appreciation of local produce and good food. That's really what it's all about," emphasises Gerald.