If you're a regular to Red Strand beach just outside Clonakilty, at one time or another you might have noticed a wildish-looking tribe racing loose-limbed towards the ocean, loudly whooping and hollering! Perhaps you thought you'd stumbled onto a 'Vikings' filming location or you left with the impression that the locals are a right mad bunch, however if you took the time to investigate further you'll have discovered that these organised gatherings are all about connection.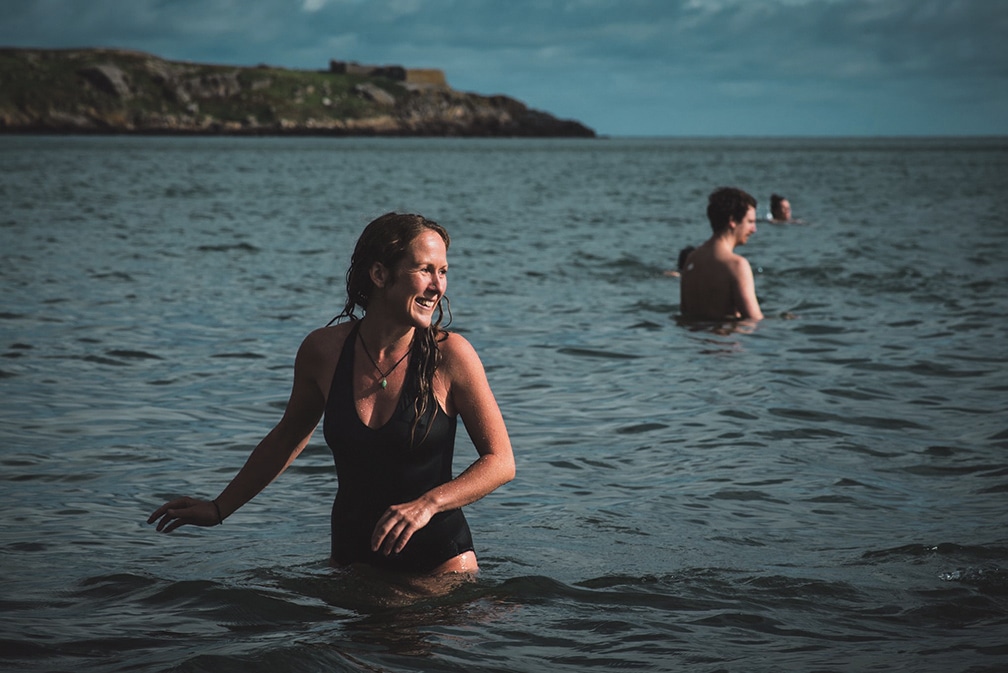 Led by herbalist Jen Doran, Swimming into Connection provides a safe space where people can explore their connection with the sea but these sociable gatherings are also about building community, letting go of inhibitions and quite simply feeling alive.
Charmed by West Cork's receptiveness to living a life less ordinary, Jen Doran feels more rooted here than she ever did in her native Dublin. Childhood summers spent holidaying between Clonakilty and Ballydehob sparked a connection to people and place that grew stronger over time and, after completing her degree in herbal medicine, she moved down permanently a year ago.
"This is the first time in my life where I feel a longterm sense of being a part of a community," she shares. "It's been life-changing; I feel so held and safe here, which has given me a new level of confidence in life."
This confidence and spirited enthusiasm for life and all its possibilities is infectious and by the end of a session, the group, a mixture of people from all walks of life, teenagers to old age pensioners, is very much at ease.
"I get people to do a lot of mad things throughout the morning to release any inhibitions," Jen explains laughing. "Most people start off shy but after some howling, screaming and running into the water together like a wild bunch, you'd be amazed to see how it really frees people up."
Jen, who says her life purpose is about connecting to nature and helping others to do the same, found her tribe at a time in her life when she was feeling pretty lost.
"After leaving school, like so many others, I struggled to find my place in the world and suffered from depression and anxiety as a result," she shares. "The one thing that really helped me was the sea and that being-in-the-moment uplifting feeling it gave me. My community grew because of it."
Jen typically begins a Swimming into Connection morning with a chat about the sea and our connection to it, followed by a yoga practice tailored to prepare the group for immersion into the chilly Atlantic waters. The haunting strains of a harp (O Deer) or hang drum and guitar (Barefoot Gypsies) often accompany a session, which helps to deepen the practice and feeling of connection to the surrounding environment.
"The yoga helps people to relax and embrace the morning but the music really takes people out of their heads and into the moment, helps them soften into the space," explains Jen.
After everyone howls into the water together for a swim, shedding their fears off like a cloak and embracing the healing power of the sea, tea and snacks are shared on the beach while Jen does a connection exercise to get people talking to each other but also to reflect on their relationship to the sea, why they came to the session and how the experience made them feel.
"We end with a dance which, if all else has failed, always works at getting people talking," she laughs. "Lots of friendships have grown out of these gatherings."

When Jen isn't bringing people and the sea together, she is following in the footsteps of her both her great great grandmother and her father, working as a herbalist in Clonakilty.
After training in yoga and other movement and breathwork-based practices. Jen also began a journey of learning all about nutrition, how food is grown, and herbal medicine. "My dad was a pharmacist for 25 years before he turned to herbal medicine so that bridge between conventional and herbal medicine is what really excited me," she says. After starting her studies, Jen discovered that there was in fact a family lineage in herbal medicine that had been lost for a few generations. "My dad's great grandmother was a herbalist and midwife in Co Donegal. She was known as the local handywoman!"
Jen also runs foraging and herbal medicine workshops in Ballydehob and hopes to introduce seaweed forging into some of the Swimming into Connection gatherings in the future.
She holds yoga sessions on Tuesday and Thursday evenings on Red Strand beach and the Swimming into Connection gatherings take place there once a month.
Jen's gatherings offer a great way of meeting other people in the community who are interested in learning more about the sea and local environment and improving your physical and mental health at the same time. If you would like to try Swimming into Connection, you'll find more information on www.thenaturewave.ie.
For updates on classes and workshops follow Jen at the.nature.wave on instagram.
The next swim is on Sunday, September 4. Tickets on eventbrite.ie. Search for 'Swimming into Connection (West Cork)'.