Situated in the picturesque Emmet Square, the hum of activity and banter that accompanies market day in Clonakilty is a much looked-forward-to weekly feature in the town. Every Friday morning, come rain or shine, the sleepy Georgian square awakes with the sounds of traders setting up their stalls; the green is suddenly awash with splashes of colour, as the bustle of trading gets underway. It's a lively and entertaining atmosphere harking back to the tradition of market days of yore.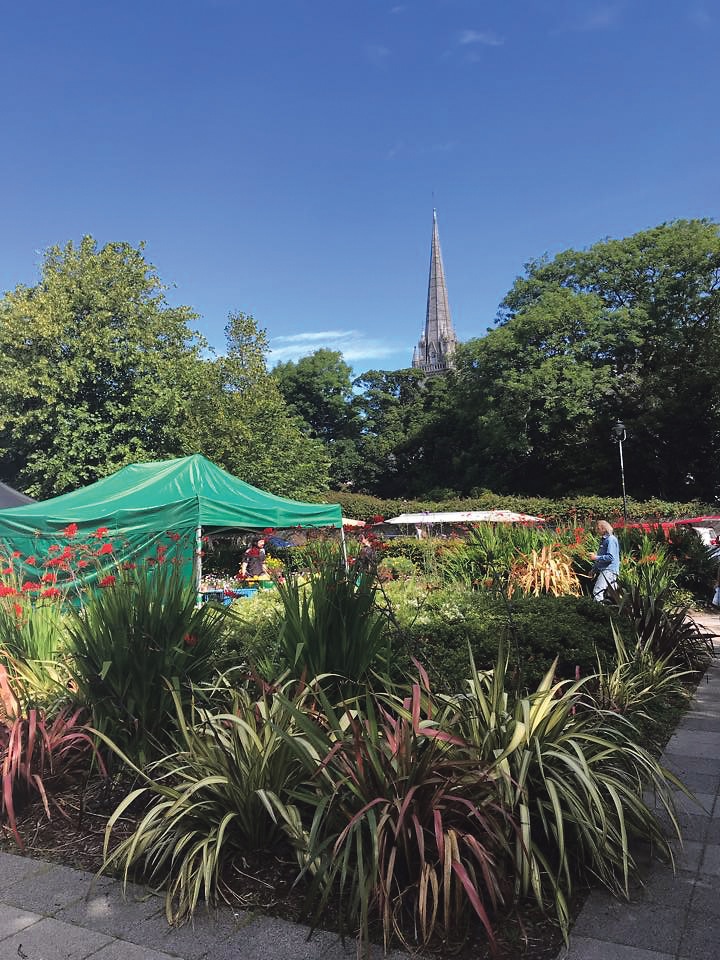 The queue at the coffee stall starts to form early; the market is as much a social outing as a shopping trip for many. In summer, as the day moves on, picnic blankets sweep the grass with visitors taking in the sights and sounds and savouring some of the world cuisine on offer.
Never before have we all held such an appreciation for the abundance of delicious local food that lies right on our doorstep. West Cork is renowned for the quality of its food and markets contribute greatly to this. With almost 20 stalls, Clonakilty Market usually swells even more during the summer months; you'll find a diverse mix of local farmers, artisan food producers and fine crafts people. Local meats, organic veg, fish, chicken, hot street food, fresh juices, raw chocolates, olives, cheeses, fresh salads, handmade soaps, ceramics, breads and cakes are just some of the fare. It's a vibrant shopping experience for the people of Clonakilty and a great opportunity to support local but also to meet the makers and celebrate the exceptionally high standard of locally produced goods.
As local food writer Kate Ryan puts it so aptly "If the past 18 months have taught us anything, it is that supporting the local farmers' market is not a leisure activity or a lifestyle choice. Rather, they are an essential service, a lifeline for people – stall holders and customers – and they underpin the vibrancy of a thriving local economy. All these things are as vital as the produce on display. When I think about the food I buy when I visit the market, really I am thinking about the people I am buying from because their produce is an extension of who they are: I'm not just buying apple juice – I'm buying James's apple juice, or Dave's chicken, Nathan's pork, chemical-free fruit and veg grown by The Hollies, Niamh's chocolates, a coffee from Shane, Dim Sum from Piers, and so on. And while the food nourishes the body, banter with a stall holder, catching up with a friend, or just sitting and listening to the hustle and bustle of the market nourishes the soul. Where would we be without our Friday Farmer's Market in Clonakilty? I wouldn't want to imagine!"
Come rain or shine, every Friday, from 9am to 2pm – experience Clonakilty Market.