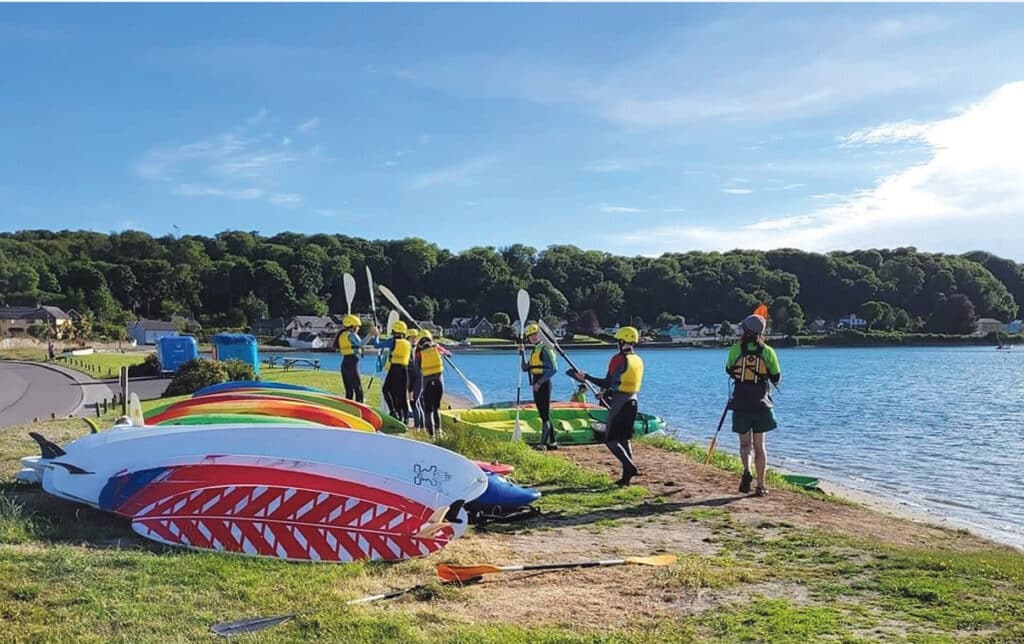 With the increased enthusiasm for the outdoors post-pandemic, it's been a busy time for 20th Clonakilty Scout Group since its inauguration in 2018.
Local hikes and walks, camping trips around Munster, beach days and clean-ups, campfires and local volunteer work have all been part of the outdoor fun.
The three patrol groups starting in the next few weeks will facilitate young people in the 12 to 15 age group.
The downside of course has been the curtailment of indoor activities due to Covid restrictions, which has meant a decrease in numbers of volunteers and younger age groups.
With so many children on a waiting list to join the Clonakilty Scouts, the onus now is to get enough leaders trained up to facilitate the patrol groups in the younger age category, Cubs (9-11), to start in early 2023.
"We would love to get the younger age group running in the New Year," says Section leader of Scouts, Vicki Sherry, "but we need volunteers to be trained up as leaders to facilitate this."
The groups meet once a week in the Parish Hall in Clonakilty and when they're not outdoors hiking or camping or orienteering, they're playing games or learning how to use a compass, pack a rucksack or put up a tent.
"The main benefits that kids gain from being a Scout is independence, self-worth, confidence and many life skills, as well as widening their friend group," says Vicki.
Cubs are involved in planning and running some of their own meetings and activities. They take part in planning their own camps – for example deciding on the menu and doing some cooking on camp, and deciding which activities to do.
The real adventure for Cubs is in the outdoors – hill walks up mountains, treasure hunts, night camps, hostel trips, and sometimes, overseas trips.
Scouts are involved in planning and running Scout meetings and activities and may be invited to Group and Scout County planning sessions to give their input on planned events. Supported by Adult leaders – known as Scouters,– they take part in planning and running their own activities, programme and camps. They decide the menu, cook on camp, organise equipment and run activities – all in their Patrols. They learn about teamwork, about leadership and how to look after themselves.
Scouts get to go hill walking, partake in water-based activities, mini-expeditions, camps from one night to ten nights in length, community events, hostel stays, and sometimes, overseas trips.
When the children have met a set of challenges or have mastered a particular level in a skill they earn a badge to sew on their uniform.
"We have had amazing opportunities and outings over the past few years," says Vicki, "from ice skating at Christmas in Cork to a survival weekend in Ballinaspittle to camping in Waterford hikes all over West Cork, volunteering at a local food festival, Scouting day in Farran woods and so many more activities.
Vicki was in the Girl Guides in Dublin from the age of six until 19. "I grew up in Guides and loved it," she says, "we did a lot of travelling and learned a lot of life skills and I'm still friends with many of the people I was in Guides with.
"We are very lucky to have such a great group of leaders in Clonakilty Scouts since the beginning but we always need more."
Scouts meet on Tuesday evenings from 7pm-8.30pm during school term in the Parish Hall in Clonakilty. If any children would like to put their names down on any age group or adults would like to volunteer as leaders they can email clonakiltyscouts@gmail.com or get in contact through the 'Clonakilty 20th Scouts' Facebook page.
Testimonial from Mary Quinlan, parent of Liam Quinlan
"Since the spring of 2018 our son has enjoyed being a member of Clonakilty Scouts. Hiking, camping, kayaking, skating and participating in community events (Clonakilty Street Carnival, Clonakilty Agricultural Show) are some of the activities he has been involved in. He has made lifelong friends in this inclusive and supportive group.The thoughtful contact from our Scout leaders during the long days of Covid lockdown brought joy to his sometime gloomy days."